Yehuda Lave is an author, journalist, psychologist, rabbi, spiritual teacher, and coach, with degrees in business, psychology and Jewish Law. He works with people from all walks of life and helps them in their search for greater happiness, meaning, business advice on saving money, and spiritual engagement.
Love Yehuda Lave
Join my blog by sending me an email to YehudaLave@gmail.com
B"H
JONATHAN POLLARD IS HOME! Write to him at letters4pollard@gmail.com.
Ringing in 2021 on New Years Eve? – Only if You Have Enough Cash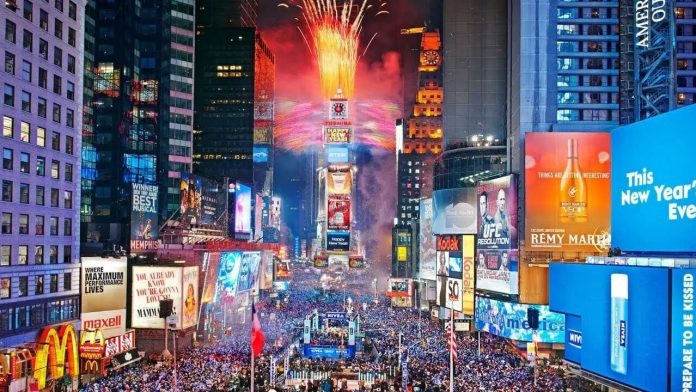 By Ellen Cans
The Covid-19 pandemic doesn't necessarily mean New Year's won't be fun. You just have to have cash on hand to be part of the fun.
It used to be that people would pack into Times Square to ring in the New Year while watching the giant ball drop. This year things will be different. Those lucky enough to have money to spend will have the opportunity to celebrate in style. People are booking intimate gathers with fancy delicacies in NYC, there are bookings for heated glass houses on the East River and restaurants are doing their best to lure in high rolling patrons.
As reported by the NY Post, in order to accommodate more guests, restaurants are offering pre-prepped DYI meal kits along with a Zoom link on which patrons can party all night from home. The virtual meetings will include DJs spinning music, comedy shows or mentalists to watch, and mixology sessions, says Andrew Rigie, executive director of the NYC Hospitality Alliance. "Restaurants are trying to be as creative and innovative as possible … for the COVID-19 New Year," Regie said. Restaurants have special pickup menus and packages for the evening, as well as caviar-only services which can cost thousands of dollars alone.
The Watermark at Pier 15 downtown is offering 22 glasshouses with a stunning view of the Manhattan skyline. The spots are already 75 percent booked for New Years, with prices ranging from $500 to $2,000, depending on the size of the table. The heated glasshouses are being booked for two-time slots — one from 3 p.m. to 6 p.m., and another from 6 p.m. to 10 p.m., spokeswoman Dianna DelPrete told The Post. Reservations include a bottle of Moet Champagne, snacks including shrimp, crab spring rolls, boneless wings, and guacamole and chips, complete with hats and noise-makers. Over-sized television screens will display old Christmas movies and there will be a mock ball drop. DelPrete adds that the fun will end by 10, in compliance with coronavirus restrictions.
Most restaurants will be following the pandemic-driven restrictions to close at 10 p.m., and to limit the number of outdoor only seats. So the pressure will be on for owners as well as diners. "It's a dire situation," said Rigie. "People feel like the ball's dropping on top of their head." On New Year's, many establishments usually aspire to make up financially for any rough seasons, but this year the chances of that seem difficult at best.
Former Jewish American Spy Jonathan Pollard Lands in Israel
Jonathan Pollard, who served 35 years in prison, was greeted by PM Netanyahu at Ben-Gurion International Airport and received Israeli ID card

Former Jewish American spy Jonathan Pollard, who served 30 years in an American prison and five years on strict parole, landed in Israel early Wednesday morning after his parole restrictions had been lifted last month.

Pollard, 66, became a free man after the U.S. Parole Commission had issued a certificate terminating his parole and lifting all parole restrictions in November.

Pollard had long voiced a desire to immigrate to Israel, which granted him citizenship. He and his wife Esther flew in a private plane, belonging to the owner of the Israeli daily Israel Hayom Sheldon Adelson, from Newark International Airport in New Jersey.

After his parole restrictions were lifted, Prime Minister Benjamin Netanyahu told Pollard that Israel is "waiting for you with open arms" and greeted the couple on the plane's ramp at Ben-Gurion International Airport Wednesday morning.

Netanyahu presented Jonathan Pollard with an Israeli identity card upon his arrival and said: "Welcome back. It is great that you have finally come home. Now you can start life anew, with freedom and happiness."

Jonathan Pollard said: "We are ecstatic to be home at last after 35 years. We thank the people of Israel and the Prime Minister of Israel for bringing us home. No one is more proud of this country or its leader than we are. We hope to become productive citizens as soon and as quickly as possible and get on with our lives here. "This is a wonderful country. It has a tremendous future. It is the future of the Jewish people and we are not going anywhere."

The couple own an apartment in Jerusalem and they will quarantine there for a fortnight.

In an earlier statement, the prime minister said that he had been "committed to his release for many years and worked tirelessly for his return" and that he "expects Jonathan Pollard to arrive in Israel soon."

Pollard, who was convicted in 1987 of spying for Israel when he served as an intelligence analyst in the U.S. Navy's counterterrorism center, was sentenced to life in prison with the possibility of parole after 30 years.

During Pollard's years in prison, Israeli governments had also made several unsuccessful pushes asking U.S. administrations to pardon the spy.

In November 2015, he was released from Butner Federal Correctional Complex in North Carolina, where he served his sentence and moved to New York City. His parole conditions included being confined to certain areas of N.Y.C., wearing an electronic ankle bracelet at all times, a 7 P.M. to 7 A.M. curfew, and constant surveillance of his computers. Pollard was also barred from speaking to journalists.

In 1984, Pollard and his then-fiancée Anne Henderson volunteered to spy for Israel while Pollard was working as an intelligence analyst in the U.S. Navy's counterterrorism center. Col. Aviem Sela, an air force pilot who was spending a sabbatical at Columbia University, was the person who connected Pollard with Rafi Eitan, then-head of the Lakam Scientific Liaison Bureau – a secret intelligence unit within the Defense Ministry that collected technical and scientific, often nuclear-related, intel.

Eitan and Lakam's people in New York and Washington ran Pollard for over a year. Pollard systematically passed classified documents on a number of topics related to the development of chemical weapons in Iraq and Syria, satellite photos from Tunisia (used by Israel in the 1985 bombing of PLO headquarters there), information on Arab armies, and more.

In 1985, when Pollard used his office computer to cull more classified documents, his supervisors and security officers became suspicious and he was placed under surveillance. When Pollard and his wife realized they had been exposed, they fled to the Israeli Embassy in Washington. However, on Eitan's orders, they were told to leave. The couple was then apprehended by the FBI.

Anne Henderson Pollard was sentenced to five years for abetting his actions. Jonathan and Anne divorced in the early 1990s and Pollard married Esther soon after, in prison.

The Butner Federal Correctional Complex, where he spent 30 years, was once ranked number ninth on Forbes Magazine's list of America's 10 "cushiest" prisons.

Thousands of years ago, Joseph was sold into slavery by his brothers. They soaked his clothes in goat's blood and told their father, Jacob, that Joseph had been killed by a wild animal. While the ruse kind of worked, Jacob noticed over time that he wasn't progressing through the stages of grief.
Studies show that the grief experienced by a parent who has lost a child is remarkably different and far more difficult to reconcile with. It is more common amongst such mourners to never return to work, to remove themselves from social activity and higher awareness of guilt when participating in joyful activities.
However, Jacobs's grief and debilitation was far more intense than the above. For 22 years, he lived as if Joseph had been killed that very day. He was never able to move beyond the very intense first wave of sadness. This is what led him to believe that perhaps his son Joseph, had not actually been killed but was alive somewhere. He must have understood the pain of losing a child (remember, until the era of modern medicine, it was very common for parents to lose not one, but multiple children in their own lifetime, death as a whole was much more a part of life than today). Indeed, he was correct, Joseph was alive and well and royal vizier of Egypt.
Kabbalah explains that the pain we feel when losing a loved one is not just a result of loss and longing, it is also a mirrored experience of the pain and sadness the soul of our loved one experiences after death. As our loved one's soul becomes more settled within the Infinite Light so we become more settled with the loss.
The Three Musketeers at the Kotel


Document showing holder has been inoculated against coronavirus will enable skipping quarantine, access to cultural events and restaurants; may become necessary for travel abroad
By STUART WINER and TOI STAFF
An Israeli nurse seen during a simulated vaccination against the COVID-19 virus, at the Sheba Tel haShome hospital, central Israel, December 10, 2020. (Miriam Alster/ FLASH90)
The Health Ministry is planning to issue those who are vaccinated against the coronavirus a "green passport" that will grant a waiver of restrictions applied to curb the virus outbreak, top officials told media in a round of interviews on Sunday.
Among the rights for holders will be access to cultural events and eating at restaurants, and the right to not quarantine after exposure to a diagnosed virus-carrier, they said. It will be issued two weeks after a person gets the second of the two shots required for the coronavirus.
Polls have shown that anywhere from 50 percent and 75% of Israelis say they will refuse to get the coronavirus vaccine shot, apparently out of fears that the rush to produce an inoculation may have compromised its safety. Israel is readying to begin a mass inoculation program next week, with the first vaccinations reportedly to be administered this coming Sunday, December 20.
The green passport would also enable travelers to fly abroad without having to first get a virus test, as is the current requirement, Health Minister Yuli Edelstein told Channel 13.
Edelstein stressed the idea is not to provide a benefits package for people who get vaccinated but that "those who are no longer in danger of being ill with the coronavirus can do things that others who are still in danger of the virus can't do."
Health Minister Yuli Edelstein gives a press conference at the coronavirus vaccine center in Tel Aviv, on December 13, 2020. (Marc Israel Sellem/Flash90)
"This passport will show that a person is vaccinated and will give a number of advantages such as not needing to quarantine, entry to all kinds of culture events, restaurants, and so on," Health Ministry Director-General Chezy Levy told Channel 12.
Levy assessed that there will be some form of similar international vaccination card that may offer advantages to vaccinated Israelis who travel abroad.
government officials see the possibility for international travel as a key incentive for the public to get the vaccination, the Kan public broadcaster reported.
Although decision-makers are more optimistic than the polls about public willingness to be inoculated, the green passport is hoped to provide strong motivation, along with the likelihood that some countries will not allow Israelis to visit unless they can show that they have been immunized against COVID-19, the report said, citing government officials.
Chezy Levy, director-general of the Health Ministry, speaks during a press conference about the coronavirus on September 17, 2020. (Flash90)
The Health Ministry will also set up a special command center to counter disinformation on social media about the vaccines, the report said.
The operation will have a dedicated social media team and cooperate with Facebook's Israel division, as well as the Justice Ministry's cyber department, to remove problematic posts. In extreme cases, officials may even consider filing a complaint with the police if information spread is particularly erroneous and harmful.
Prime Minister Benjamin Netanyahu and the top official overseeing the government's pandemic response on Sunday said the start of Israel's vaccination drive would be moved up from its target date of December 27, with Hebrew media reports saying it would begin next Sunday.
"The end of the pandemic is in sight. Until then I ask [everyone] to observe the rules," the prime minister said during a visit to a mass-immunization station in Tel Aviv.
Netanyahu said that he will be the first Israeli to get the coronavirus vaccine.
Speaking to Channel 20 Sunday evening, he said: "The risks in not taking the vaccine are far greater than the risks in taking it, and that's why I'll get vaccinated first and I expect everyone to get vaccinated."
The Kan public broadcaster reported that Netanyahu and Edelstein intend to get vaccinated in a filmed event this Saturday or even earlier. That could make Netanyahu the first world leader to get vaccinated.
President Reuven Rivlin, hospital directors, and the heads of the country's health maintenance organizations will also be among the first to get the shots. They will be followed by medical workers, with the general public able to get the shots the week after, reports said.
In addition, the health minister's bureau is preparing a list of media personalities and celebrities to receive the vaccine on camera to set an example for the public, Channel 13 reported.
It also said that senior Health Ministry officials have called for a halt to efforts to develop an Israeli-made vaccine, since "there's no point in it if we vaccinate several millions [with vaccines already approved] in a few months."
The network cited officials in the Defense Ministry — whose Biological Institute is developing the vaccine — as being surprised to hear the development through media reports, arguing that there is no reason to scrap all the work that has been done.
Prime Minister Benjamin Netanyahu at a press conference in a coronavirus vaccination center in Tel Aviv, on December 13, 2020. (Marc Israel Sellem/Flash90)
Earlier Sunday, coronavirus czar Nachman Ash said health officials were working to move up the planned date to begin inoculating Israelis with Pfizer's coronavirus vaccine after US regulators gave the inoculation the go-ahead. The vaccine has yet to be approved in Israel, but the director of the Health Ministry has signaled it could be green-lighted in the coming days.
The Maccabi health maintenance organization can begin administering 25,000 vaccines a day by next week, according to Channel 12. Netanyahu has set a target of 60,000 vaccines a day once the drive begins, meaning two million Israelis would be vaccinated by the end of January.
Israel has purchased millions of doses of Pfizer's vaccine, and the first batch landed at Ben Gurion Airport last Wednesday.
Another flight carrying tens of thousands of vaccines that was scheduled to arrive later this week was delayed by one day.
The expected approval by Israel of the vaccine comes as the country grapples with rising infection numbers, with officials weighing plans to tighten restrictions — and then backing down.
Since the start of the outbreak, there have been 356,826 people diagnosed with the coronavirus in Israel, according to Health Ministry figures released Sunday evening, with 1,291 diagnosed the day before.
There are 16,801 active virus patients and 2,996 have died in the pandemic.
Sed ut perspiciatis unde omnis iste natus error sit voluptatem accusantium doloremque laudantium, totam rem aperiam, eaque ipsa quae ab illo inventore veritatis et quasi architecto.
Rio inaugurates long-awaited Holocaust memorial with 72-foot-tall tower
A rendering of the new Holocaust memorial in Rio de Janeiro. (Memorial to the Victims of the Holocaust/Deputy Gerson Bergher)
RIO DE JANEIRO (JTA) — Rio de Janeiro inaugurated a Holocaust memorial that includes a 72-foot-tall tower and overlooks the Sugarloaf Mountain, one of South America's most famous landmarks.
Several government officials and Jewish communal representatives attended an inauguration event in Brazil's second largest city on Sunday. Brazil's Secretary of Communications Fabio Wajngarten, who is Jewish, represented President Jair Bolsonaro.
"I am a grandson of Holocaust survivors. My grandmother had a number tattooed on her arm and what she told me I will never forget. We cannot forget the atrocities of the Holocaust," Wajngarten said.
The memorial's tower is divided into 10 parts, representing the Ten Commandments. At its base, the sentence "Thou shalt not kill" is written. A large underground space houses a high-tech interactive exhibition area.
Brazil's Supreme Court president, Judge Luiz Fux, stressed that one cannot remain indifferent to the pain of others and quoted Holocaust survivor Elie Wiesel.
"Indifference is the greatest danger for humankind. All of this was due to indifference. Not remembering the Holocaust means killing these people again," said Fux, a Rio-born grandson of Romanian Jewish refugees who became the first Jewish president of Brazil's highest court earlier this year.
The memorial is located the peak of the Yitzhak Rabin park, which was itself inaugurated by the widow of Israel's murdered prime minister, Leah Rabin, in 1996. The venue offers a breathtaking view of the picturesque Sugarloaf mountain.
Funded by the private sector, the memorial was conceptualized by late Rio city council member Gerson Bergher. His widow and recently reelected Rio council member Teresa Bergher stressed the memorial's educational purposes.
"Our intention is that public schools can make constant visits to the memorial, so that students of the municipal and state network will know better what the Holocaust and the Nazi regime were," she said.
The Berghers' son Ary, a former president of the Rio Jewish federation, reminded those at the event of his father's 30-year dedication to building the memorial.
"He fought to leave a legacy for humanity. The memorial is a dream come true," Ary Bergher said.
The memorial is expected to host national and international exhibitions with themes that concern the defense of human rights, tolerance and humanism. It will work in cooperation with other major institutions of its kind, including Holocaust museums in Jerusalem and Washington, and the Anne Frank House in Amsterdam.
Israeli Prime Minister Benjamin Netanyahu sent a recorded video message that played at the event Sunday.
"It's my hope that this new memorial will serve to strengthen awareness of the Holocaust to this generation and for generations to come," Netanyahu said.
Rio mayor Marcelo Crivella, a fervent Evangelical Christian and a longtime right-wing pro-Israel friend of the Jewish community, laid the memorial cornerstone in 2017.
"Today, the City of Rio de Janeiro is magnified, dignified, ennobled, and redeemed from the absence of a just tribute," Crivella told the Jewish Telegraphic Agency on Monday.
Rio is home to some 35,000 Jews. About half of Brazil's 120,000-member Jewish community lives in Sao Paulo.
What are five facts about Australian History that you wish Americans knew?
Only five? OK, mate… You asked. Just don't shoot the messenger.
Roots
Our nation was created by the British, who had nowhere to send prisoners after your colonies got uppity with The Crown. [1] Yeah, our independence was all about taxes, fear, property, envy, trade and inter-colony rivalry too. [2]
Image: Penitentiary at Port Arthur. Credit: Fred Adler/BBC.
2. Settlement
Our treatment of indigenous peoples has been just as bad as your racial history. [3]
Image: AIATSIS map of Indigenous Australia. Credit: aiatsis.languages_map.jpg
3. Diplomacy
We supported Versailles, the 1951 Refugee Convention, the creation of the UN, The 1982 Law of the Sea, the 1990 Rights of the Child, Equal Rights and Opportunities for Women, the ICC and the Kyoto protocols. The US has never ratified any of the associated treaties. [4]
4. Quality of Life
We've developed a nation with much the same demographics as yours. We too have become 80% urbanised, we too mythologise our bush past as a national identity. However, we live longer (4th in the world, 8th for the US); are less corrupt (12th in the world, 23rd for the US); 2nd in the world for per capita wealth, the US is third.
Freedom indices? We're 5th in the world. The US is 15th. [5] When we visit the "Land of the Free Refill" we're shocked by the open poverty, regionalised poor construction, religious fanaticism, nationalist mindset and social issues we've never seen at scale before. This keeps reddit busy.
Image: An upside-down map of the United States aligned with a map of Australia reveals the similarities between both country's capital cities. Credit: Australia vs US - with US flipped upside down
.
5. Geopolitics
If it weren't for Pine Gap, the US' 74-year old "Five Eyes" alliance would have to look elsewhere. Meanwhile China is building bases for polar satellites all over our 87-year old claimed territory in the Antarctic in preparation for the opening of an Americas / Africa trade route.
The US' policy appears to be that Australia is a temporary aircraft carrier facing north. By the way, our attitudes to nuclear power have always been very different to yours. [6] [7]
Image: Australia. Credit: Australia Map and Satellite Images
.
Bonus:
Our turbulent leadership turnover in politics means our system works. Overlapping factions in both our major parties mean that to you, we seem like a socialist heaven or hell.
With access to media from all over the world with little or no filters, we're very well-informed. We respect but are unimpressed by your partisan politics. We're a constitutionally mandated secular democracy, a community as polite as Canada—so we tend not to be too direct to our US mates. We've both got more than our fair share of "drunk uncle" re-activists.
We've been one of your most consistent allies. We've always liked your mob. Fair dinkum.
Footnotes
[1] Australia's penal colony roots[2] David Caune's post in #auspol[3] Electoral milestones for Indigenous Australians[4] David
Caune's answer to Why did the US just withdraw from the UN Human Rights
Council? How will this affect US diplomacy around the world?[5] https://www.fraserinstitute.org/sites/default/files/human-freedom-index-2019-rev.pdf
What are the basic simple facts about science that everyone should know? Originally Answered: What are the basic simple facts about science that everyone should know?
Here, are some facts that are quite amazing and worth knowing:
1. Until the 1960′s, the only reliable pregnancy test was to inject a woman's urine into a female African clawed frog. If the woman was pregnant, the frog would ovulate within 12 hours.


2. About 65 billion neutrinos will pass through your fingernail in a second.
3. More germs are transferred shaking hands than kissing.

4. The human brain takes in 11 million bits of information every second but is aware of only 40.
5. Males produce one thousand sperm cells each second – 86 million each day.


6. One in every 2000 babies is born with a tooth.


7. Human saliva contains a painkiller called opiorphin that is six times more powerful than morphine. (I wonder why doesn't it work in toothaches then? Food for thought!)
8. Girls have more taste buds than boys. (Well, they can beat us in almost anything nowadays!)
9. Koalas sleep an average of 22 hours a day, two hours more than the sloth.
10. At over 2000 kilometres long The Great Barrier Reef is the largest living structure on Earth.


11. Wounds infested with maggots heal quickly and without spread of gangrene or other infection. (That's just a mask!)


12. Biologically speaking, bugs are insects that "suck".
Gorillas and potatoes have two more chromosomes than humans do.


So, how many did you know already?!
See you tomorrow bli neder
We need Moshiach now
Happy Secular New Year tonight
Love Yehuda Lave
Yehuda Lave, Spirtiual Advisor and Counselor
Jerusalem, Jerusalem
Israel