Yehuda Lave is an author, journalist, psychologist, rabbi, spiritual teacher, and coach, with degrees in business, psychology and Jewish Law. He works with people from all walks of life and helps them in their search for greater happiness, meaning, business advice on saving money, and spiritual engagement.
Love Yehuda Lave
Join my blog by sending me an email to YehudaLave@gmail.com
Regardless of the differences of opinions with any of my readers, and even though Rosh Hashanah is over and I have a duty to ask everyone for forgiveness if I have offended you this year and I ask you for your forgiveness
Cordially
Rabbi Yehuda Lave
Fast of Gedalia
The Fast of Gedalia, also transliterated from the Hebrew language as Gedaliah or Gedalya is a minor Jewish fast day from dawn until dusk to lament the assassination of Gedaliah, the righteous governor of Judah.
His death ended Jewish autonomy following the destruction of the First Temple.

Thursday, September 9, 202
1Ends: The same day, at sunset
Significance: Mourning the assassination of GedaliahObservances: Fasting
Also called: Fast of the seventh month
Fast starts at 5:02 AM and ends at 7:18 PM
Special Shalom Pollock tour on September 12

Ammunition Hill, site of the key battle for Yerushalayim in the Six Days War.
We will see the acclaimed sound and light presentation of the dramatic events and a tour of the battle field and memorial.

Herodion , We will tour this most impressive mountain palace/fortress of King Herod and the Jewish rebels against Rome. The newest excavations unveiling Herod's opulent and hidden burial site are now on display.
We will see an excellent movie about the site before our visit atop the famous half natural and half man made mountain.

Pene Kedem, On the periphery of the Gush Etzion territory is a small outpost securing the lands of Eretz Yisroel from encroachers. We will ride through biblical landscapes where few go today. We will enjoy the most beautiful hours of the day in this special place
We will have the honor of meeting the idealistic pioneer family guarding our land by herding sheep over wide areas of this territory. Their presence and sacrifice is securing a corner of Eretz Yisroel for Am Yisroel.

We depart from the Inbal hotel at 10:00
Return around 7:00
bring lunch
250 shekels.
The Three Musketeers at the Kotel
COVID-19: Tourist groups allowed into Israel in 2 weeks with no isolation
Tourist groups are going to be allowed in the country starting September 19.
Foreign groups of vaccinated tourists from selected countries will be allowed into Israel again starting from September 19 in the framework of a special pilot program, the Tourism Ministry told The Jerusalem Post on Sunday.In order to qualify, the tourists will need to present proof of a second vaccination recognized by the Israeli Health Ministry received within the last six months or of a third vaccination.When they land, they will be required to undertake a serological test to prove the presence of antibodies in their blood.
Only tourists coming from countries classified as yellow or orange by the Health Ministry can be part of the groups (at the moment they include all nations in the world except for Brazil, Bulgaria, Mexico and Turkey which are classified as red).The ministry said that travel agents and tour operators can submit requests for groups of 5-30 tourists - as they did before the program was temporarily halted due to increased morbidity in Israel and around the world with the Delta strain.

The program does not include any limit on the total number of foreign tourist groups allowed into the country.The ministry added that they expected that applications will start to arrive later this week, after the Rosh Hashanah holidays.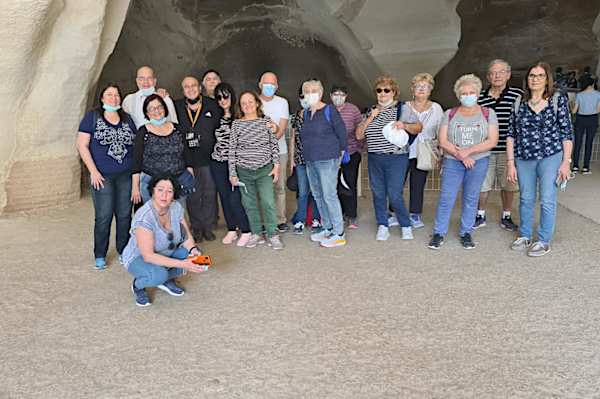 Recommended byIsraeli borders have been closed to foreign nationals for a year and a half, with very limited exceptions.As the pandemic abated in the spring, the country reopened its skies to a limited number of vaccinated tourist groups at the beginning of June and prepared to do the same for individuals in July. However, after coronavirus cases started to climb again, the plan was postponed to the beginning of July and then indefinitely put on hold.When, at the beginning of August, the Health Ministry introduced a mandatory quarantine for a minimum of seven days for inbound travelers from almost all countries in the world – including the US, Canada and the vast majority of Europe – also group trips ceased.At the moment Israel does not recognize any foreign vaccination or recovery documentation. Non-citizens who want to enter the country have to present their certificates in order to receive the special permission required to enter its borders, but once in Israel if they want to be considered immunized, they need to undergo a private serological test to prove the presence of antibodies in their blood.Currently, rapid serological tests are offered at Ben Gurion upon arrival together with PCR tests – which are mandatory for all inbound passengers. They provide results in twenty minutes and cost NIS 127.On Friday Birthright Israel announced they will resume their trips starting from October. The organization organizes short-term educational trips for Jewish youth from all over the world.
According to new regulations which came into effect on Friday, individuals who received their third shot at least a week prior, have had their second shot or recovered within the last six months, or have received one dose of the vaccine after recovering, are considered protected and therefore will just need to isolate until they get the results of the PCR test taken upon arrival, or a maximum of 24 hours, unless they come from a red country.Several Health Ministry officials have clarified to the Post that this does not apply to individuals vaccinated or recovered abroad, even if they take a serological test and receive Israeli documentation. These include thousands of first-degree relatives of citizens who received permission to visit their loved ones.However, Coronavirus Commissioner Prof. Salman Zarka said in an interview to the Post that the policy is going to change after the holidays to allow also individuals who meet the new criteria but have been inoculated abroad to be exempt from quarantine.Maayan Hoffman contributed to this report.
What, why and how we mourn on the day after Rosh Hashanah
Tzom Gedaliah in Brief
Tzom Gedaliah is a dawn-to-dusk fast (click here for exact times) observed on the day after Rosh Hashanah (if that day is Shabbat, it is observed on Sunday). Commemorating the tragic death of Gedaliah, governor of Judea, the day begins with special Selichot liturgy (click here for a Hebrew PDF).
Historical Background
After the Babylonians destroyed the Holy Temple in Jerusalem and exiled many Jews in 3338 (423 BCE), they appointed Gedaliah ben Achikam as governor of the remaining Jews in the Holy Land. Jews who had taken refuge in the surrounding lands of Ammon, Moab and Edom heard of his appointment and returned to Judea to join his group—the last remnant of the once-mighty Judea. Under his wise and pious leadership, they tilled, planted and cultivated, coaxing the ravaged land back to health.
Prior to Rosh Hashanah 3339, Gedaliah received word that a certain Ishmael ben Netaniah, jealous of his position of power and dissatisfied with his tactical alliance with the Babylonians, was planning to kill him and usurp the leadership for himself. But the trusting Gedaliah refused to believe that Ishmael would act treacherously, and restrained those who wanted to kill Ishmael.
On Rosh Hashanah, Ishmael came to Gedaliah with ten men, ostensibly to celebrate the holiday with him. While they were eating together, Ishmael and his men got up and killed Gedaliah, as well as all the other Jewish men and Babylonian soldiers who were present.
This treachery was followed by more bloodshed. It also caused the Jews to flee to Egypt, effectively ending the prospects of Jewish settlement in the Holy Land until the return of the Babylonian exiles in the year 3390 (371 BCE).1 Thus, the Babylonian exile was absolute, and Judea was left bereft of her children.
The Fast
In memory of Gedaliah's tragic death and its disastrous aftermath, we fast every year on the 3rd of Tishrei, the day after Rosh Hashanah.2 If the 3rd of Tishrei falls out on Shabbat, the fast is postponed to the 4th of Tishrei. Like other "minor" fasts, it begins at dawn (alot hashachar) and ends at nightfall.
During morning services, it is customary to add special selichot, penitential prayers. Click for a PDF of the selichot services in Hebrew.
During both morning and afternoon prayers, the Torah is taken out, and we read the portion from Exodus 32:11–14 and 34:1–10 in which G‑d forgives Israel for the sin of the golden calf. During the afternoon prayers, we also read a haftorah, from Isaiah 55:6–56:8.
As it is written in Zechariah 8:19, Tzom Gedaliah is one of the four fasts that will be converted to joy and feasting with the arrival of Moshiach. May it happen soon.
Learn more about the life and death of Gedaliah.
Learn about the inner significance of Tzom Gedaliah.
Footnotes
The entire tragic story is recorded in detail in Jeremiah 40–43, and it appears in a more abbreviated form in II Kings 25.
There is a disagreement whether Gedaliah was killed on the 3rd of Tishrei or on Rosh Hashanah itself, in which case the fast was postponed to the following day (3 Tishrei) due to the joyous nature of the holiday.
Rabbi Menachem Posner serves as staff editor at Chabad.org, the world's largest Jewish informational website.

He has been writing, researching, and editing for Chabad.org since 2006, when he received his rabbinic degree from Central Yeshiva Tomchei Temimim Lubavitch. He resides in Chicago, Ill., with his family.

More from Menachem Posner | RSS

© Copyright, all rights

You may also be interested in...
Days of Opportunity
Meditation for the Fast of Gedaliah
Hebron Then And Now
By Seth Lipsky
Jews have been marking the 92nd anniversary of the Hebron massacre that began on August 23, 1929 (The killings began on Friday afternoon, 17 Av, and most of the victims lost their lives on Shabbat, 18 Av). It is one of the most horrible pogroms in all of history. With a new American administration seeking to portray Jewish settlements in Judea and Samaria as obstacles to peace, one wonders what would happen – what would be the reaction – were such an attack to be perpetrated against the Jews of Hebron today.
The slaughter that took place in 1929 was part of a series of attacks on Jews. On August 17 in Jerusalem, in what was later seen as a portent, a Jewish boy had been stabbed to death. The killings in Hebron were particularly barbaric, with Arabs wielding hatchets against yeshiva students and women and babies. Before the affrays – to use the word the New York Sun used in its editorial of the time – had passed, scores had been slaughtered.
Advertisement

The story is retold in gruesome detail in a just-published book, Hebron Jews, by a professor of history at Wellesley, Jerold Auerbach. I have known Auerbach for years, as our mothers were cousins, and have admired his work on both labor and Jewish subjects. He uses the skills of a long-tenured professor to remind us not only of the importance of the Hebron story, from Abraham's original contract on a burial site for Sarah to the return of the Hebron Jews of our generation, but also of its ironies.
Back in 1929 the Jews who called themselves "settlers" were the relatively secular Zionists who lived on the Mediterranean coast and in northern Eretz Yisrael. The Jews of Hebron had dwelled there intermittently for thousands of years and continuously since the expulsion from Spain in 1492. In the 1920s there was an influx of young scholars from a Lithuanian yeshiva, Knesset Israel. Their arrival coincided with rising tensions throughout Palestine. By August, trouble was sensed by the one British police officer in the town, Raymond Cafferata. He was told by both Arabs and Jews in Hebron that "any trouble" was "out of the question."
Yet that same week a Jewish teacher named Haim Bagayo was warned, "This time we are going to butcher you all." Earlier that day, there had been clashes in Jerusalem, in which three Arabs and three Jews died.
The Jews of Hebron, Auerbach writes, "refused to believe that their Arab neighbors, with whom they had lived in relatively peaceful coexistence for four centuries, meant them harm." Cafferata noted that in Hebron "everything appeared normal." But before the day was out, Arabs began to attack Jews with clubs, and Jewish shops were quickly shuttered.
The first to die was a student, Shmuel Rosenhaltz, who was set upon as he studied, alone, in the main yeshiva. The Jews were warned to stay inside their homes. Early the next morning, Arabs, screaming "Allah akbar" and "Itbach al Yahud," or "kill the Jews," began surging through the streets. Two Jewish youths were stoned to death outside the house of the Heichel family.
Some 70 Jews sought refuge inside a relatively large house, owned by Eliezer Dan Slonim. Almost the whole family of Slonim – his wife, Hannah, and their son, his father-in-law, who was the chief rabbi of Zichron Yaakov, and his wife – were among 22 persons who were clubbed or stabbed to death and, in some cases, disemboweled. The Slonims' one-year-old son survived, having been hidden under dying Jews.
Rabbi Hanoch Hasson was murdered, along with his family. A pharmacist, Ben-Zion Gershon, who'd served both Arabs and Jews, "had his eyes gouged out before he was stabbed to death," Auerbach relates. His wife's hands were cut off before she and their daughter were killed. Mr. Goldshmidt was tortured, his head held over a kerosene flame, before he, his wife, and one of their daughters were killed.
Twenty-three corpses were discovered in the Anglo Palestine Bank, where women were raped on a floor covered with thick pools of congealing blood. Rabbis Meir Kastel and Tzvi Dabkin and five of their students were tortured and castrated before being murdered. The killings went on for two hours, and the final death toll reached 67.
In the aftermath, the left tended to support the Arabs. The Forward, a pro-labor paper, broke sharply with the comrades, siding instead with the religious Jews and praising those, albeit those few, who were reported to have fought back. One American writer, Maurice Samuel, who'd been visiting Eretz Yisrael at the time, wrote a book about the event titled, What Happened in Palestine? Like a number of other Zionists, he focused blame on the Mandatory authorities, while insisting relations between Jews and Arabs were broadly amicable. The sheik who incited the slaughter served a month in prison. Any moral standing of the Mandate, if it had ever existed, drained away.
In the years after the establishment of the Jewish state, when Jordan ruled Hebron, the vestiges of Jewish presence were obliterated. The ruins of the Avraham Avinu synagogue were razed and its site given over to an animal pen. Houses of Jewish learning were converted to Arab schools. The ancient Jewish cemetery was torn up. Jews did not return until 1967, when the chief rabbi of the Israeli army, Shlomo Goren, commandeered a jeep and, carrying a Torah scroll, Israeli flag, and shofar, raced to Machpelah, becoming the first Jew to enter the burial place of the patriarchs and matriarchs in 700 years.
In 1968, a group of Jews, lead by Rabbi Moshe Levinger and his family and animated by Zionist fundamentals and reverence for the patriarchs, moved back to Hebron and have been there ever since, often, it seems, to the consternation not only of the diplomats and the Arabs but even of many Israelis, some Jewish institutions, and of the current administration in Washington.
The date on which Levinger and his followers mark the anniversary of the massacre is known by the acronym Tarpat, for the Hebrew date, which has just passed. Their community has posted to the Internet (www.hebron.com/english/gallery.php?id=170) a group of photos of some of those who perished and of the desecration of religious objects.
A lot of things have been said about the Hebron Jews. But one thing that cannot be said is that they are prepared to abandon Hebron in the face of the kinds of danger that overwhelmed their forebears 92 years ago.
Jackie Mason on Being Jewish
Son Of Mob Financial Wizard Left Destitute
April 10, 1989

MIAMI (AP) _ The paralyzed son of underworld financial wizard Meyer Lansky sits destitute in a county convalescent home, despite a deathbed promise by his father that he would be cared for.
″I'm sure my father would be turning over in his grave,″ Bernard ″Buddy″ Lansky, 59, said last week.
In 1982, the year before Meyer Lansky died, Forbes magazine called him one of the richest men in America, estimating his wealth at $100 million. Other estimates put it at $300 million.
Whatever Lansky's assets, his son was not privy to them. ″Dad's dealings were all in cash. The only checks he ever wrote were for rent.
″Where did the money go? That's what everybody wants to know.″
Only a few weeks ago, Buddy Lansky's stepmother, Thelmy ″Teddy″ Schwartz Lansky, 81, told CBS-TV's ″60 Minutes″ that stories of her husband's $300 million fortune were ″preposterous and ridiculous.″
She visits her stepson once a week at the Dade County convalescent home where he shares an austere room with an elderly man who doesn't talk. Although Lansky hasn't taken a step in seven years, his black leather shoes are crumpled and torn.
″I never asked my stepmother for help,″ Lansky said last week. ″I felt if she wanted to do something, she would offer. It's not like she doesn't know the circumstances.″
For years, Meyer Lansky spoke hardly at all about his son's cerebral palsy, an incurable disease caused by brain damage at birth.
Buddy knew little of his father, the undisputed patriarch of organized crime, until he was 19 and saw his father's picture on the front page of The New York Sun.
The disease crippled Buddy Lansky gradually over the years, forcing him to quit a job as a switchboard operator at a motel in Sunny Isles, just north of Miami Beach.
Surgeons fused his vertebrae and he wore a metal brace attached to his forehead, able to move only his eyes for 10 weeks. In a wheelchair, he saw his father for the last time at Mount Sinai Medical Center in Miami Beach a week before Lansky died of cancer at age 80 on Jan. 15, 1983.
″He told me I would be taken care of,″ Buddy Lansky said.
Authorities believe that Lansky pioneered organized crime's system of financial manipulation and concealment.
But if Lansky had hidden millions in banks in Switzerland, a will filed in Dade County gave no clue. It noted only an estate in excess of $110,000.
In a trust administered in the courtroom of Judge Francis Christie, Lansky left his son 65 percent of the trust's income to provide for ″medical care, comfortable maintenance and welfare.″
Buddy Lansky said he never found out how much was in the trust or where his money was coming from - except for some royalties from oil and gas leases in Michigan and Ohio that went dry.
His mother, Anne Citron, died in 1984. In 1985, he found out there wasn't enough money to pay his physical therapist, who was owed $5,240.
Lansky also discovered that he was three months behind in payments to the nursing home in North Miami, owing nearly $5,000.
Attorneys who had handled the trust declined comment, citing client confidentiality.
As Buddy Lansky's income dropped from $15,000 in 1985 to $5,300 in 1988, a few of his father's old friends stepped in to help.
One was Yiddy Bloom, former owner of the Hawaiian Isle motel. According to records, Bloom paid the nursing home a total of $47,900 over a period of three years.
But late last year, the money stopped and on Feb. 27 Buddy Lansky had to move out. He moved to less expensive home, which accepts Dade County patients. The county pays $50 a day for his care.
His only income is $564 a month from Social Security, which goes directly to the nursing home.
″You can pick your friends,″ Lansky said, ″but you can't pick your relatives.″
See your tomorrow bli neder
We need Moshiach now!
Love Yehuda Lave
Yehuda Lave, Spirtiual Advisor and Counselor
Jerusalem, Jerusalem
Israel