We can Control our Thoughts

You possess the ability to control your thoughts. Even if your thoughts wander, you can bring them back and focus on what you wish.


Love Yehuda Lave
The Emunah Jossi Berger Holocaust Study Center will hold a Commemoration Program for Yom Hashoah V'Hagevurah in our shul on Thursday May 2, 27 Nissan, at 4:00 PM.

The speaker will be Charles Yechiel Siegman: M emories of, and Reflections by, a Child Holocaust Survivor
Musical Interlude: Bernie Marinbach
Yom HaShoah Ceremony w Tel Aviv Community & in-English Survivor Testimony
Event to be held at the following time, date, and location:

Wednesday, May 1, 2019 from 7:00 PM to 9:00 PM (IDT)

Ichud Olam
86 Ben Yehuda Street
Tel Aviv
Israel

View Map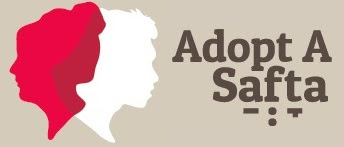 Adopt-A-Safta
Is Honored to Present:
Tel Aviv Community Yom HaShoah Memorial Ceremony
& in person Holocaust Survivor Testimonies
(in-English)
Date: Wednesday, May 1st, 2019, 7pm-9pmVenue: 86 Ben Yehuda, Ichud Olam, Tel Aviv
Cost: FreePatrons must register above to attend
About the Organization: Adopt-A-Safta:
Adopt-A-Safta is a non-profit initiative that honors Holocaust memory & pairs young professional Internationals and Israelis with Survivors of the Shoah who feel lonely. Working off of the Big Brother/Big Sister model, our young volunteers will "adopt" a grandmother or grandfather in Israel that is in need of love and attention. Our goal is to train as many volunteers as possible and to connect these two communities; young professionals seeking to make meaningful contributions, and the Survivors in need of warmth and connection, while we still are blessed with the presence of this holy generation.
About Our Venue: Ichud Olam
Ichud Olam is Tel Aviv's main center for Jewish life, and a dynamic community of young professionals from diverse geographical and cultural backgrounds, and from all across the religious spectrum, who have moved to Tel Aviv to live in the heart of the modern Jewish State. From our humble beginnings in 2000, we have created a warm and welcoming environment hosting a wide array of religious, cultural, political, and social events. IchudOlam.org
The Problem: 50,000+ lonely Holocaust Survivors in Israel.
A report published by the Foundation for the Benefit of Holocaust Victims in Israel indicates that 40% of Shoah survivors feel lonely, 12,000 lack even proper heating, and 5% suffer from shortages of food.
The CEO of the Foundation for the Benefit of Shoah Survivors in Israel has said: "One hungry or lonely Holocaust survivor on Passover eve – is a failure for the State of Israel...The younger generation will never forgive us if we fail to care for the older generation with the respect it deserves. I call on all relevant parties, headed by the finance minister and his office to provide all the necessary means immediately."
However, at Adopt-A-Safta we do not believe that any citizen should ever wait for the government to act on social issues of this historical importance. Shoah survivors are an invaluable treasure and they deserve a treasure that alleviates some of their suffering. We believe that the State of Israel has such an invaluable resource now.
We are talking about our incredible community of young professional Internationals and Israelis that grasp the importance of social justice, volunteerism, and activism, specifically in Tel Aviv, Haifa, & Jerusalem.
We see no need to wait another day - too much is lost waiting for others to act, waiting for permission, waiting for money. We know that we can make a major dent in the problem of comforting lonely Shoah survivors today; not to do so as a responsibility, but as a noble honor.
All volunteers will be responsible for visiting their "adopted" grandmother or grandfather throughout the year, with regular phone calls and reports on their well-being.
Those 50,000 that were lonely last year for the holidays will not be alone anymore. Please join us in Adopt-A-Safta.
Adopt-A-Safta has been founded in blessed memory of Kathe Friedman (Kalya bat Feigel).
Web: www.AdoptASafta.com
Facebook: www.facebook.com/AdoptASaftaE-mail: Info@AdoptASafta.com
Archaeologists Uncover Definitive Proof of Bible Passage in Middle of Jerusalem
n artifact recently discovered beneath a Jerusalem parking lot contains the first non-Biblical reference to an Old Testament figure in the court of King Josiah.
The 2,600-year-old clay impression references the biblical name Nathan-Melech, according to the Times of Israel.
The clay was stamped with a seal that read, "(belonging) to Nathan-Melech, Servant of the King," the newspaper reported. Nathan-Melech is named in 2 Kings as an official in the court of King Josiah.
The discovery took place within the ruins of a building destroyed during the destruction of the First Temple. It was found during excavations of a parking lot in the City of David National Park in Jerusalem, the Jerusalem Post reported.
𝘼 𝙍𝙖𝙧𝙚 𝙖𝙣𝙙 𝙀𝙭𝙘𝙞𝙩𝙞𝙣𝙜 𝘿𝙞𝙨𝙘𝙤𝙫𝙚𝙧𝙮
Once again, the archaeological find of yet another unearthed artifact not only supports Jerusalem to be an ancient Jewish city, it corroborate the accounts written in the Holy Bible. https://www.israelandstuff.com/servant-of-the-king-seal-unearthed-in-city-of-david#.XKFjSyaMl1U.facebook …

"Servant of the King" seal unearthed in City of David

Once again, the archaeological find of yet another unearthed artifact not only supports Jerusalem to be an ancient Jewish city, it corroborate the accounts written in the Holy Bible. By David Lazarus...

israelandstuff.com
A second seal was found that said it belonged "to Ikkar son of Matanyahu."
Doron Spielman, vice president of the City of David Foundation, which operates the park, told the Times of Israel that the mention of Nathan-Melech's name makes the discovery important.
"This is an extremely exciting find for billions of people worldwide. The personal seal of Nat(h)an-Melech, a senior official in the government of Josiah, King of Judah, as described in the Second Book of Kings.
"The ongoing archaeological excavations at the City of David continue to prove that ancient Jerusalem is no longer just a matter of faith, but also a matter of fact," he said.
"It is truly fascinating to watch how archeologists have uncovered more than 12 layers of Jerusalem history in what used to be a parking lot until just few years ago," he said.
Nathan-Melech is mentioned in 2 Kings 23:11. As an official of King Josiah, he implemented religious reforms.
"And he removed the horses that the kings of Judah had dedicated to the sun, at the entrance to the house of the Lord, by the chamber of Nathan-melech the chamberlain, which was in the precincts. And he burned the chariots of the sun with fire.," the passage reads.
The finds are "not just another discovery," said archaeologist Yiftah Shalev of the Israel Antiquities Authority.
The "paint a much larger picture of the era in Jerusalem," he told the Times of Israel.
"What is (of) importance is not just that they were found in Jerusalem, but inside their true archaeological context," he said, commenting on the two-story First Temple structure in which the items were found.
A Passover offering to HaShem"
(Exodus 12:11)
Nisan 14, 5779/April 19, 2019
Freedom. That's what the holiday of Passover is all about. But what is freedom, and how is it achieved? Did Israel really transform from an enslaved nation to a free people overnight? Is freedom a magical formula, or is freedom something that needs to be earned, and fought for to achieve and to maintain?
While still in Egypt, while still under the thumb of their Egyptian masters, Israel received its first commandments from G-d. Commandment number one was "This month shall be to you the head of the months; to you it shall be the first of the months of the year." (Exodus 12:2) With this commandment G-d blessed the children of Israel with the gift of responsibility. Israel will now be in charge of its own destiny, determining its own past and charting its own future. This is the number one requirement of freedom, for an individual and for a people: responsibility to oneself, for oneself. Only with this ability to determine its own path can a nation determine who it is today and who it will be tomorrow. Responsibility for the passage of days and the setting of the seasons is the ticket to freedom.
But the nature of that freedom will determine the nature of that people. And the nature of the people Israel would be forever defined by the second commandment she received while still enslaved in Egypt: "You shall have a perfect male lamb in its first year; you may take it either from the sheep or from the goats. And you shall keep it for inspection until the fourteenth day of this month, and the entire congregation of the community of Israel shall slaughter it in the afternoon. And they shall take of the blood and put it on the two doorposts and on the lintel, on the houses in which they will eat it. And on this night, they shall eat the flesh, roasted over the fire, and unleavened cakes; with bitter herbs they shall eat it. You shall not eat it rare or boiled in water, except roasted over the fire its head with its legs and with its innards. And you shall not leave over any of it until morning, and whatever is left over of it until morning, you shall burn in fire. And this is how you shall eat it: your loins girded, your shoes on your feet, and your staff in your hand; and you shall eat it in haste it is a Passover offering to HaShem." (ibid 12:5-11)
By commanding Israel to risk it all, to literally slay an Egyptian deity while still in Egypt, revealing to the world that there was but One G-d and One G-d only, G-d was asking Israel to take its new-found self determination and to attach it forever to the knowledge of G-d and to the path of Torah that Israel was yet to receive in Sinai. Take control of your own identity as a people, your past, your present and your future, and bind that identity forever and inseparably with the G-d of Israel who will deliver you from the bondage of Egypt and bring you to the desert, where you, the newborn nation of Israel, will marry your fate forever to G-d of Israel. This is the freedom that we are commanded to relate on the evening of the first day of Passover, at the Seder meal. This is the freedom that we are to aspire to every day, and to diligently work to achieve every moment that we live and breath. This is the meaning of being responsible for time, and how we spend our days. This is Israel.
The Temple Institute would like to extend its heartfelt wishes for a happy Passover celebration of freedom to all our friends and supporters, to the entire nation of Israel, to the true friends of Israel and the G-d of Israel, and to all people, everywhere, who are blessed with or long for the freedom embodied in the message of Passover: Chag kasher vesameach! Happy Passover to all!
See you tomorrow, have a meaningful Yom Hashoa. I am the child of a Holocaust survivor, my Mother's entire family were murdered in Germany, we remember, and we never forget. I say Kaddish three times a day, every day in their memory.
Love Yehuda Lave