Yehuda Lave is an author, journalist, psychologist, rabbi, spiritual teacher, and coach, with degrees in business, psychology and Jewish Law. He works with people from all walks of life and helps them in their search for greater happiness, meaning, business advice on saving money, and spiritual engagement.
Love Yehuda Lave
Join my blog by sending me an email to YehudaLave@gmail.com
I got the second vaccine shot with no side effects and hope that it does my part to bring this covid nightmare to an end
The Three Musketeers at the Kotel
'Green passports will be a means to manage daily life' says government's COVID czar
Passports to be required for entrance to large number of public venues, even though there's no proof yet that vaccine confers immunity.
Despite repeated assurances that the coronavirus vaccine will not be made compulsory, the government is gradually extending the limits of its "positive incentives" system for promoting vaccination to the general public, and yesterday disclosed further ways in which those people who comply with official advice will benefit.
"To achieve herd immunity in the State of Israel, we're talking about 70 percent [of the population] vaccinated. The green passport is a means that we want to use it to manage daily life as the number of people who have recovered from the virus increases," Professor Nachman Ash, the government's coronavirus project manager told the Knesset's Constitution, Law, and Justice Committee.
Ministry officials later expanded further on what they had in mind, telling MKs that the passport would likely be required for entrance to cultural and sports events, museums, hotels, restaurants and cafes, malls, gyms, and swimming pools. However, it would not be required for entrance to schools, workplaces, synagogues, street stores; or for using public transportation.
Although officials stated that the purpose of the passports was to encourage vaccination and to enable the government to reopen the economy, they emphasized that "restrictions on the size of public gatherings and on occupancy of public spaces will continue – these will be dependent on the rate of infection in the general population."
According to Ash, certain venues will also be accessible to those who can provide proof that they are not carrying the coronavirus, even if they are not vaccinated. "Whoever was vaccinated or has recovered [and can provide an immunity certificate] will be able to enter places … whoever wasn't, can do a test instead," he said.
However, vaccination will confer enhanced benefits such as exemption from quarantine requirements following travel abroad. The Health Ministry stated that it plans to issue a special document for those who have received both vaccine shots, valid for six months following the second dose. Those who merely test negative for the virus would be able to obtain a temporary passport valid for just 72 hours.
According to the deputy director-general of the Health Ministry, Prof. Itamar Grotto, the main factor delaying the plan to issue passports were the necessity of ensuring that faked documents did not begin to circulate. Green passports are likely to be in the form of a the smartphone application, or possibly voice recognition, but there will also, be an option to print out a document for the holder.
Other countries have also begun to discuss the concept of passports that will discriminate between those who have been vaccinated and others, albeit more tentatively.
"We could follow Israel's example by giving each person who gets the vaccine a green passport," said an MP in the French Parliament last month, quoted by Connexion France. "This would allow them to go into cultural spaces, restaurants… basically, to resume a normal life."
In the United Kingdom, however, senior government minister Michael Gove insisted that, "That's not the plan," when asked about issuing a special passport. "Let's not get ahead of ourselves," he said, promising that "of course… [businesses would] have the capacity to make decisions about who they will admit and why."
All the same, when questioned on the government's intentions, junior health minister Nadhim Zahawi told the BBC that, "We are looking at the technology."
He added that, "I think you'll probably find that … the pressure will come from both ways, from service providers who'll say, 'Look, demonstrate to us that you have been vaccinated.'"
Nonetheless, the vaccine for coronavirus differs from others for various other diseases such as polio, where some countries already require proof of immunization, as there is as yet no evidence that it prevents transmission of the disease – data provided by the pharmaceutical companies who have rolled out vaccines so far only refer to the suppression of symptoms.
Here is an update to this story:
The government said planning to roll out vaccine 'green passport' in lockdown exit
The reported plan would see Israel first reopen kindergartens, some school grades, and stores, then use the document to control access to hotels, culture, and sports venues
By TOI STAFF
The government may roll out the proposed "green passport" for those vaccinated against COVID-19 when it begins easing lockdown measures, Israeli television reported Tuesday, publishing some details from the planned steps for exiting the current closure.
The lockdown is set to end on January 21, but officials have warned it may be extended as Israel has in recent days recorded new records in daily confirmed infections, active cases and serious patients.
According to Channel 12 news, Prime Minister Benjamin Netanyahu held talks Tuesday to discuss how to gradually lift the lockdown and on introducing the green passport.
The document, which is being spearheaded by the Health Ministry, will be granted to Israelis who have received a vaccine or recovered from the virus, allowing them to attend large gatherings and cultural venues. The ministry has said those who test negative for COVID-19 can receive a temporary green passport for 72 hours.
The TV report said an initial plan for rolling back the lockdown will see kindergartens, some elementary school classes and grades 11-12 return to school in the first stage, along with some stores and service industries involving close contact if there is only one worker serving one customer at a time.
No further details were given on the plan.
After a record 9,665 new infections were confirmed Monday and with the death toll surging, a top Health Ministry official said planning for lifting restrictions was made "more complex" by the national vaccination drive, a factor not present during the previous lockdowns.
"Therefore, one of the things we'll look at is the number of sick patients. As soon as we see a decrease, we'll know it's possible to open," Sharon Alroy-Preis, the acting head of the ministry's public health services division, said during a briefing.
She said there was no way to bring down infections without stringent restrictions.
"We need to maintain the lockdown and the guidelines to bring down the morbidity rate. We'll keep track of the infection figures and make recommendations accordingly. I believe that we cannot leave the lockdown in ten days," she said.
Alroy-Preis said that 73% of Israelis who are over the age of 60 or who have other high-risk factors have already been vaccinated with at least one shot, but noted that inoculations were slower in the Arab and ultra-Orthodox communities.
The latest number given by officials for total vaccinations was 1,910,330 — about 20% of the population — although Netanyahu on Tuesday held a ceremonial event celebrating the two-millionth person to be vaccinated.
Updated figures published Tuesday evening by the Health Ministry said 9,665 new cases had been confirmed Monday, an all-time record. However, the rate of positive tests, 7.6%, was roughly half of the record reached in September. The number of daily tests has since grown dramatically and stood at 127,075 on Monday.
Initial figures for Tuesday showed a similar positivity rate of 7.3% — 5,399 cases out of 73,874 tests conducted by 6 p.m.
The number of total cases since the pandemic began, which passed half a million earlier in the day, reached 508,604, including 75,408 active cases — a new all-time record. Of them, 1,072 people were in serious condition, including 336 listed as being in critical condition and 269 on ventilators.
The death toll surged to 3,756 — an increase of more than 50 since the morning.
The Health Ministry hopes to have vaccinated 5.2 million citizens against the coronavirus by the end of March.
Sheldon Adelson laid to rest in Jerusalem
Businessman, philanthropist, and Republican megadonor Sheldon Adelson brought to Mount of Olives cemetery in Jerusalem to be laid to rest.
The funeral service for American Jewish businessman and philanthropist Sheldon Adelson was held in Jerusalem Friday afternoon, at a private service on the Mount of Olives.
The service is closed to the media, with only family present.
Adelson's remains arrived in Israel Thursday evening. His coffin was flown on his private plane from Los Angeles.
Friends and family came to the airport to greet Adelson's remains, including Prime Minister Binyamin Netanyahu.
Adelson, 87, passed away on Tuesday from complications related to treatment for non-Hodgkin's Lymphoma.
Adelson, the son of poor Jewish immigrants to the US, began his business career at the age of 12 when he borrowed $200 from his uncle to purchase a license to sell newspapers in Boston. He went on to start 50 businesses over the course of his career.
Adelson was a prolific philanthropist and political donor. The Adelson Family Foundation has donated $140 million to Birthright Israel since 2007. He and his wife Miriam were also among the biggest donors to US President Donald Trump's election campaign in 2016.
In 2007, Adelson launched the Yisrael Hayom newspaper, a free Hebrew Israeli daily which quickly rose to become Israel's most-read newspaper.
Blood Pressure Often Differs Widely Between Two Arms: Study
By: Amy Norton
Blood pressure readings between the two arms can be different, and that disparity can sometimes be a warning sign of heart trouble down the road.
That's the finding of an analysis of 24 past studies: When people have at least a 5-point difference in blood pressure between the two arms, their risk of heart attack, stroke or premature death inches up. And the greater the difference, the more those risks climb.
Experts said the findings give more support to something that's been advocated, but not commonly done by doctors and nurses: Checking patients' blood pressure in both arms.
"Unfortunately, blood pressure is not routinely measured in both arms," said Dr. Jeffrey Berger, a cardiologist who was not involved in the study. "But I think it should be."
Berger directs the Center for the Prevention of Cardiovascular Disease at NYU Langone Health in New York City. He said he always checks blood pressure in both arms, and thinks it should be a matter of routine in all patients.
"It's such a simple thing to do," Berger said.
It's not that the blood pressure difference, itself, is the problem. But a discrepancy between arms might be a sign of early atherosclerosis that is developing asymmetrically, Berger explained.
Atherosclerosis refers to a hardening and narrowing in the arteries that, eventually, could lead to heart disease or stroke.
Measuring blood pressure in both arms gives doctors "a simple way of noticing possible arterial stiffening," said Dr. Christopher Clark, lead researcher on the new analysis.
There's no way to "fix" between-arm discrepancies, but that's not the point, said Clark, a clinical senior lecturer at the University of Exeter Medical School in the United Kingdom.
Instead, he explained, doctors can consider between-arm differences one "marker" of a patient's heart disease risk.
And then what? Berger said it depends on a patient's overall health. Eating more healthfully and getting regular exercise is always wise, he said, but some people might need medication, like a statin, to ward off cardiovascular trouble.
The findings, published online Dec. 21 in the journal Hypertension, are based on 24 studies from around the world, involving almost 54,000 adults in all. Over 10 years, 11% had a fatal or non-fatal heart attack or stroke.
It's normal, Clark said, to have a few points of variation in blood pressure between the two arms — due to anatomy and the fact that one hand is typically dominant.
"Our interest was to identify when that difference is large enough to be regarded as signifying more than this," Clark said. "When is the difference large enough to suggest a change in the arteries that might signify additional risk of strokes or heart attacks?"
Overall, his team found, people's risks started to climb when the two arms showed at least a 5-point difference in systolic blood pressure (the "top" number in a blood pressure reading).
For each 1-point increase, the risk of dying from heart disease causes in the next 10 years rose by 1% to 2%. Meanwhile, the odds of suffering a first-time heart problem or stroke also crept up.
Those increases were small, but the researchers said that a 10-point difference in systolic pressure between arms should be considered the "upper limit of normal."
Between-arm differences are more common in people with high blood pressure, Clark said, but people with normal readings can have them, too.
The phenomenon matters more for someone with high blood pressure or other risk factors, like diabetes and high cholesterol, he added.
Berger said that it's not clear why so few health care providers measure blood pressure in both arms.
"This is not a new finding," he said of the current study. "It's been shown many times."
For now, Berger suggested patients ask questions the next time they have a blood pressure check: If it's not being done in both arms, why not?
As for home blood pressure monitoring, he said, if people repeatedly detect a significant difference between the arms, they should tell their doctor.
Clark was also in favor of doctors checking both arms, at least once — in part to get a more accurate gauge of patients' blood pressure. If one arm has a higher reading, he said, then future measurements should be taken on that arm.
Tyrannical governments use lockdowns to promote evil, not health
Israeli small business owners and unemployed get stipends to keep their heads above water. We should pity the rest of the world.

The Covid pandemic will shape the outlook for years to come. In good ways and bad. At the beginning of the lockdowns, I often warned that shenanigans would follow (also see AmericanThinker: Beware of tyranny more than covid 19. Now that some countries have entered a third round, the entirety of the experiment is open to the naked eye. The sight is not so pretty.
Freedom House, a think-tank in Washington, counts 80 countries under lockdown orders where democracy and human rights took a turn for the worse. The list covers dictatorships grown nastier and democracies sunk into quasi police states. Governments to the right and left have taken advantage of a general state of alarm. A journalist named H.L. Mencken wrote, long before the pandemic, "The whole aim of practical politics is to keep the populace alarmed by an endless series of hobgoblins, most of them imaginary."
When people have a pandemic to alarm them they will clamour to be led to safety. Some put their faith in rocky health experts, others in office holders arrogant as satraps. Both, with the help of big media, find it easy to spread panic and dread. Freedom House counted 91 countries using Covid as an excuse to harass commentary that displeases the powerful. Groupthink is fiercely enforced. Lockdown is the one correct position, and everyone must be for it.
There are pandemic elections to go with. Ruling parties suspend them because of being 'afraid' of the super-spreader. In Hong Kong pro-democracy candidates were expected to do well in the September election. Citing the risk of Covid, pro-China candidates put the election back a year.
Russian President Putin used the panic cunningly. First he shifted responsibility for strict lockdowns to regional governors. He then relaxed them and took the credit. A pseudo-referendum to allow Putin to stay in office until 2036 was another bright scheme. Citing public health, he extended voting to a week, and – note this well, US Democrats – he allowed voting at home, in courtyards, in playgrounds and on tree stumps. The ballot was impossible to verify and Putin declared a resounding victory – so impossible that Parliament voted to make the trial electoral system permanent.
Will all this panic and string-pulling recede with the pandemic? Not if it lasts long enough to get rulers hooked on it. Here we should identify two sorts of tyranny. One is well-meant, the other is not. C S Lewis the classics scholar, author and theologian, wrote in 'God in the Dock' about tyranny of the well-meaning sort. "A tyranny sincerely exercised for the good of its victims may be the most oppressive. It would be better to live under robber barons than under omnipotent moral busybodies. Those who torment us for our own good will torment us without end, for they do so with the approval of their own conscience."
Clerics were among the 'moral busybodies'. Once upon a time they used unspeakable cruelty to protect the monopoly of Catholicism and the Pope in Rome. Protestants bore the brunt, to teach by example, to spare Catholics the torments of purgatory. Evil means were deployed to prevent evil.
CS Lewis was a theologian, not a social scientist, and had nothing to say about the other tyranny: evil for evil sake. The masses do not suffer for their own good, or for the approval of the persecutor's conscience. They suffer in the cause of some cruel and callous scheme. The murderous maniacs of the 1900s fall in this bracket: Stalin, Hitler, Mao and Pol Pot offered neither penance nor reward, earthly or eternal. Their subjects lived through hell and died, often willingly, for some crackpot utopia.
Some lords of lockdown are kith and kin of those terrible twins. Some order lockdown for our own good, to save us from Covid. Others order lockdown to exercise power, for the sheer thrill of it. Liberty gets trampled, lives and livelihoods crushed.
The well-meaning tyrants come in different guises and degrees of how well they mean. The political class and attendant health advisors run the show. Who else would – God above? Who needs to? Pandemics in the 1950's and 60's equalled the killing power of Covid, but countries let pandemics play themselves out, in the way they tend to do. No government abolished freedom and demolished a country. Not so Britain's Boris Johnson who was among the first leaders to do both, starting with the slogan: "Stay home. Protect the NHS. Save lives." The first edict worked all too well: town centers and public places became haunts for ghosts. The plea to protect the health system proved superfluous: as it mostly did elsewhere, the system quickly created over-capacity. No. The wrecking ball was the command, 'Stay home'. It, the lockdown, was the deadliest in all Europe. If it saved anyone from Covid death, staying home definitely took lives and livelihoods wholesale and willy-nilly. It made the wrecked survivors, the workless, a burden to themselves and the country.
Then you get the American state of Florida. Did it pay a price for giving tyranny a wider berth than New York or California, which puts residents through hell, for their own damn good! Ask fleeing New Yorkers and Californians: why flee to Florida?
To spit on lockdowns, curves refuse to flatten, infection rates head where they like, and one in a few hundred of the infected continue dying with Covid. None of it stops lords of lockdown egging on their countrymen to greater vigilance, even as lockdown tallies spike taller than Covid tallies. How we hug a faulty lifejacket while we sink! The authors of The Price of Panic present graphs of infection rates from which it cannot be seen when lockdowns began and when they ended. The infection rate, we never learn, is no more dependent on lockdown than crime is dependent on jail time.
There is a whole political class aware of that, and so rides on lockdown to do evil. The quest for safety, it grasps, is all-consuming, and surrenders power into the laps of those who crave it. Also the patronage at their disposal is a money-printer. Fortunes are made from milking the market for items and services that hapless subjects have to have to feel safe. Panic is obscenely profitable. Tumble people into a contagion and they'll pay through the teeth to get their hands on test kits or face shields, or even more on the long awaited vaccine.
It seems too easy for adherents of lockdown to put their consciences to bed by going for broke. 'Don't let your guard down until it's all over. The goal (which began with preventing hospitals being overrun) has turned into stopping Covid deaths. Until the goal is reached, forget that selfish yearning for liberty. Co-operate!
Is it the right goal? Many religious scholars are adamant it is. Saving a life comes before all else. Yes, the economy suffers, but if lockdown saves one infinitely precious human being, so be it.
But what if we can show that multiple infinitely precious human beings have to lose their lives or livelihoods to save that one, who dies anyway? What then? And what is the limit to how many lives may be taken to save the one? Lockdowns, to believe the World Bank, have plunged hundreds of millions in Thirdl World countries back into dire poverty. The UN reckons that 490 million people in 70 countries will become poverty-stricken, reversing a decade of gains. How many lives saved will make it worth ruining 490 million others? Is there a barter rate of exchange? And what if those saved live in luxury, while those ruined on their behalf are dirt poor?
Evidently Rabbi Lord Sacks, who was a scholar and moral philosopher, thought along similar lines. It came to him that the laws on saving our countrymen, far from being absolute, are just moral brain-teasers, for teasing and bathing in their divine glow. To try out the 'sanctity of precious life' principle on a global pandemic is to try out killing a cockroach with a bazooka.
Still the sanctity principle has great beauty. The contemplation of it can let the mind of a great scholar soar. "The fact," says the late rabbi, "that nations, in the face of the pandemic chose life was a significant victory for the Torah's ethic of the sanctity of life."
It is what it is. Many of those nations, in their heart of hearts, chose life as a token. Death and ruination they chose as inescapable facts. Choosing both, those nations set a brain-twister to beat them all. How did the life they chose to save connect to the 490 million lives they chose to let penury and death take care of?
Rabbi Lord Sacks had a practical brain to go with his deeply insightful one. He saw through the tinsel curtain. We have no business playing the sanctity card to justify locking down all and sundry. The decrees of lockdown are not unlike cattle trading. The seller masks the defects by giving the animal a blinding good shine. Lockdown is no more scientific than is getting a good price for your decrepit cow.
A rabbi can put it more eloquently, and delicately. 'The sanctity of life is a high value but not the only one. What matters are consequences. A ruler or government must act in the long-term interests of the people. That is why, though some will die as a result, governments are gradually easing the lockdown (as) the rate of infection falls, to ease distress and restore suspended liberty."
Suspended? Would-be tyrants and desperados presiding over collapsed economies would disagree. Obstinate Covid is a gift heaven-sent. Strongmen fondle it with both hands, prolonging lockdowns under the pretext of fighting Covid. Did they look up Benjamin Franklin, I wonder? "They who can give up essential liberty to obtain a little temporary safety deserve neither liberty nor safety."
A society that divides off a privileged from a dispensable class is a paradise for control freaks. Gavin Newsom, Governor of California, is one. Angela Marsden's tearful video would send a thrill down Newsom the tyrant as he watches a 'deplorable' subject pouring out her pain. A brutal lockdown can destroy a whole class of business owners beyond hope for recovery, something which no financial crisis has done before. Persecutors in the Newsom mould create unemployment of fabulous proportions, not restricted to the working class, but seizing swathes of enterprising people like restaurateurs.
Los Angeles, indeed, is in the grip of office bearers who could have stepped out of Sodom and Gomorrah. District Attorney George Gascon devised a method to get people to comply with Mayor Garcetti's malignant stay-home order. The DA will make city streets too dangerous for those who dare venture out their doors. Mr Gascon belongs to a breed of radical prosecutors who are eviscerating law and order so that not too many felons of colour get arrested.
His office will not prosecute a range of offenses. They include driving without a licence, trespassing and resisting arrest. His double whammy is well thought out. On the one hand, the law-abiding will lock themselves indoors; on the other hand law-breakers get a free pass to make trouble on the almost police-free streets.
Some good may rise out of the plague year. If it does, a new social contract must be forged.
Steve Apfel is an economist and a cost accountant, but most of all a prolific author of non-fiction and fiction, published in many journals and sites. His books include: 'The Paymaster' (Fiction); Hadrian's Echo (Non-fiction); 'A bias thicker than faith' (non-fiction, for publication soon), and 'Balaam's curse' a WIP biblical novel.
On the edge: World's most dangerously placed tourist locations
If you fear heights, then these daring spots might scare you a bit. This is because these are some of the world's most dangerously places structures – temples, monasteries, houses, and castles perched on cliff edges, and rocky mountains. While some are these will be accessible by those with exemplary mountain climbing skills, others can be accessed via road. Here are some of our top picks. Check them out.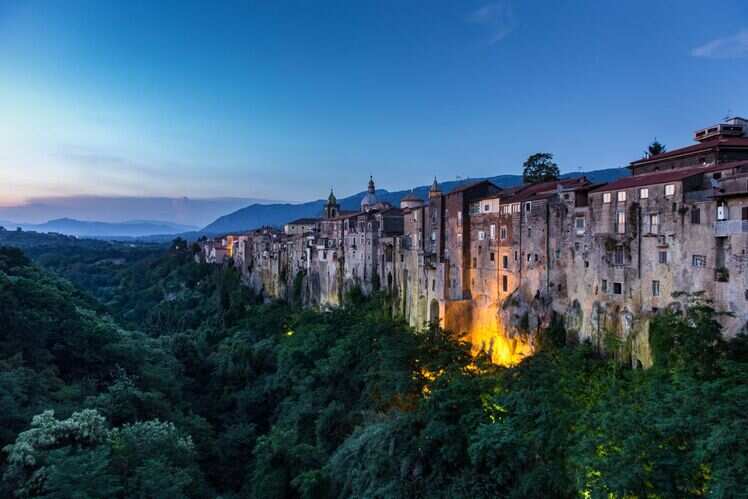 Credit: iStock
02
Sant'Agata de' Goti, Italy
The
very first sight of this place will make a magical impression. It has
all the charms that you would expect from a medieval town. However,
there will be an unexpected twist waiting for you Perched on delicately
on top of a steep, sheer bluff above a river gorge, this historical gem
will give you a feeling that it is cut off from the rest of the world.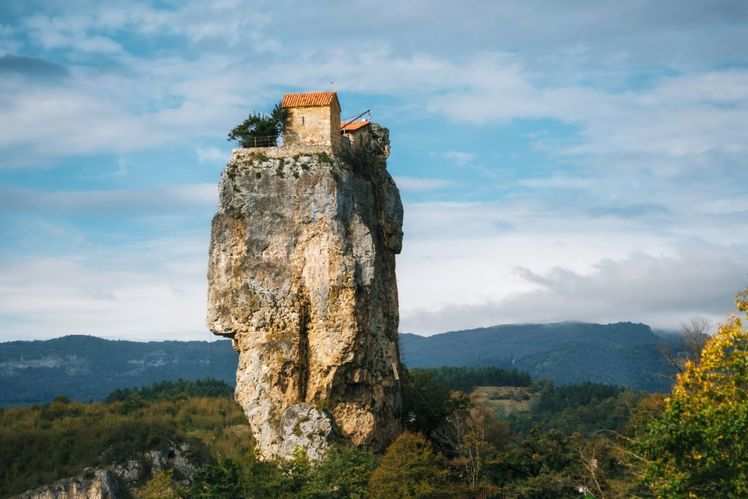 Credit: iStock
03
Katskhi pillar, Georgia
Perched
on top of the 130 ft high Katskhi Pillar in Georgia, is probably the
world's most sacred, and isolated church. Located around 200 km west of
Georgia's capital city Tbilisi, this amazing landmark is famed for being
notoriously difficult to reach. Reportedly, locals could only look up
at the mysterious ruins at its summit for centuries. However, in 1944,
mountaineer Alexander Japaridze led a group to the spot and made the
first documented ascent of the pillar. Till now, only those who are
invited to scale the rock are allowed to reach the scared spot.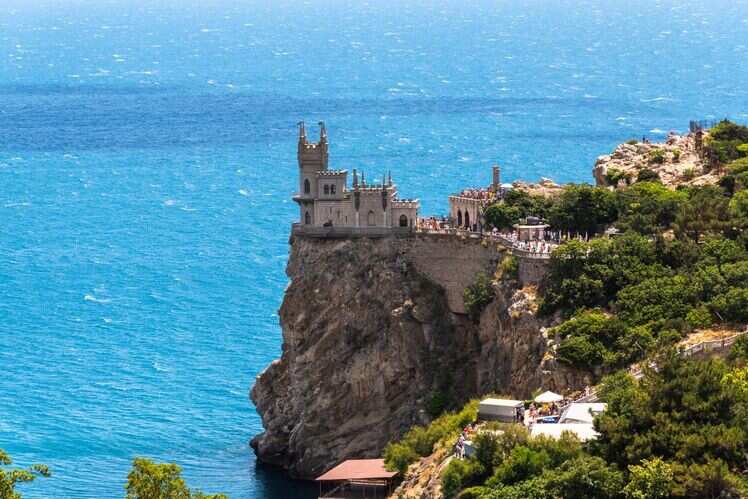 Credit: iStock
04
The Swallow's Nest, Ukraine
The Shallow's Nest or the Love Nest is a decorative castle located at Gaspra, and stands as a curious remnant of Imperial Russia. Nestled on the edge of the Crimean Sea, it is likely the most unlikely place where one would expect to find such a beautiful castle. Built in 1911, it has even managed to survive an earthquake. Now, it is open to tourists and even boasts of an Italian restaurant.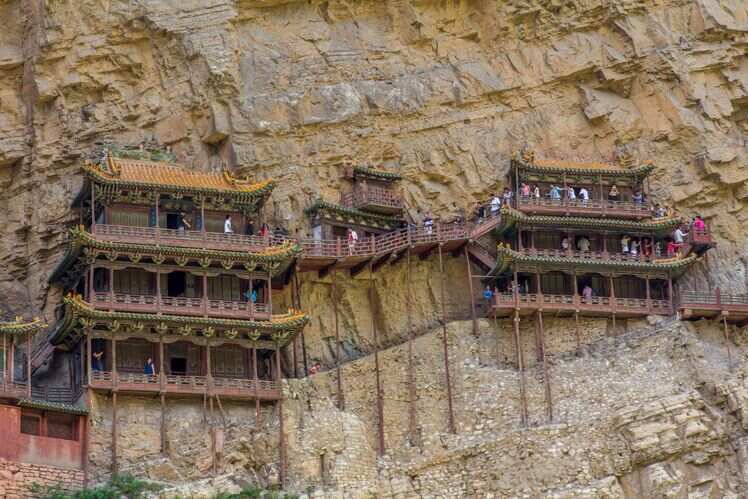 Credit: iStock
05
China's Hanging Temple
Built more than 1500 years ago, China's Hanging Temple is truly an architectural wonder. It is a temple built into the side of a cliff near Mount Heng in Shanxi Province, China, which was actually constructed without any wooden pillars that now seem to support it. It has 40 rooms that re linked by a maze of passageways. It was originally constructed by drilling holes into the cliff that hold up the temples.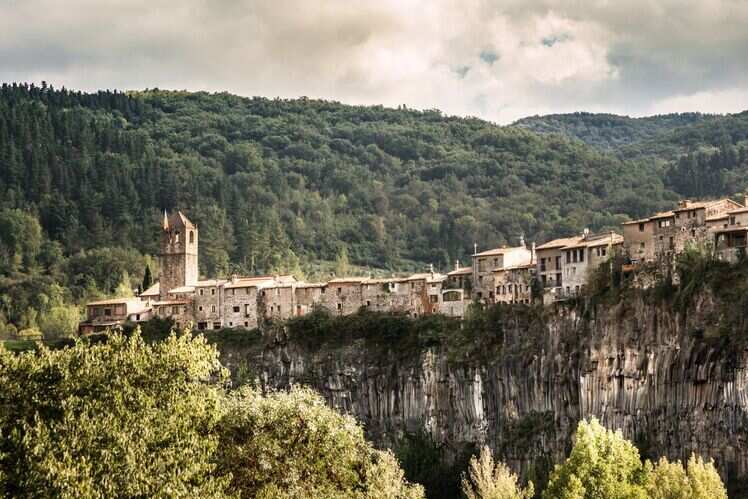 Credit: iStock
06
Castellfollit de la Roca, Spain
This picturesque medieval village is built on a basalt column in north eastern Spain. Most of the streets and houses are built of the dark, volcanic rock. The town once had a normal shape, which got stretched out over a kilometre-long basalt formation due to some incredible force. The main street of this spot winds across the entire town that are pressed between houses on both sides, thereby pulling it to remain on the cliff face.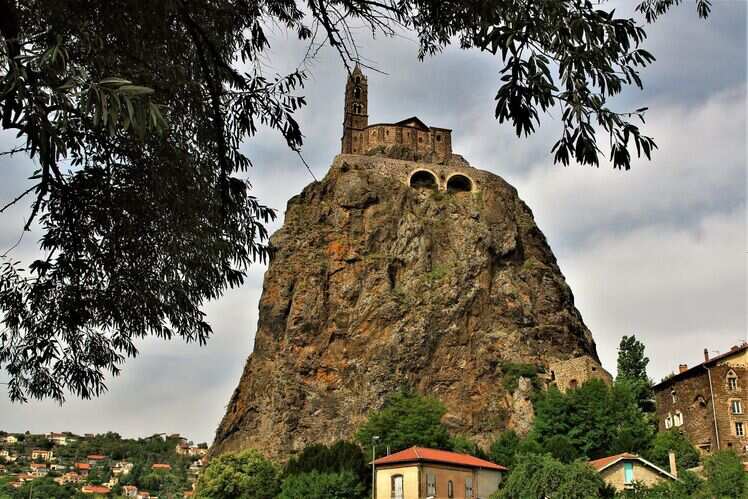 Credit: iStock
07
Saint-Michel d'Aiguilhe, France
The chapel of Saint-Michel d'Aiguilhe in southern France is more than thousand years old that stands on a volcanic plug 280 ft tall. To reach the chapel, one has to climb 268 steps that have been carved into the rock. It is a fascinating little pilgrimage chapel that is nestled on top of a rocky needle formation that gives you a sense that you are dramatically climbing high into the sky.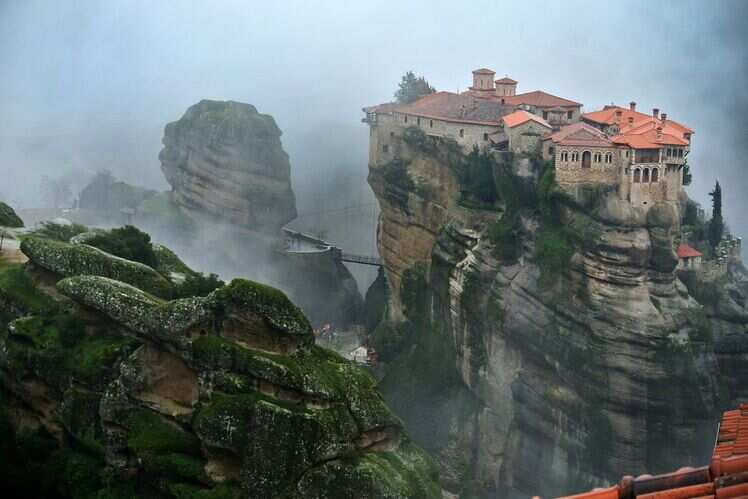 Credit: iStock
08
Meteora, Greece
It has been a UNESCO World Heritage Site since 1995, and has been an official holy place from Greece since 1995. It's a vast complex comprising of giant rock pillars on which monasteries have been built on top sandstone cliffs centuries ago. This truly creates a surreal landscape that can't be found anywhere else in t
See you tomorrow bli neder
We need Moshiach now!
Love Yehuda Lave
Yehuda Lave, Spirtiual Advisor and Counselor
Jerusalem, Jerusalem
Israel