Yehuda Lave is an author, journalist, psychologist, rabbi, spiritual teacher, and coach, with degrees in business, psychology and Jewish Law. He works with people from all walks of life and helps them in their search for greater happiness, meaning, business advice on saving money, and spiritual engagement.
Love Yehuda Lave
Join my blog by sending me an email to YehudaLave@gmail.com
The Three Musketeers at the Kotel
COVID Vaccines – A Deeper Dive into the Data
Operation Warp Speed was well named. The typically tortoise-paced government and pharmaceutical bureaucracies moved with hare-like speed bringing several vaccines to market and available to millions. Hopefully, this will soon return America to normal, although don't hold your breath on that.
The all-knowing Dr Fauci tells us that masks and social distancing will be with us for at least another year, despite his earlier assertions that distancing and masks were unnecessary in the early days of the pandemic. So why the hoopla over a vaccine?
Vaccines are not the destination, but merely a pathway to the final goal of herd immunity. As per the Mayo Clinic,
Herd immunity occurs when a large portion of a community (the herd) becomes immune to a disease, making the spread of disease from person to person unlikely. As a result, the whole community becomes protected — not just those who are immune.

There are two paths to herd immunity for COVID-19 — vaccines and infection.
For COVID, we could have taken the Sweden approach. After the initial "15 days to slow the spread" back in March, allowing the healthcare system a breather to assess what lay ahead, we could have resumed normal life, protecting the elderly and vulnerable, quarantining only the sick, allowing the inevitable viral spread through the rest of the population, a few getting sick, some dying, just as we do every year with seasonal influenza.
With that approach, we might have achieved herd immunity already, without the socio-economic destruction due to recurring lockdowns and business closures. Now we have several vaccines, the other side of the two-pronged approach to herd immunity.
Let's look at the vaccine data, specifically the FDA report on the Pfizer vaccine. The studies were solid, meeting the Fauci standards of a "randomized, double-blinded and placebo-controlled trial". This also happens to be the FDA's requirement for approving a new medication or treatment.
YouTube screen grab
44,000 individuals participated in the trial, with the primary endpoint being the "incidence of COVID-19" as defined as a positive COVID PCR test and at least one of the typical symptoms such as cough, fever, sore throat, and so on. These represent true cases, not simply positive tests. This distinction is lost on the media braying endlessly about "surging cases" which represent simply positive tests, a notoriously unreliable metric as even the New York Times noted.
Severe cases in the study were quantified by respiratory parameters of oxygen saturation or respiratory failure, as "severe" could be in the eye of the beholder. Specifically defining "severe" eliminated any wiggle room. The study was well balanced in terms of demographics including race and comorbidities, not to be woke but because this is how good science is performed. Unfortunately, only 4 percent of participants were age 75 or older, despite this group being most in need of a vaccine.
162 individuals receiving placebo developed a case of COVID as defined above while only 8 in the vaccine group did so, meeting a successful primary endpoint and providing the 95 percent efficacy number reported in the media.
The FDA looked specifically at the "evaluable efficacy" population who were treated as per the study protocol. They received both prescribed vaccinations at the proper time, representing the true study population of 35,000 individuals. The total population (all available efficacy) may have only received only one vaccination. This distinction is important scientifically but not to the media who cherry pick what to report.
While the case reduction is impressive, remember this represents patients who basically had a cold or flu which they recovered from. More important are the severe cases. In the true study population, the "evaluable efficacy" group, 1 in the vaccine group and 3 in the placebo group became severely ill.
The 1 in the vaccine group had an oxygen level of 93%, meeting the "severe" criteria but was not hospitalized. Of the 3 in the placebo group, one also had a low oxygen level of 92% and was not hospitalized, one had pneumonia, was hospitalized but was not intubated, and one had an oxygen level of 92% but was admitted to the ICU for heart block, not for COVID.
Leaving aside all this medical mumbo-jumbo, which may send readers to a more interesting article speculating on which John Roberts visited Epstein Island, what do these vaccine numbers mean?
Yes, the vaccine works, significantly reducing the percentage of "COVID cases" among those vaccinated. But the more important goal, in my mind, of a vaccine is to keep people from getting really sick, as opposed to just a cold or flu, which while inconvenient is part of normal life.
Looking at the data from this perspective, the placebo group of 17,511 had only three cases of severe COVID, two of whom were hospitalized, one of the two for a cardiac issue, not COVID per se.
Meaning the odds of the average person (unvaccinated) in this study cohort being hospitalized is 1/17,511 or 0.006 percent. The odds of such a person developing mild COVID, simply cold or flu symptoms, is 162/17,511 or 0.9 percent.
These are the odds of the average person coming down with COVID and are quite low. Is this worth shutting down large swaths of the economy for? Have we ever done that for season flu?
If you look at the entire study population of about 35,000, this many individuals would need to be vaccinated to keep one person out of the hospital. And that one would likely recover. That's what the vaccine provides.
The cost of vaccinating these 35,000, at a cost of $39 per dose course, is $1.4 million. Vaccinating the entire US population of 330 million would cost almost $13 billion.
Is that money well spent? Is it necessary? What are the costs of lost businesses? Or of social destruction from addictions and suicide due to deferred medical care? No easy answers but worthy of thoughtful discussion rather than censorship and ostracization if you ask these questions.
What about vaccine side effects? In the vaccine group, about two thirds developed a systemic adverse reaction compared to less than half in the placebo group. Fortunately, serious adverse events were less than 1 percent, but far higher than the 0.006 percent chance of an unvaccinated person being hospitalized.
The severe reactions were generally random events expected in such a population such as heart attacks and appendicitis. Now that vaccinations are in full swing we will soon know if these safety events are insignificant or not, as with the swine flu vaccine in the mid 1970s.
This study had a "median follow-up of 2 months" meaning late appearing side effects are unknown. There were internet rumors of infertility due to the vaccine, which the media pounced on to refute. But such a side effect would not be detected in a two-month study due to the timing unpredictability of conception.
The FDA warns in their vaccine fact sheet, "Serious and unexpected side effects may occur. Pfizer-BioNTech COVID-19 Vaccine is still being studied in clinical trials." Will early data stand the test of time? Or does an "emergency use authorization" reflect the adage "haste makes waste"? We shall see.
What does this all tell us?
For the average unvaccinated person, the odds of becoming mildly ill with COVID is less than 1 percent, and the odds of being hospitalized is less than one in ten thousand. Yet this vaccine is likely to become mandatory if one wants to work, travel, or shop. And a new means of virtue signaling as physicians are posting photos of themselves on social media getting their vaccines. Do any post photos while undergoing a colonoscopy or mammogram, also procedures of benefit in preventative care?
Failed presidential candidate Andrew Yang wants downloadable bar codes proving vaccinations. Why not a V tattooed on everyone's forehead?
Despite these low numbers, we have destroyed our economy due to lockdowns and quarantines. Were these necessary? Was the socio-economic devastation worth it? When if ever will it end? The experts say we are not even halfway through the misery, promising at least another year of this.
I'm not an anti-vaxxer but simply want a reasoned discussion based on "follow the science." I will likely get the vaccine as it will be needed for work and travel. I'll leave the virtue signaling to my colleagues and won't post a photo of myself to Facebook with a needle in my deltoid.
Also unknown is how long the vaccine lasts. Will we need it again in a year? What if the virus mutates? Will we be getting multiple vaccines each year for influenza and whatever other respiratory viruses are making the rounds? What does that do to our immune systems? Does the vaccine prevent transmission of the virus? If Dick is vaccinated is it safe for him to visit Grandmother Jane in the nursing home?
What happens when a new mutated strain of COVID develop, as recently noted in the UK? Will our lives forever be filled with new vaccines and ongoing masks and distancing, fighting what has been part of the human experience long before there were vaccines? Will "your travel papers please" become necessary for life, liberty, and the pursuit of happiness?
Is this about the science and the virus or are there other forces and agendas a play?
Brian C Joondeph, MD, is a Denver based physician and freelance writer for American Thinker, Rasmussen Reports, and other publications. Follow him on Facebook, LinkedIn, Twitter, Parler, and QuodVerum
Enjoy these pictures from our two Sundays and Mondays in the North--12/13 and 12/20/20.It is hard to believe it is winter and we didn't have to spend thousands to fly to the
seychelle islands. Just $35 for a one night stay at a local Zimmer plus transportation.
Watch: Outdoor prayer groups - in the Canadian snow
David Zolty of Toronto films outdoor Jewish prayer groups which continue to meet outside - despite heavy snowfall.
FEATURED ARTIST OF THE WEEK
KENNY ROGERS
Kenny Rogers/Quotes
Do not be afraid to give up the good to go for the great.
There is a trade-off - as you grow older you gain wisdom but you lose spontaneity.
Growing older is not upsetting; being perceived as old is.
You gotta know when to hold 'em, know when to fold 'em, know when to walk away, know when to run.
I've always said music should make you laugh, make you cry or make you think. Kenny Rogers

I'm so totally future-oriented that, for me, I don't know what the future's about, but I can promise you it's gonna be exciting. Kenny Rogers
Kenneth Ray Rogerssinger, songwriter, musician, actor, record producer, and entrepreneur.
Elected to the Country Music Hall of Fame
Sold more than 100 million records worldwide during his lifetime, making him one of the best-selling music artists of all time.
Rogers embarked on a long and successful solo career, which included several successful collaborations, including duets with singers Dolly Partonand Sheena Easton, and a songwriting partnership with Lionel Richie. His signature song, 1978's " The Gambler", was a cross-over hit and was selected in 2018 for preservation in the National Recording Registryby the Library of Congress.

Remaining a popular entertainer around the world, he continued to tour regularly until his final retirement concert at Del Mar, CA.
He was a co-founder of the restaurant chain Kenny Rogers Roasters.
Marcus Foundation announces $10 million matching grant for completion of Israel's new national blood center
The Marcus Foundation announced Dec. 7 a $10 million matching grant to ensure the completion of Israel's new national blood services center, a first-of-its-kind shielded blood facility that will protect Israel's strategic blood reserves against missile, chemical, and biological attack.
The building, under construction in Ramla, Israel, is set for completion this spring. The facility was designated as the Marcus National Blood Services Center based on a $25 million gift from the Marcus Foundation in 2016, prior to the project breaking ground.
Artist rendering of the completed Marcus Blood Center
The latest donation from Bernie and Billi Marcus was made to inspire other donors to match their commitment and complete the funding for the $130 million project for Magen David Adom, Israel's emergency medical service and blood-services organization.
MDA will operate the facility. While it is best known for operating Israel's ambulances and deploying the country's paramedics and EMTs, it also oversees the collection, safety-testing, and distribution of Israel's blood supply for use by hospitals and the Israel Defense Forces.
For more information, visit https://afmda.org/marcus-match/
Aerial view of Marcus Blood Center and its current stage of construction
With this latest gift from the Marcus Foundation, American Friends of Magen David Adom, MDA's U.S.-based fundraising affiliate, hopes to quickly raise the remaining funds to match the grant and enable the completion of the project.
"Israel needs a larger blood facility to meet the requirements of a country that now has a population more than twice what it was when the current facility was built in Ramat Gan in the mid '80s," said Catherine Reed, AFMDA's chief development officer.
"But more than that, the facility now needs to be reinforced against missile, chemical and biological attack, given the importance of blood transfusions to the health of the nation and the increased military capabilities of Israel's enemies, including Iran, Hezbollah, and Hamas," she said.
The six-story facility will have its three lower floors underground in successively more shielded levels to protect the blood supply and enable MDA's hematologists, laboratory technicians, phlebotomists, and other blood-center employees to continue working, even when rockets are being launched at the country from Gaza or elsewhere.
In the meantime, MDA is continuing to use its current blood-services facility, which is not protected. When Israel is targeted by a missile or rocket attack, blood center staff must quickly move blood-processing operations and heavy equipment to a cramped bomb shelter in the basement of the building.
"This interrupts blood processing at a time when having an ample blood supply is most crucial, when Israelis are under attack," said Dr. Eilat Shinar, deputy director-general and director of blood services for Magen David Adom.
"Completing this facility on time this spring will ensure we have the capacity to collect and process enough blood for Israel's future needs," Shinar said. "It will enable us to introduce cutting-edge technologies to improve both the quality and safety of blood units and components and provide them to all those who need them — to save their lives.
"It will also ensure that our supply is secured, no matter what challenges befall the country, whether it's a war or a natural disaster, like the earthquake we know will eventually strike Israel given its location near two geologic faults," she said.
"There are few things more important to Israel's future than seeing this project to fruition," she said. "Blood is life."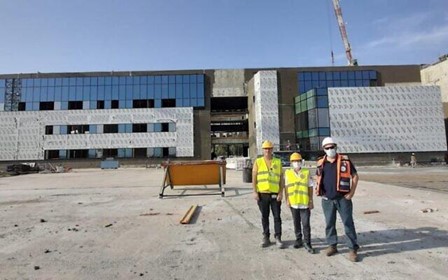 Captain James T. Kirk's Chanukah Memories
Created by Gene Roddenberry, Star Trek follows the voyages of the starship USS Enterprise, a space exploration vessel built in the 23rd century by the United Federation of Planets, a futuristic intergalactic United Nations of sorts, on a mission "to explore strange new worlds, to seek out new life and new civilizations, to boldly go where no man has gone before."

Despite the modest reaction that its 79 episodes generated during the three years it originally aired (1965-1969), Star Trek has become one of the greatest cult phenomena of all time and is notable for its cultural influence far beyond the science fiction genre.

Advertisement


Star Trek episodes tell the story of the adventures of the humans and aliens who serve together in Starfleet, the space-borne humanitarian and peacekeeping armada of the Federation. The protagonists, who have altruistic values but often display human/alien failings, must apply these ideals to challenging dilemmas, many of which were metaphors for contemporary cultural issues.

William Shatner (b. 1931), who played James Tiberius Kirk – the cunning, courageous, and confident captain of the Enterprise – was born in Montreal, Quebec to a Conservative Jewish family that maintained a kosher home. His Yiddish-speaking father, Joseph, was a clothing manufacturer who had emigrated from Bukovina in the Austro-Hungarian Empire and his maternal grandparents were Lithuanian Jewish immigrants. The family name was originally "Schattner," but his paternal grandfather anglicized it to Shatner.

Shatner attended Hebrew school, attended synagogue with his family every Shabbat, and had a bar mitzvah ceremony. He worked as a teen counselor at a B'nai Brith camp in southern Quebec for young Holocaust survivors – in one case, his innocent reading of a scary story to a survivor so traumatized the child that he had to be sent home – but he always felt more connected to Jewish culture than to religious observance.

Even today, he often expresses pride at being part of a Jewish value system that teaches charity and generosity and in which education, learning, and communicating with other Jews is an important part of being Jewish.
Star Trek was notable in its time for its emphasis on addressing contemporary social issues in light of Jewish ideals like social justice and tikkun olam and for promoting Jewish values such as compassion, diversity, justice, and the pursuit of knowledge.
With the show airing only 25 years after World War II, when the Holocaust was still fresh in the public psyche, one recurring theme in the show is Kirk and his Enterprise crew confronting national socialistic societies and totalitarian states that were the antithesis of what the United Federation of Planets was seeking to advance throughout the galaxy. The prevalence of this theme may well be due to many of the show's original writers – including Bob Justman, Herb Solow, Robert Bloch, Shimon Wincelberg, Don Mankiewicz, Harlan Ellison, Jerry Sohl, and David Gerrold – being Jewish.
In one of the most memorable episodes, the planet Ekos, a caricature of the Third Reich, is headed by a "Fuhrer" who implements a "final decision" to eliminate its neighbors from Zeon, referred to as "Zeonist pigs" (the reference to a "final solution" and "Zionist pigs" is unmistakable). Interestingly, the German government banned the episode as "unfit for entertainment" and did not permit its broadcast until 1995.
Shatner, who lost distant family in the Holocaust and characterized himself as "a Jew who lived through the Third Reich," experienced great personal discomfort wearing a Nazi uniform in the episode. He wrote in his memoir, Live Long and… What I Learned Along the Way, that "it is impossible to have been born Jewish before WWII and not think about what you would have done if you were trapped in Europe."
Shatner tried to raise his three daughters as Jews, with various degrees of success, and he often celebrates Jewish holidays with his children and holds regular Shabbat dinners. In one notable instance, he declined a prestigious invitation from the Kennedys to join them at their compound so that he could attend a Jewish holiday celebration with his daughters in California.
When his father, with whom Shatner had had a very close lifelong relationship, died, he purchased a simple pine box for a coffin, as per the Jewish tradition, and arranged for a Jewish funeral. He writes about how strange it was that the officiating rabbi was prohibited from attending the cemetery burial and the peculiarities of a faith that prohibits its religious leader from offering prayers for the recently departed. As many readers have probably guessed, the rabbi was a kohen who, in accordance with Biblical law, was prohibited from defiling himself by entering a cemetery.
Shatner was raised with a romantic view of Israel but with no real appreciation of the monumental effort and human lives it took to create it and the continuing sacrifices necessary to defend and maintain it. He began to more closely follow the history of Israel and its achievements as an adult and, after many visits to Israel, which he calls "a magical place," he now appreciates the challenges facing the country. Lamenting its political quagmire with the Arabs, he expresses hope that Israeli ingenuity and political savvy will someday find a path to peace.
Standing at the Kotel during a visit in 1995, Shatner expressed his deep admiration for the Jewish state and declared, "I am here to absorb Jerusalem and Israel and to take a look at my heritage. I think it is so mystical and marvelous. It beckons everyone in the world, particularly Jews, to come here." He attended a ceremony with then-Jerusalem Mayor Ehud Olmert dedicating a sculpture of the 12 tribes of Israel at a seminary near the Kotel.
An active supporter of Israeli charities, particularly the Jewish National Fund, Shatner can count among his philanthropic efforts founding the William and Elizabeth Shatner Therapeutic Riding Consortium Endowment for Israel which, in cooperation with the JNF, funds 30 therapeutic horse-riding centers for the disabled. A great believer in the benefits that riding horses provides to the Israeli disabled, Shatner claims that "sussim osim nissim" (horses perform miracles).
Shatner generated some silly controversy during one of his visits to Israel and was taken to task by the media for not visiting his Jewish family there. It was suggested that he is related to Mordechai Shatner (1904-1964), a Zionist activist who saved Jews during World War II; was imprisoned in the Atlit detainee camp, Rafah and Latrun prisons for campaigning against the British treatment of Jewish prisoners; and later was a signer of Israel's Declaration of Independence. However, there is no evidence that Shatner is in any way related to Mordechai or that he had any relatives living in Israel.
Shatner, who has never been reticent about his Jewish heritage, says that "the mystique of being Jewish is something you wear as part of you, as though it were clothing." He has been outspoken about his experiences with anti-Semitism during his childhood growing up in Montreal, as a student at McGill University, and even during his career as an actor.
He was devastated when he was replaced on his high-school football team for missing a practice on Yom Kippur when he attended synagogue with his family. (He later regularly attended synagogue services with Leonard Nimoy on the High Holy Days.)
Tough neighborhood kids regularly picked fights with him because he was a Jew and, because he always fought back, he earned the nickname "Toughie." Shatner explains, with no small degree of pride, that anti-Semitism began to wane in America after World War II when Jewish soldiers, who had made important contributions to the successful war effort, "came back tough" and refused to back away from fights.
In this wonderful correspondence on his personal letterhead titled "Some Hanukkah Memories," Shatner – who signs the letter "Captain Kirk, Proud Jew" – writes:
Shatner's Chanukah letter.

First of all I'd like to say I recently released a Holiday album – I was going to call it "Dreidel" but then I thought better of it. Maybe I should have – maybe.

I was born in the Notre Dame de Grace neighborhood of Montreal Quebec Canada to a Conservative Jewish family – my Paternal Grandfather "Wolfe Schattner" anglicized his family name to Shatner. All four of my grandparents were immigrants – they came from the Austria-Hungary and Russian Empires – location of present-day Ukraine and Lithuania.

Third – during my childhood – the menorah stood somewhere on the mantelpiece – it was silver and black from use no matter how often it was polished – it stood there until used and then it was used with great reverence.

Fourth – my mother standing over the frying pan, pouring in a mixture of potatoes – ground-up potatoes into the sizzling fat – the oil – and frying up potato pancakes. The memory of those potato pancakes with applesauce and the family crowding around eating the pancakes is a memory that is indelible.

Happy Chanukah, William Shatner
This correspondence was likely written in 2018, when Shatner appeared in a PBS documentary, "Hanukkah: A Festival of DeLights," which traced the evolution of Chanukah from its origin as a relatively "minor holiday" on the Jewish calendar to "one of major prominence in assimilated American Jewish life." Said Shatner, "[Chanukah is] the tradition and the celebration of something brave and victorious…. Those are the things I think Jews think about."
Shatner is interested in Jewish holidays besides Chanukah. For example, he delivered a dramatic reading from the Bible and the Haggadah for "Exodus: An Oratorio in Three Parts," performed and recorded in 2005 by the Oklahoma Symphony Orchestra with a choir of 350 conducted by David Itkin, who composed the piece.
Although Shatner, who characterized the oratorio as "the perfect Seder entertainment," has been pilloried by critics for his bombastic musical performances – see, for example, his renditions of the Beatles' "Lucy in the Sky with Diamonds" and Bob Dylan's "Mr. Tambourine Man," which have become cult classics for their sheer awfulness – the critics commended him for his "nuanced" Exodus performance, including his effective interpretation of a pulpit rabbi delivering a sermon.
It was Shatner's shared Jewish background that helped him bond with his Star Trek co-star, Leonard Nimoy (1931-2015), the iconic ultra-rationalist and logical – dare we say "Maimonidean?" – first officer. Nimoy, who grew up in a strictly observant Orthodox family, based several aspects of his character on his Jewish upbringing, most famously the "Vulcan finger-salute," which has become a universal sign for the blessing, "Live long and prosper." As he tells the story in his memoir, I Am Spock, he adopted the salute from the Birkat Kohanim (the "Priestly Blessing") he witnessed in the Russell Street Synagogue:
Copy of photo of Nimoy as Spock flashing the "Vulcan salute."

The special moment when the Kohanim blessed the assembly moved me deeply, for it possessed a great sense of magic and theatricality…. I had heard that this indwelling Spirit of God was too powerful, too beautiful, too awesome for any mortal to look upon and survive, and so I obediently covered my face with my hands.
The public often conflates Nimoy with his defining role, but there is good cause to do so – not the least of which is that one of his memoirs is titled I Am Spock. Spock, as created and portrayed by Nimoy, was the model of an immigrant Jew; as a half-human and half-Vulcan, Spock was the product of two very different civilizations who did not fit comfortably in either one.
Nimoy, who characterized Spock as "the Wandering Jew," explained, "I knew what it meant to be a member of a minority, in some instances an outcast minority. I understood that aspect of the character well enough to play it. Coming from my background, growing up in a neighborhood of immigrants trying to assimilate into modern American society, I understood that deep sense of not really belonging anywhere." Ironically, as Nimoy wryly observed, his ancestors had arrived in America as aliens only to have him go to Hollywood to become one.
Nimoy played many other Jewish characters during the course of his career, including Morris Meyerson, Golda's husband, in "A Woman Called Golda" (for which he earned an Emmy Award nomination) and "Goldman in The Man in the Glass Booth," and he starred in "Never Forget," a TV movie based on the story of a Holocaust survivor who sues a group of neo-Nazi Holocaust deniers. As to playing "Tevye in Fiddler on the Roof," he joked that while his shtetl-born parents never quite got Star Trek, "'Fiddler' they understood."
Nimoy was a major supporter of Jewish causes – including the Israeli Philharmonic Orchestra; a childhood center at Temple Israel of Hollywood; and the Susan and Leonard Nimoy Career Center at Beit T'Shuvah, a Jewish recovery house in Los Angeles – and he served on the advisory board of the National Foundation for Jewish Culture. Fluent in Yiddish, he funded a project to record Yiddish stories and distribute them to Jewish children. Much of his charitable work was performed anonymously because "in Judaism, there is a philosophical understanding that the highest form of charity is that which is given anonymously."
Another Jew aboard the Enterprise was Walter Koenig (nee Konigsberg), the Russian-accented navigator Pavel Chekov, whose parents were Russian Jews who emigrated from Lithuania. The show also featured many Jewish guest stars.
See you Sunday bli neder Shabbat Shalom and happy Secular New Year
We need Moshiach now
Love Yehuda Lave
Yehuda Lave, Spirtiual Advisor and Counselor
Jerusalem, Jerusalem
Israel