Yehuda Lave is an author, journalist, psychologist, rabbi, spiritual teacher, and coach, with degrees in business, psychology and Jewish Law. He works with people from all walks of life and helps them in their search for greater happiness, meaning, business advice on saving money, and spiritual engagement.
Love Yehuda Lave
Join my blog by sending me an email to YehudaLave@gmail.com
In world first, COVID boosters rolled out for some at-risk Israelis
Decision to give third shot to those with weakened immune systems comes after government weighs 'accumulating evidence' that immunocompromised aren't well enough protected
As the Delta variant spreads, Israel has become the first country in the world to begin distributing third dose booster shots to adults with impaired immune systems, based on "accumulating evidence" indicating they aren't well enough protected after their initial doses.

The Health Ministry issued a statement to healthcare providers on Monday, saying they are free to start giving the boosters — clearing up confusion created on Sunday when minister Nitzan Horowitz said they were available, but doctors weren't told.

"There is accumulating evidence that patients with immunosuppression do not develop a satisfactory antibody response after two doses of the coronavirus vaccine, and some of them may develop antibodies after a third dose," wrote Dr. Emilia Anis, head of the ministry's epidemiological unit.

Israel's largest hospital, Sheba Medical Center, immediately invited dozens of its heart transplant patients for boosters on Monday afternoon.

The Health Ministry decision was based on deliberations by Israeli doctors and officials, and was made before regulators like the US Food and Drug Administration has authorized boosters for such people. It's not the first time Israel has moved head of US or European regulators: in early 2021, Jerusalem authorized vaccines for immunocompromised children before the FDA embraced shots for kids.

The medical community has been largely supportive of the decision despite the absence of an okay from regulators since it is a special provision for those who are at-risk, not a sweeping population-wide policy.

It is a "very important" move, Prof. Nadav Davidovitch, a Ben-Gurion University professor and leader of Israel's doctors' union, told The Times of Israel.

It comes on the heels of Pfizer's announcement that it will ask US and European regulators to authorize a booster dose of its COVID vaccine for the general population. Nearly all Israelis have been vaccinated with Pfizer's shot.

It also comes as the Delta variant spreads quickly in Israel, causing an increase in infections, and prompting the return of compulsory mask wearing indoors and a rise in voluntary mask wearing outdoors.
Israelis wear protective face masks as they walk in the streets of Tel Aviv, on July 12, 2021. (Miriam Alster/FLASH90)

Experts are warning Israelis against interpreting Monday's decision as a sign that vaccines aren't working or as a signal that Israel wants boosters for everyone.
Tel Aviv University professor Jonathan Gershoni (courtesy)

Horowitz said on Sunday that the Health Ministry was evaluating the possibility of boosters for all, but vaccine researcher Prof. Jonathan Gershoni told The Times of Israel that decision making for the immunocompromised has been very different.

"This is a good decision, responding to the unique needs of those who are immunocompromised," said Gershoni, a biochemist from Tel Aviv University. "My concern is that people will read between the lines and think that we all need booster shots."

That is not the case for people with general medical conditions that don't weaken the immune system, nor is it true for the general population, he said.

Thailand also became one of the first countries to offer boosters Monday, announcing that health workers who got two doses of the Chinese Sinovac shot will receive booster doses of the AstraZeneca vaccine.
The Three Musketeers at the Kotel
New German airline will offer flights exclusively to Israel
Tel Aviv Air plans two weekly flights between Hamburg and Tel Aviv, and plans to offer Economy and Premium Economy options. Tickets slated to go on sale starting in July 2021.
A German company operated by two businesspeople – former German airline executive Paul Scodellaro and Shlomo Almagor, an Israeli who has lived in Germany for 30 years – has decided to found an airline that will fly to a single destination: Israel.
The initiative plans to operate direct flights from Hamburg to Ben-Gurion International Airport outside Tel Aviv.
The website for Tel Aviv Air shows photos of Tel Aviv and Hamburg, as well as a brief description of the airline's operations. The airline says it will begin with two weekly flights between the two cities, and that tickets will be available starting in July 2021. The airline will offer two main classes – Economy and Premium Economy, at prices it describes as "attractive."
Israelis who have been vaccinated for COVID are allowed to visit Germany and do not need to take COVID tests prior to departure or quarantine upon arrival. As far as the Germany population goes, over 20% have been fully vaccinated and 25% have received at least the first dose of the vaccine.
what happens at night - while u were sleeping
Israel railways - cargo & passengers train from 15.6 - 23.6 [4K]
Obviously a buy-product of being in isolation for 27 years. Or since the age of Barmitzvah. On the other hand, some Rabboynim will psak that it is permitted to be only in isolation as long as one does not have a dog to walk. A cat does not suffice. Nor a gold fish for this purpose.
Why did I decide to write this book?
I guess there are many answers but the first that comes to mind is passion.
My main passion is my country, land, people and history/destiny.
How did that happen?
Like many people, the Six Day War changed my life.
Over one hundred years ago my grandparents fled Czarist Russia. I have a faded photo of my grandfather's great grandfather on my wall so I knew where I came from, at least for some generations back. He could have been a classic stand - in for "Fiddler on the roof". The question that came up later in my life was where should I be going?
I was born in Brooklyn NY in a modest, orthodox community. I attended yeshiva and graduated college with an MA degree from Brooklyn College (International Relations).
Until 1967, I thought that the ultimate Jewish life was the one I led, in the place where I lived.
In the weeks leading up to the Six Days War in June 1967, my rather insular Jewish community looked outward with great concern, to a place far away called Israel.
During the twelve years before the war in my neighborhood, synagogue, yeshiva and summer camps, Israel did not play a role. We did just fine without it. We did not consider America/Brooklyn as an Exile.
It was as close to redemption as one can get. Tisha B'av was a ritual that we faithfully endured.
I guess I knew Israel was out there but it was not relevant to the perfect Jewish life I was being raised in.
All of a sudden in May 1967, we were all praying in synagogue and in yeshiva for Israel.
May God save it and its two and a half million Jews from another Holocaust, this time at the hands of its Arab neighbors and their Soviet backers.
It seemed hopeless. All the adults around me were worried. We even kept the radio open all Sabbath, in the laundry room.
Then came the miraculous victory against an array of Arab armies in only six days. The community euphoria was something I have never experienced, and life for me was never to be the same.
My first visit to Israel was when I graduated high school in 1971. Tiny, simple, unsophisticated Israel still basked in the afterglow of the six days miracle. What it lacked in material comforts it made up for in spirit and energy. I was captivated. For the first time in my life, I as a Jew was in the majority - in a Jewish country. I met my Israeli side of the family for the first time. I met Jewish youth that did not live in Brooklyn. I visited the newly liberated lands and sites where the bible was more than words on page. A wonderful new world.
A Jewish Disneyland.
In 1973 I returned to Israel to study for a year in the Hebrew university.
At two o'clock in the afternoon on October 6, as I was taking my afternoon Yom Kippur rest, sirens were heard. The Yom Kippur war was upon us. Israel was close to being overrun.
It did not turn out to be the kind of year I or anyone had expected and it determined the rest of my life. That year I decided to move to Israel as soon as I completed my studies in the USA.
The USA does not need me. Israel does.
And so it was.
I moved to Israel in November 1977, just months after Menachem Begin defeated the entrenched Labor party for the first time. It was an exciting time for a nationalist like me.
On my wall in Brooklyn was a picture of Begin, the fiery Jew
Egypt's Anwar Sadat made his historic visit to Jerusalem just as I arrived. In return for his promise of peace, my hero quietly submitted to his every demand, including the unprecedented expulsion of Jews from their homes.
The mantra, "Land for peace" was born
Repeated "expulsion of Jews for peace" became a norm.
I had just made Aliyah and I was confronted by complexities and disappointments that I was not prepared for.
Since my Aliyah in 1977 until today, I kept a diary for most of these years and assiduously recorded my observations and feelings .
Some of my articles have been published. I kept them all. They reflect Israel society, culture and of course politics at the time they were written.
My career as a tour guide since 1980 has offered me a continuing and close relationship not just with places in Israel but with its people.
My writing reflects love, pride, frustration and hope.
I made Aliyah to Israel as a young single man.
Today, I have children and grandchildren thank God, who are continuing the journey that I began.
Perhaps one day my picture will be on their walls as the first ancestor to have brought the family home where it all began.
Network Rail develops new type of footbridge
Network Rail has developed a new footbridge design, made from plastic and quicker to install.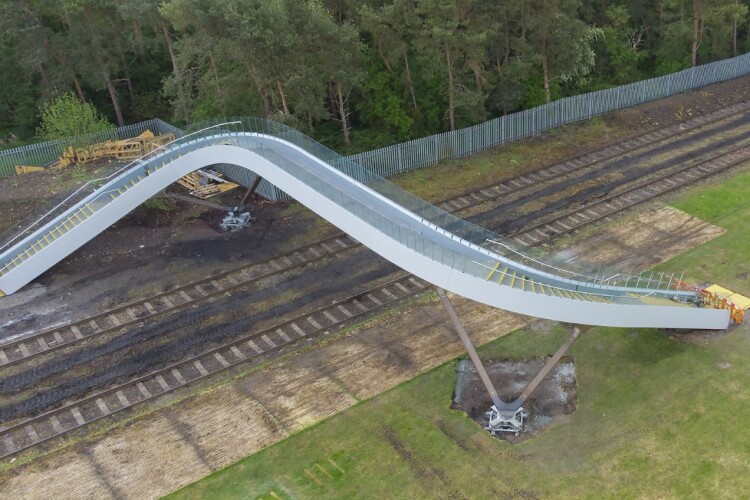 Network Rail says that the innovative circular bridge is set to 'revolutionise' the way footbridges are built over the tracks.
The prototype fibre-reinforced polymer (FRP) rail footbridge has been trial built at a test centre in Long Marston, Warwickshire.
Because FRP is so much lighter than steel, the bridge can be installed in just days, and its modular design means it can be adapted to different locations. It also has built-in monitoring to assess usage and maintenance needs.
The hope is that the new design will be adopted across the country as part of a wider programmer of work to transform how footbridges are built on the rail network. The next phase of the project involves developing procurement and construction options as well as a ramped version of the bridge.
Network Rail programme manager Andy Cross said "We were able to take a different approach. This has allowed us to work with several small and medium-sized businesses, many of whom haven't worked on railway projects before but have the skills and expertise to bring the concept of a lightweight, low-cost footbridge to life.
"In just 11 months we have developed a prototype bridge that is stunning in design, environmentally friendly and will take days and not weeks to install and thereby causing less disruption for the surrounding community."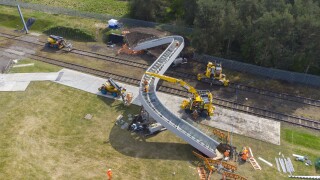 There is a team of organisations that worked with Network Rail to develop the new bridge.
Knight Architects came up with the concept.
Consulting engineer Jacobs provided design expertise and independent checking of the design.
KS Composite, a UK-based manufacturer whose usual clients include prestige car manufacturers and Formula One teams, made the bridge spine.
Sui Generi, another UK manufacturer specialising moulded components (including tractor bodywork) made the deck units that clamp to the spine.
Epsilon Optics designed, manufactured and installed the fibre-optic monitoring system.
Q-Railings installed the glazed parapet railing.
JT Consulting designed, manufactured and installed the Rapid Root foundation system.
Flofo provided virtual working platforms and new approaches to team working and monitoring the risks and opportunities of the project.
What's My Line? - Kirk Douglas; Peter Lind Hayes [panel] (Dec 20, 1953)
MYSTERY GUEST: Kirk Douglas PANEL: Dorothy Kilgallen, Peter Lind Hayes, Arlene Francis, Bennett Cerf1953)
See you tomorrow bli neder
We Need Moshiach now!
Love Yehuda Lave
Yehuda Lave, Spirtiual Advisor and Counselor
Jerusalem, Jerusalem
Israel