Yehuda Lave is an author, journalist, psychologist, rabbi, spiritual teacher, and coach, with degrees in business, psychology and Jewish Law. He works with people from all walks of life and helps them in their search for greater happiness, meaning, business advice on saving money, and spiritual engagement.
Love Yehuda Lave
Join my blog by sending me an email to YehudaLave@gmail.com
The Three Musketeers at the Kotel
A Jewish man was sentenced to death by an antisemitic judge, court finds. Now, he could get a second chance. Jaclyn Peiser , The Washington Post
For much of his life, Randy Halprin struggled with his Jewish identity. Throughout childhood, the 44-year-old death-row inmate strove to please his Jewish father and prove he was worthy of becoming a bar mitzvah - the Jewish rite of passage that signifies a boy becoming a man.
But as he stood trial on capital murder charges before Dallas County District Judge Vickers "Vic" Cunningham in 2003, his religion became the very reason he now faces execution, a Texas judge has determined.
On Monday, Judge Lela Lawrence Mays found that Cunningham's "unmistakable bias against Jewish people" was "too much to ignore" and ultimately cost Halprin his right to a fair trial. Mays recommended that Halprin be granted a new one.
statements evince a specific animus against Halprin because of his Jewish identity and indicate that Judge Cunningham took satisfaction from his role in Halprin's death sentence," Mays wrote in a 58-page document.

The case will now go back to the Texas Court of Criminal Appeals.
Cunningham's seemingly clean public persona as a respected judge began to unravel in 2018, when the Dallas Morning News questioned him on video about allegations that he had made racist remarks and created a living trust that would financially reward his children if they married someone of the same race, religion and of the opposite sex.
"I strongly support traditional family values," Cunningham told reporters questioning him in the video. "If you marry a person of the opposite sex, that's Caucasian, that's Christian, they will get a distribution."
Cunningham added that he considers it a "traditional family value" to marry within one's race.
More News
The Morning News story influenced Halprin's attorneys to look back into the case, said Stuart Blaugrund, a Dallas lawyer who advocated for a new trial.
"Now there's evidence the judge may be a bigot," Blaugrund told The Washington Post. "A lot of bigots tend to be equal opportunity bigots."
After interviewing witnesses in 2019, Halprin's lawyers petitioned the Texas Court of Criminal Appeals for a new trial. They claimed the death row inmate's right to due process was violated because of Cunningham's alleged antisemitic views. On Aug. 22, 2019, they requested a stay of execution.
In the weeks leading up to Halprin's Oct. 10, 2019, execution date, several groups submitted amicus briefs in support of a new trial - including one signed by more than 100 Jewish attorneys in Texas.
"One hundred Jewish lawyers speaking out had a profound effect and helped channel the court's attention on a serious problem," Dallas attorney Marc Stanley, who co-led the initiative, told The Post.
The court agreed to the delay just six days before his scheduled death date. The appeals court sent the case back to the Dallas County District Court. Mays heard oral arguments this June.
The judge's conclusion, filed on Monday, excoriated Cunningham for his "inbred bias" and "reprehensible" use of religious and ethnic slurs. The judge called the evidence "chilling" and said Cunningham's "deep-seated animosity and prejudice toward Jewish people" affected Halprin's case.
Mays concluded that Cunningham's biases were consistent before, during and after the trial, making it impossible for the former judge to rule fairly.
The judge added that Cunningham's "bias toward Halprin not only harmed him, but it undermined the public's confidence that criminal justice has been - and will be - dispensed impartially."
Cunningham denied privately making racist and antisemitic comments, according to court documents. He did not immediately respond to The Post's request for comment late Tuesday.
Mays's decision was viewed as a victory by Halprin's attorneys and those who advocated for his right to a new trial.
In a statement to the Morning News, Tivon Schardl, one of Halprin's lawyers, said they are confident the appeals judges will grant their client a new trial.
"The facts were never in dispute," Schardl said. "Contrary to what the state said, the Constitution protects Texans from religious bigotry in the criminal justice system."
Since he was a child, Cunningham said he felt it was his "destiny" to be a judge, according to court documents. A Dallas native, he worked his way up the ranks and served as Dallas County prosecutor for five years until he was elected to the county criminal court in 1995. Former Texas Gov. Rick Perry (R) appointed him to the district court in 2001.
Cunningham's name later became closely linked to the notorious "Texas 7" - a moniker for the seven inmates who escaped a maximum-security prison in 2000 and carried out a string of crimes that resulted in the murder of a police officer. Cunningham presided over all seven cases and sentenced each man to death.
Halprin, who was serving a 30-year sentence for injury to a child when he escaped with the Texas 7, was arrested and charged in the officer's murder. He maintained he did not "intend the death of that officer. I didn't shoot him. I didn't pull my gun," Halprin said during the trial. But Texas's "law of parties" allowed for an indictment and conviction because, under that law, prosecutors did not have to prove he actually killed or intended to kill the victim.
Halprin pleaded not guilty and was convicted of capital murder on June 9, 2003. Cunningham sentenced him to death three days later.
Cunningham saw his role in the cases as a personal achievement, witnesses testified before Mays. The former judge boasted publicly about the Texas 7 during his campaign for Dallas County district attorney in 2005 and again in 2018 when he ran for Dallas County commissioner. He also privately told friends "he believed God had chosen him to preside over" the trials.
A childhood friend said Cunningham "took special pride" in the Texas 7 death sentences "because they included Latinos and Jews," according to court documents.
Other comments Cunningham made behind closed doors proved vulgar and hateful, court documents show. Several witnesses attested to the former judge frequently using the n-word and other derogatory epithets for Jewish people and Latinos.
Family members and former colleagues said he frequently used phrases like "f------ Jew," and referred to Jews as "dirty" and "Jew banker," court documents show. One witness testified that Cunningham said Jewish people "needed to be shut down because they controlled all the money and all the power."
Blaugrund, who co-wrote the brief from the 100 Jewish attorneys, said he was "overcome with emotion" when he read Mays's findings that Halprin did not receive a fair trial.
"The facts were so outrageous and morally repugnant that it compelled only one result, which was what judge Mays found and concluded," Blaugrund said.
Cunningham has not presided over a court since he left his seat to run for district attorney in 2005. Four of the Texas 7 have been executed, and one died by suicide. Only Halprin and 60-year-old Patrick Murphy remain.
Blaugrund said it's possible that Halprin's case could prompt additional appeals, though he added that it's probably unlikely.
"Some of the defendants who were convicted in this courtroom no longer have any avenues of relief - because they've been executed," he said.
Iceland's Jews Beat Church Taxes and a Circumcision Ban. Now They Even Have a Rabbi
By
Julia Duin
Three years ago, Iceland's small Jewish community was fighting legislation that would ban the circumcision of children. It was an uphill battle because Judaism was not on the island nation's list of officially recognized religions and Jews still paid religious taxes to the state Lutheran church.
Today, Judaism is thriving in the land of fire and ice, and the community celebrated Sukkot with its first convert and an enterprising rabbi who has led it through three years of dramatic change.
Reykjavik was the sole European capital city lacking a resident rabbi until the fall of 2018, when Rabbi Avi Feldman, now 30; his wife, Mushky; and their daughters, who now number four girls under the age of 6, moved in.
Three years later, they are planning to invite members of Iceland's Jewish community, which Feldman estimates numbers 500 to 600, to share meals with them in a sukkah. This ceremonial booth is part of Sukkot (sometimes known as the Feast of Tabernacles), a biblical harvest festival where Jews eat outdoors in temporary dwellings to remember God's care for them after their exodus from Egypt.
Jews all over the world build similar informal outdoor structures for the eight-day Jewish feast, which started on Monday. But this sukkah is in an overwhelmingly Lutheran country where Jews have rarely been acknowledged.
This past Sunday, in a backyard of Feldman's spacious home with views of Faxaflói Bay to the north, three men were trying to figure out how to construct a sukkah out of a pile of two-by-fours.
"Maybe you might ask, 'Aren't you making this kind of strong for Iceland? But you've not seen the wind in Iceland,'" said Mike Levin, a Chicago native who's lived in Iceland since 1986 and was wearing overalls covered with various carpentry tools.
Helping hold nails in place was Finnur Thorlacius, an Icelander hoping to be the nascent community's first convert to Judaism. Many of the Jews in town are expats, he said. Others have landed there after marrying Icelanders. Still others are attached to various foreign embassies. But no one had really pulled this disparate group together until the Feldmans moved in.
Feldman said his time in Iceland, nearing its fourth anniversary, has been extremely positive.
"Personally, we've only had great experiences," he said. "I am a very public person. I always try to make myself available to news channels here. People know who I am. I dress with a kippah [skullcap] and tzitzit [knotted fringes attached to clothing for Jewish men]. People recognize me as a rabbi. I feel very accepted here."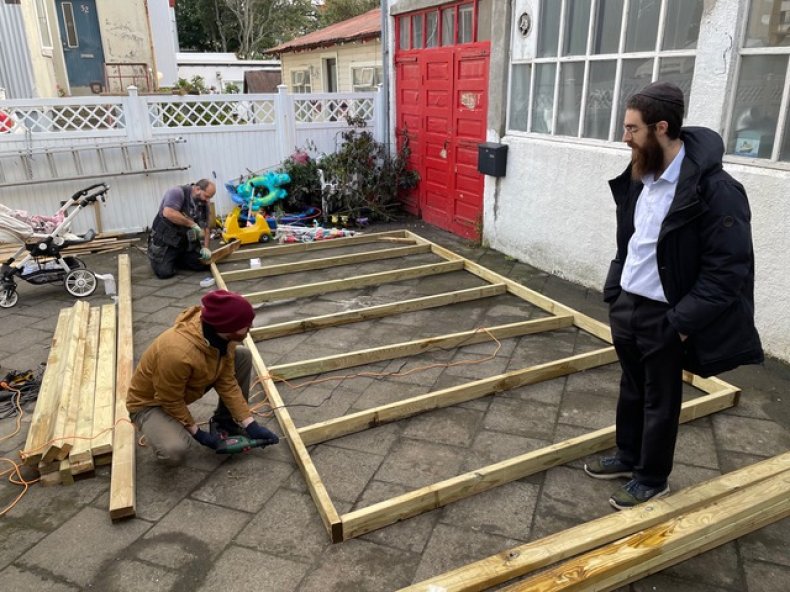 This island nation, whose national church is the Evangelical Lutheran Church of Iceland, is not known for welcoming Jews. In fact, Kling & Bang, an art gallery a mile away, is hosting an exhibit through October 3 showing how Icelanders deported or turned Jews away during World War II.
Icelanders allow their tax dollars to go to about 50 recognized religious groups that are subsidized, but not until earlier this year was Judaism considered one of them. In April, thanks to Feldman's efforts, the Israeli Embassy and others, the Icelandic government declared Judaism an official religion, allowing its Jews for the first time to send their church tax portion, known as sóknargjald, to the Jewish Culture Center of Iceland, which is its official name. Feldman admitted he inserted Culture into the title to reach out to non-Jewish Icelanders and introduce them to aspects of his religion.
He has worked hard to persuade locals that, unlike other rabbis who may have dropped by through the years, he is here to stay. He is part of Chabad-Lubavitch, an Orthodox movement known for its outreach to Jews and non-Jews alike and its custom of sending pioneering couples to worldwide locales to strengthen or establish a Jewish presence.
Feldman's hot-off-the-presses 2021-2022 Jewish calendar has scenes from around the island and local ads. He posts inspirational videos on the Jewish Center of Iceland's Facebook page, which slightly differs from the official name lodged with the state. Sometimes he teases readers: "Moses found it important to have a Torah in Icelandic," he said on July 13.
He also maintains a Twitter account ("Sharing the warmth of Judaism in the land of fire and ice," it proclaims); and draws traffic to the group's JewishIceland.com page.
He has to tread carefully—after all, it was in early 2018 that Iceland's Progressive Party floated a bill banning male circumcision on the ground that the child should be able to give informed consent. (Circumcisions are performed on a Jewish newborn's eighth day.)
Although Icelanders were split over the bill, the country's tiny Muslim and Jewish communities—for whom circumcision is a religious rite—were outraged, and outside observers asked Iceland if it wanted the dubious distinction of being the only European country to ban the act. The bill was shelved that May. The Feldmans moved to Iceland five months later.
The community does circumcisions by flying in a mohel, often a doctor or rabbi trained in the ritual.
Feldman said his wife was one of the inspirations for the move, in that she knew of Jewish visitors in Iceland who couldn't find a Sabbath dinner to attend, much less somewhere to observe Jewish holidays. One recent Friday evening, the Feldmans invited several guests to their table, set for 12. Napkins were tucked decoratively into glasses, and a loaf of braided challah bread—made especially for the Sabbath—was covered by a yellow, brown and orange cloth.
A bouquet of fresh lilies and roses was placed near the dining room table, and the rabbi's sizable library was set up at one end of the living room. A painting of the late Rabbi Menachem Mendel Schneerson, the Chabad movement's most famous leader, was prominently placed on the wall.
Just before 8 p.m., Mushky Feldman lit Sabbath candles set on a large silver tray and invited all women in attendance to do so as well. After prayers over the challah and a bottle of kosher wine—with each guest encouraged to take at least a sip—a dinner of beets, salmon and potatoes was served.
Interest is growing slowly, and some 40 people dropped by for prayers last week during Yom Kippur, the Jewish day of atonement. Feldman has gotten positive and generous press coverage here, and local supermarkets stock some kosher items. It doesn't hurt that salmon and cod, which are plentiful in Iceland, are kosher.
"There's actually a lot of kosher food," the rabbi said. "Because Iceland imports a lot of food, a lot of the dry goods they get are kosher."
Feldman, a tall, scholarly-looking man with a full, dark brown beard and glasses, hails from Brooklyn's Crown Heights neighborhood. There, he met Mushky Namdar, who grew up in Sweden as the daughter of a Chabad rabbi. The couple wanted to pioneer a movement in the same way that her father had, and Iceland seemed a natural choice.
"We did research before coming here," he said. "We've been to Sweden, and the culture and styles of both countries overlap. I was amazed by how beautiful this country is—everything from the northern lights to the volcano to the hot springs."
Speaking of the volcano, Feldman has posted a video on Twitter of him blessing (in Hebrew) Iceland's six-month-old Geldingadalir volcano, which is an easy drive from downtown Reykjavik.
As a huge mound of lava smoked behind him and a helicopter whirled overhead, he said, "This makes us stop and think about this unbelievable creation, this beautiful world that we live in, and we think about the artist who created all of it."
One difference their presence has made, he said, was the establishment of an annual Holocaust memorial ceremony that was held in 2020 at the Polish Embassy and via Zoom last year. "Actually, other institutions reach out to us and asked us to be a part of it," the rabbi said. "I feel a memorial to the Holocaust deserves strong attention."
As for current attitudes, "I can't say there is no anti-Semitism here," he added. "There's always haters."
If so, they're keeping well hidden. Iceland's Jews hope to someday have their own synagogue, Jewish community center and mikvah, a ceremonial pool for women to bathe in after their menstrual cycle has ended. Mushky Feldman said they're trying to raise roughly $50,000 to construct one.
Previously, "people were saying, 'But there's no rabbi here,'" she said. "Now, it's an amazing, blossoming, growing Jewish community."
Sovereignty Movement Congratulates Bennett on Unambiguous Position on Jerusalem
By David Israel
Yehudit Katsover and Nadia Matar, leaders of the Sovereignty Movement, on Saturday night sent out an email expressing their support for Prime Minister Naftali Bennett "in wake of his firm stance against the establishment of an American consulate for the Palestinian Authority in Jerusalem, as expressed today (Saturday night) at the joint press conference with Minister Yair Lapid, who expressed his support for this position, and Minister Avigdor Lieberman."

At his press conference with Foreign Minister Yair Lapid and Finance Minister Avigdor Liberman, the PM responded to a question from the Hebrew press, which was followed by the same question from the foreign press regarding leaks from the Biden administration insisting that a second consulate, serving only PA Arabs, is a done deal. Bennett said that "there is no place for an American consulate that serves the Palestinians in Jerusalem," adding that this message had been conveyed to the administration "both by myself and by Foreign Minister Yair Lapid."

Making a point about the different styles of his and his predecessor when it came to disputes with the Americans, Bennett added: "We are expressing our position consistently, quietly and without drama, and I hope it is understood. Jerusalem is the capital of Israel alone."

Lapid followed the PM, saying, "If the Americans want to open a consulate in Ramallah we have no problem with that," but "sovereignty in Jerusalem belongs to one country — Israel." Lapid continued: "It's not a question of politics. It's an Israeli objection in principle for opening a consulate in Jerusalem. There is an American embassy" – who needs two?

"The prime minister's statement that Jerusalem is the exclusive capital of the Jewish people is completely accurate," Katsover and Matar wrote, adding that "with these words, the prime minister has blocked a dangerous attempt to erode Israel's sovereignty over the eternal capital of the Jewish people. Jerusalem stands above any political controversy. The entire nation of Israel stands united behind this clear position and throws its support behind the Israeli government's resistance to pressure from the United States or any other party."

According to WAFA, the PA Ministry of Foreign Affairs and Expatriates said on Sunday that the remarks by Bennett regarding settlements and the US Consulate in Jerusalem are a "critical test for the US administration of Joe Biden."

"It is high time for the international community to take the lead in respecting its obligations and assume its legal and moral responsibilities towards the occupation and settlements, and to stop its miserable trust the Israeli government," the PA Foreign Ministry said, stressing that Bennet's remarks "officially confirm that the Israeli government is a government of settlements and settlers that is trying to preserve itself at the expense of the Palestinian rights."

Oh, how we wish it were true…
See you tomorrow bli neder
We need Moshiach now!
Love Yehuda Lave
Yehuda Lave, Spirtual Advisor and Counselor
Jerusalem, Jerusalem
Israel