Yehuda Lave is an author, journalist, psychologist, rabbi, spiritual teacher, and coach, with degrees in business, psychology and Jewish Law. He works with people from all walks of life and helps them in their search for greater happiness, meaning, business advice on saving money, and spiritual engagement.
Love Yehuda Lave
Join my blog by sending me an email to YehudaLave@gmail.com
Coronavirus: Panel on kids' vaccine recommends jab for ages 5-11
Experts and health officials believe that the vaccination of the 5-11 cohort will offer a significant contribution to the fight against the pandemic.
Some 73 experts out of 75 voted in favor of the approval.

Anti-vaxors---this was an open hearing where the experts were asked their opinion and here was the vote. The numbers speak for themselves.

The Pandemic Response Team and the Advisory Committee on Vaccines – both supporting the Health Ministry in the fight against COVID – approved vaccination for children ages 5-11 on Wednesday night.

In addition, 67 experts voted in favor of recommending the vaccination, and six in favor of only allowing it.

Pfizer's COVID vaccine can now be used on children aged 5-11 in the US
US gives final approval of Pfizer's Covid vaccine for children aged 5-11
Coronavirus pandemic: Austria's new health pass comes into force
FOX 5 On The Hill: COVID Vaccine for Kids
CDC approves Pfizer's COVID-19 vaccine for kids 5 to 11
Regarding children in that age group who recovered from COVID, 34 members of the panel said that the vaccine should be recommended but depending on how much time has elapsed since the child's recovery, 23 said it should be recommended regardless of it and eight said that it should not be recommended.In light of the different opinions, panel member Dr. Tal Brosh, head of Infectious Disease Unit at the Samson Assuta Ashdod University Hospital, said that the Health Ministry will likely postpone a final decision about the issue until further discussion, noting that establishing a vaccination policy for recovered individuals took a longer time also for older age groups.
Health worker prepares a Covid-19 vaccine at a temporary Clalit health care center in Jerusalem, September 30, 2021. (credit: YONATAN SINDEL/FLASH90)Presented with the question of whether to wait until another wave hits the country before starting the campaign, 64 members of the panel voted against and eight voted in favor."We do not know when a new wave might begin, if children are vaccinated they will be protected," Prof. Eli Somekh, head of the Pediatric Wing at the Ma'aynei Hayeshua Medical Center in Bnei Brak said.A first meeting on vaccinating this cohort was held last week and streamed live to present all the relevant data, but the Health Ministry decided to hold the new session behind closed doors to protect the experts from the incitement that has targeted many health officials and physicians who speak in favor of inoculation against COVID.
"The information was presented during the open session," said chairman of the panel Dr. Boaz Lev. "We entered the meeting tonight to discuss them with an open heart."Lev said that keeping the meeting behind closed doors was important also for the quality of the discussion and to allow everyone to speak freely.The Pfizer vaccine was authorized for the 5-11age group by the US Food and Drug Administration last week. Overall, according to a CNN report quoting a White House source, around 900,000 children under 12 have already received at least one shot.Israel has over 1.2 million citizens between the ages of 5 and 11.So far, out of 9.3 million Israelis, some 6.25 million have received at
least one shot, 5.48 million have received two and 4 million have also gotten a booster.Experts and health officials believe that the vaccination of the 5-11 cohort will offer a significant contribution to the fight against the pandemic.It will still take a few days before the drive can start since the vaccines need to be delivered to the country.
The Pfizer vaccine for children is slightly different than the one for adults: it is administered in dosages of 10 mg. as opposed to 30 mg., and is kept in different vials.
The Portion of Vayeitzei
Leah's Prayer
Jacob leaves his parent's home at their request to find the proper woman to marry. Following his encounter with Lavan and marrying his two daughters Rachel and Leah, he is blessed with the birth of six sons born to Leah.
Even each of the hand maidens of Rachel and Leah bear Jacob two sons.
And all this time Rachel is barren.
For the seventh time Leah conceives. She sees Rachel's pain at being unable to conceive while her sister bears child after child and Leah prays for her.
By this time, Jacob is already the father of ten sons. In a prophetic vision Leah sees that Jacob is destined to be the father of 12 tribes- 12 sons- and so Leah prays on behalf of Rachel, that she should give birth to two sons so at the very least she would not be on a lower level than the two hand maidens. She further prayed that if the embryo that she is now carrying is male it be transformed into a female. And, as we read in the portion "And following this she bore a daughter and she called her name Dinah" (Genesis 30;21). (This is based on the Talmud tractate Brachot page 60 which is brought down by Rashi in his commentary on this verse.)
And then the Torah continues "And G-d remembered Rachel"(Genesis 30;22).
The letters "zayin" and "kaf" in the word "vayizkor" (and He remembered) have additions facing backwards in the direction of the word Dinah, thereby alluding to the fact that Leah's prayer had been accepted. (Remazei Rabbenu Yoel).
I have also highlighted the letters "yud" in the words "nashai" (my wives) and "v'yeladai" (and my children) which also have interesting additions but for which I have been unable to find any source of a drasha of Chazal.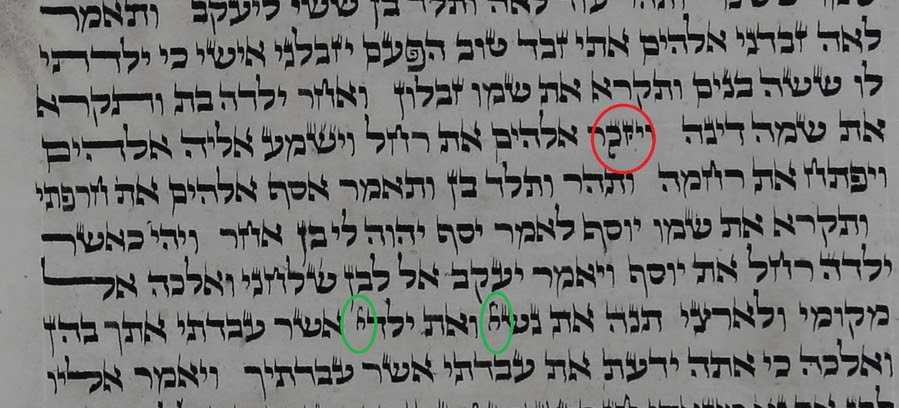 The Three Musketeers at the Kotel
What are two islands you can't visit
What islands restricts visits, and for what reason?
North Sentinel Island has a fairly restrictive visitor policy.
The North Sentinel Island in the Andamans, home to the Sentinelese tribe, is one of the world's forbidden islands. People in the island are still untouched by the modern world, and know nothing about the outside world or advanced technology. They usually get violent and start attacking those who try to visit the island. If reports are to be believed, the Sentinelese tribe has been living on the island for more than 50000 years under the protection of the Indian Government, and entry is strictly prohibited

There is an island called "Ilha da Queimada Grande", aka Snake Island. I'm gonna let you guess, just with the name, as to why you can't go there without a legal authorization…
If you said anything related to snakes, you got it! This island is one of the most dangerous areas of Brazil because of the quantity of snakes that live in this small place of 43 hectares (106 acres). By some estimates, it has one snake to every square meter (10.8 square feet), and the total population is around 430,000 , though more recent studies found a much lower number. However, a real research pointed to around 2,000,000
Continuing a trend, John very unusually gives away a bit too much information when he tries to evade Dorothy's first question. While this is nowhere near as extreme as his blunder in the prior week's show, he certainly did give Dorothy a big hint here. Less surprisingly, she leaped right onto it!
MYSTERY GUEST: Clete & Ken Boyer; Phyllis Diller
PANEL: Dorothy Kilgallen, Sammy Davis Jr., Arlene Francis, Bennett Cerf
NOTE: Though this is an abnormally short show, under 22 minutes, nothing
is actually missing from it. No confirmed explanation is available,
but it may have been due to election coverage.
Pre-Holocaust Jewish communal records saved from the auction block
Documents detailing births, deaths and marriages dating back to the 19th century are purchased by the National Library of Israel and the Hungarian Jewish Museum and Archives
Burial society records from Miskolc, Hungary, between 1934-1942 that were saved from an August 24, 2021 auction by the National Library of Israel and the Hungarian Jewish Museum and Archives. (Courtesy Kedem Auction House)
Seven rare ledgers from the 19th and 20th centuries containing records of pre-Holocaust Jewish communal life in what is now Hungary have been removed from public auction and jointly purchased by the Hungarian Jewish Museum and Archives (HJMA), along with the National Library of Israel (NLI).
Among the documents are thousands of birth, death, marriage and other communal records from six different Jewish communities, many of them from the Holocaust era, which have not yet been digitized. The ledgers will be kept in Jerusalem at the NLI, and will be available for exhibit at the HJMA, housed in Budapest's Dohany Street Synagogue complex, upon request, said Dr. Yoel Finkelman, curator of the NLI's Haim and Hanna Solomon Judaica Collection.
The items were set to be auctioned off by the Kedem auction house in Jerusalem on behalf of an anonymous seller on August 24, but were removed from the block after protests by activists and organizations dedicated to the preservation of Jewish heritage, who maintain that such records should not be held by private collectors.
Prior to their removal from the auction block, the documents were listed as having a collective starting value of $2,400.
The sale of communal documents has been the subject of rising controversy, as activists say the records contain priceless historic information and should be safeguarded in public institutions. Private collectors often maintain that they are saving the manuscripts from destruction or obscurity, and auction houses have claimed that by drawing attention to such materials, they are alerting owners of the documents to the monetary value these documents possess, thus saving them from possibly being mishandled or discarded altogether.
Get The Times of Israel's Daily Editionby email and never miss our top storiesNewsletter email addressGET ITBy signing up, you agree to the terms
Nitzan Dikshtein, head of marketing and development for online auction platform Bidspirit, previously told The Times of Israel that in any case, "many collectors who purchase those lots are donating or lending them to the museums while they are still alive or once they passed away."
"Thanks to Bidspirit, thousands of Jewish and Israeli important/historical papers/documents have been discovered and made visible online," said Dikshtein.
Burial society records from Satoraljaujhely, Hungary, between 1942-1946 that were saved from an August 24, 2021 auction by the National Library of Israel and the Hungarian Jewish Museum and Archives. (Courtesy Kedem Auction House)
In July, United States federal prosecutors confiscated a trove of pre-Holocaust Jewish records about to be auctioned off in Brooklyn. Stringent US laws make such seizures possible, but the vast majority of online auctions of communal documents are conducted within the confines of international law.
According to Finkelman, there is no reason to believe authorities would confiscate communal records on the auction block — for now.
"There has been a very significant shift over the course of the last year regarding the treatment of Central and East European Jewish heritage documents. There's been a good and valuable call by genealogists and activists to get these materials to the public eye, and there has been an unfortunate trend toward doing so by force," said Finkelman.
"Some people saw this as a victory because you are taking material out of the hands of private collectors," Finkelman said. "But the unintended consequence is that a lot of this material that's in private hands, once there's a fear of seizure, it's going to go underground and will never be seen again."
"We would be missing genealogical information and historical documents that can teach us about the functioning of local Jewish communities and their interactions with local non-Jewish authorities," he said.
Matt Lebovic contributed to this report.
Potsdam's stylish new synagogue is the German city's first since WWII
Futuristic house of worship is part of the newly inaugurated European Center for Jewish Learning at the University of Potsdam, and seats about 40 in its minimalistic sanctuary
By TOBY AXELROD

A view of the European Center for Jewish Learning in Sanssouci Park, Potsdam. (Walter Homolka/ via JTA)
An interior view of Potsdam, Germany's new synagogue. (Eric Tschernow/ via JTA)
A view inside the synagogue at the University of Potsdam. (Maro Niemann/ via JTA)
JTA — The city of Potsdam, Germany, has its first new synagogue since the Holocaust — and it's a looker.
The synagogue is part of the newly inaugurated European Center for Jewish Learning at the University of Potsdam, which will also be the umbrella for the school's School of Jewish Theology founded in 2013 and two egalitarian rabbinical seminaries — the progressive Abraham Geiger College (founded in 1999) and the conservative Zacharias Frankel College (also founded in 2013).
The synagogue is the first to open in Potsdam since the end of World War II, and the first synagogue ever to open as part of a university in Germany, according to historian Ulrich Knufinke, who contributed to an architectural guide about the renovation and construction project. It can house about 40 worshipers in its minimalist pews, and has white floors and walls that can be lit in different colors.
The center, which aims to draw more applicants from across Europe, is located in the university's campus at the 18th-century New Palace in Sanssouci Park — a UNESCO World Heritage Site. Its three programs currently have 80 enrollees, including 31 rabbinical students. Some of the 44 previous graduates of the rabbinical programs are working with Jewish communities in Germany and around the world.
The full cost of the project, 13.5 million euros ($15.9 million), was covered by the state of Brandenburg.
The synagogue's opening ceremony last Wednesday featured German President Frank-Walter Steinmeier; Josef Schuster, head of the Central Council of Jews in Germany; Sonja Guentner, president of the European Union of Progressive Jews; the minister president of the state of Brandenburg, Dietmar Woidke; and Israel's ambassador to Germany, Jeremy Issacharoff.
Speaking to a crowd of 250 at the ceremony, Steinmeier condemned the increase in openly expressed antisemitism in Germany, including "crude conspiracy myths" related to the coronavirus pandemic. He vowed to "take decisive action against those who spread hate and incitement." Woidke said the new home for three institutions inspired "hope, gratitude and confidence."
Several rabbinical programs opened in Germany after the massive emigration of former Soviet Jews to Germany, which began in the early 1990s and peaked in the early 2000s.

See you Sunday bli neder Shabbat Shalom
We need Moshiach now!
Love Yehuda Lave
Yehuda Lave, Spirtiual Advisor and Counselor
Jerusalem, Jerusalem
Israel