Yehuda Lave, Spiritual

Advisor and Counselor
Danny Green, 46, Inspired San Diego Friendship Circle
Born with a rare Down Syndrome-like condition, grew to model positivity and inclusion
Danny Green, left, inspired the formation of a Friendship Circle in San Diego, where people with disabilities and their families find joy and inclusion.
When Danny Green was born with Partial Trisomy 18 (a rare chromosomal disorder similar to Down syndrome) in 1972, doctors knew of only seven other documented cases. They suggested that his parents leave him behind in the hospital; his prospects for life were slim, his chance for a meaningful existence next to none. But Elisheva and Alan Green took their firstborn son home. He grew to be a man with a fearless heart and mighty soul, and he proved those doctors wrong every day of his life. Danny inspired the formation of a leading Friendship Circle in San Diego, where people with disabilities and their families find joy and inclusion.
After 46 years of heralding friendship into this world, Danny passed away on May 15 in Brussels, Belgium, where he was spending Passover with his family.
"He genuinely saw the good in every person and situation," remembers Elisheva Green. When her family was young and growing, she would bring out dinner to a gaggle of kids at the table. There was always a child or two who felt the need to say "yuck" or complain about the menu, she tells Chabad.org. But every single day, no matter what was for supper, Danny would smile at his mother and say, "This is my favorite one!"
Unwittingly, Danny created an attitude that permeated the household—one that didn't dwell on deficiency but recognized positivity. As the family grew closer to Judaism, it was Danny who reflected Torah values most naturally, they say. While popular culture glorifies the body and the age of technology reveres the brain, Torah teaches that the soul is the most important thing of all. "Danny had the best soul," a friend recalls. His instinct was to love, not hate; his impulse to give, not take. "I believe he was an example for his siblings and their friends," shares Elisheva Green. The people around him automatically absorbed some of his goodness.
Once, Danny's younger brother, Orin, went to Camp Gan Israel. On the first day of camp, a boy with no arms climbed off the bus and the camp directors gulped, envisioning an endless summer dealing with this sure-to-be outcast. When Orin met the boy, the first thing he noticed were two strong legs. "Let's play soccer!" he shouted to his friends. By the end of the day, the boy was totally accepted by the group.
That was Danny's influence. His good humor and disposition made him easy to love, but finding the right niche to develop his skills proved to be a challenge.
Family Inspired by a Meeting With FDR
"I grew up in a home where education was a top priority," says Elisheva Green. Her father, Morton (Mordechai Chaim) Rewen, contracted polio at the age of 12. There was no special education available, so his dedicated mother homeschooled him for four years. When he was 16, Morton was accepted to Columbia University. He had always loved playing sports, and despite his promising academic future, he could not help feeling depressed by his physical condition. Elisheva Green's grandmother would not give up on her son.
"She somehow arranged for my father to meet with the governor of New York, who had also survived polio," she recalls. The governor's name was Franklin Delano Roosevelt. The future president of the United States sat for an hour with Morton, convincing the young teen that his life was not over. Teaching him that while every person has weaknesses, a true hero finds his strengths and chooses to focus on them.
Just like her grandmother, Elisheva Green would not give up on her son's future. At the time, there was no Jewish educational institution that could cater to her son, so Danny joined a special-education track in public school. There, he learned to explore his talents and push his academic skills to their utmost potential.
Although Danny enjoyed school, he found true pleasure in fulfilling Torah and mitzvot. The Jewish commandments do not discriminate; Danny could fulfill the mitzvah of putting on tefillin just the same or with even more passion than his mainstream friends and neighbors. Danny made it a priority to pray three times a day. He observed Jewish holidays with an excitement other boys reserved for baseball. Sometimes, he would meet strangers at the supermarket and excitedly teach them how to make a blessing on food. His Jewish identity and expression were a source of deep pride.
When Danny's siblings married and moved away from home, he found himself isolated for the first time in his life. The Jewish Community Center of San Diego had an excellent inclusion preschool program, but there weren't any suitable programs for families or older children with disabilities.
Once again, her friends say, Elisheva Green did not lift her hands in defeat. Danny needed a Friendship Circle. (San Diego needed a Friendship Circle!) So she began one. The Friendship Circle of San Diego enriches the lives of children, teens and adults with disabilities through social and recreational experiences while inspiring volunteers to participate in building a stronger and more inclusive community.
Danny loved the San Diego Friendship Circle, which has been called a "national role model." He always arrived early to help set up and stood by the door to greet every guest personally. While his mother worked tirelessly as the executive director, Danny poured his energy and smiles into making the Friendship Circle a place where every person felt welcome.
"When Danny turned 40, he wanted to change his name," says Elisheva Green. "So we started calling him Dan. It made him feel like more of a man."
"Dan the Man," as he was nicknamed, was a man of many smiles. There was the exuberant beam that shined on his face when he met a buddy from his special-education program; the professional smile he flashed when a customer walked into the Gap clothing store where he worked; and perhaps most powerful of all—the boundless grin he shared to cheer up a sad child in the local preschool where he served as a teacher's aide. It is no wonder that Danny was the inspiration for a program that brought immeasurable friendship to hundreds of families in San Diego.
In the last weeks of Danny's life, many family, friends and strangers—touched by Danny's beautiful heart and soul—committed to positive resolutions in his merit.
How to Impress Your Date: 8 Great Ideas in the Jerusalem Area



Jerusalem is a great city for dating because this amazing city has it all. There are cultural activities, spiritual activities, culinary activities, extreme sports, romantic overlooks and so much more.
Inspired by Daniella Rudoff, a well known matchmaker in Israel and the Marriage Architect, I began to think about ways I could help dating couples find some exciting activities to do together — to help them choose an activity that will help them get to know each other better – something to enjoy and something that brings out the FUN side of dating.
I turned to my favorite FUN in Jerusalem vendors who spend each and every day entertaining customers and asked them to tell us why their activity is a great "date". Here is what they had to say:
Glass Blowing Workshop – Yael Vloch – glass@funinjerusalem.com
In my studio in Jerusalem I have a lot of different guests, but I think the coolest are the couples that come in for a date. When you work with glass you work with fire, it is hot and it is exciting. Glass blowing makes people happy. I love to see when the couples start to encourage each other, give each other support and enthusiastically work together. "
The Workshop Gush Etzion – Mandy & Jeremy Broder – theworkshop@funinjerusalem.com
Date Night at The Workshop Gush Etzion is perfect one-on-one time with a special-someone in your life. There are no awkward silences. You'll be kept busy for the full 2.5 hours, in a fun and relaxed atmosphere, where you can work together on a joint project or side-by-side as you create your own individual pieces. Long-lasting memories will be made, as you enjoy each other's company while learning to work with the wood and other materials to create your pieces of Judaica."
Jclay – Shifra – jclay@funinjerusalem.com
Painting pottery has been a classic date night activity for many years. The new JClay store in between the Shuk & Geula adds a unique twist to the date night with unique custom Judaica products like scenes from the Jerusalem skyline on mugs and plaques as well as havdala sets and more. It's a nice quiet place to get to know your date and a great artistic distraction to lighten the pressure of a date. We've even had a couple come back to propose at JClay because their date here went so well"
City of David Halleluyah Night Show – cityofdavid@funinjerusalem.com
Finding the right date night activity just got easier. Enjoy the highly acclaimed Nighttime Presentation – Halleluya – at the City of David. The show tells the story of our return to rebuild ancient Jerusalem using state of the art lasers and music. A thrilling, outdoor cinematic experience projected onto the ancient ruins in the actual site where this story unfolded.

If the date goes really well then you can stop into the City of David gift shop to buy a special piece of jewelry inspired by ancient Jewish history or a unique souvenir to remember this special date."
Galita Chocolate Workshops at Kibbutz Tzuba — galita@funinjerusalem.com
Who doesn't love chocolate? Decorating chocolate or making your own unique pralines can teach your date about your tastes and flavors. Chocolate workshops can be arranged during the day and are Mehadrin. Don't miss the great views from Kibbutz Tzuba and ask the front desk about the many hiking trails. Best part of the date is coming home with some delicious memories. "
The Wine Temple, Emek Refaim – Eli – wine@funinjerusalem.com
If you are looking to impress your date with a sophisticated activity, then stop into the Wine Temple for a workshop and some tasting. Workshops must be reserved in advance but there is always a bartender there who can explain the different varieties of wine. We are located on Emek Refaim in an old stone building with lots of character. So, come and stop by "
Regush ATV Adventure – Aryeh Weinstock – regush@funinjerusalem.com
There is no better place to grow a relationship than to experience a challenging and exhilarating ATV ride through a historic part of Israel. Regush offers ATV trails past natural springs and on the Path of Our Fathers in Gush Etzion. Share the driving, learn about the history together and experience fun and adventure."
Busters Beverage Company – busters@funinjerusalem.com
Have you tasted our alcoholic cider or our alcoholic lemonade? Now you can come on a tour and see how we make it. Walk behind the scenes in our Beit Shemesh Factory and end with a tasters flight of beer, alcoholic ciders and more. Each Friday there is a FREE walk- in tour (reservations required) or book your own private visit. It's a really fun date experience."
Now that we have given you the ideas for activities let's hear a few words of advice from the dating experts…
Daniella Rudoff
Dating and Marriage Consultant
www.MarriageArchitect.com
Come with a smile to your date! Your goal is to meet someone new, to try to get to know them well enough and to see if you enjoy spending time together. That's all.

If you had a nice time on this date, then do you want to spend more time with this person to get to know them even more?

There are different dating cultures which determine the setting of your first couple of dates. Choose the activity or location you both will feel most comfortable with, make sure to dress accordingly, plan to bring or buy drinks and food, and have fun!"

Once you are both comfortable in your relationship, then there are endless possibilities of amazing dating activities and settings to enjoy each other's company!

Best tip ever: Keep dating your whole life together. That's the key to a great marriage. Happy Dating! 🙂
Micki Lavin Pell
Certified Marriage Therapist and Relationship Coach
i24 News Contributor
http://www.mickilavinpell.co.il

First date should be casual, don't want to build expectations. You want to choose a location that makes each of you feel safe and comfortable. For some that will be a crowded cafe, for others it will be taking a walk in a quiet park for others it will be getting away as far as possible from your own neighborhood …less chance you run into people you know.

As your dating progresses try different activities that create a bond between you like sports activities, hiking, biking, exercising, or escape rooms which are great for bringing out your fun side. Things may and will go wrong, and that's the idea. This is a part of life. You want to know how people deal with challenging, stressful and tense situations.

Most importantly make sure to have Fun In Jerusalem whether you are a single dating or a couple looking for a fun activity to do together. "
Thanks to all of our FUN vendors who shared their activities with us. I know we have given you lots of different options to choose from.
Enjoy your date and enjoy Jerusalem. If you need any more ideas make sure to contact Fun In Jerusalem!

Zvi Herman

Monday, 04 June 4:51 PM
A new exhibit exploring the mysterious color tekhelet, a vibrant blue dye mentioned 49 times in the Torah and later chosen as the central color of Israel's national flag, opened this week at the Bible Lands Museum in Jerusalem.
The source of the color tekhelet was a mystery for nearly 1,500 years until later identified by archaeological evidence from around the eastern Mediterranean coast.
The tekhelet exhibit at the Bible Lands Museum was launched in honor of Israel's 70th year of independence, as the power and significance of tekhelet emerged from Jewish memory in modern times as the inspiration for Israel's vibrant national flag.
The exhibit narrates the quest for the biblical blue color, "yearned for by mankind throughout generations."
"Its sacred meaning took root in Jewish history when the Israelites were commanded to cover the Ark of the Covenant and Tabernacle utensils with tekhelet dyed cloths, and to tie tekhelet threads to the corners of their garments as a reminder of God and his commandments," curator Yehuda Kaplan told JNS.
As the dye industry declined, the origin of the color baffled many for centuries, only to be recently identified by marine biologists and Talmudic researchers who discovered the source—murex snails indigenous to the Mediterranean shores, near Haifa.
The fade-resistant pigment from a glandular secretion of murex snails was likely used in ancient times by early peoples of the Near East, applied to textiles for the biblical blue. The color mirrors the stone lapis lazuli (called sapphire in the Bible), imported from Afghanistan to the ancient Near East, and prized for its heavenly color of God's throne and footstool.
Archaeological evidence for the tekhelet industry, dating back to 15th century BCE, includes remains of crushed murex shells and potsherds bearing remains of the dye, in addition to small pieces of dyed textiles discovered in Syria and documents from the same time period mentioning the color.
Tekhelet textiles became prized commodities in the ancient world, as unique expressions of royalty and divinity.
"The large number of snails required for their production and the complex manufacturing process, together with their beauty and resistance to fading, made textiles dyed in blue and purple into luxury items identified with royalty and divinity," said Kaplan.
It is described as the pure color that made up the High Priest's robe and the thread used in his headdress, as well as the color used on tzitzit (tassels of the Jewish tallit, or prayer shawl) to remind the Jewish people of God and his commandments.
"The decline of the tekhelet dye industry [and along with it, the skill required to produce these dyes] after the Muslim conquest in the 7th century CE led to the disappearance of the blue thread from the tzitzit," said Kaplan.
Dr. Baruch Sterman, author of The Rarest Blue: The Remarkable Story of an Ancient Color Lost to History and Rediscovered, also noted at a Jerusalem press conference ahead of the exhibition opening, "During Roman imperial control of the region, using tekhelet was made a crime of treason punishable by execution, and the knowledge of how to make it was lost for 1,200 years."
As tallit reverted to a prayer shawl rather than a daily garment, the shawls were decorated with blue stripes as a memento to the tekhelet that was once part of the tzitzit.
Flag of Israel
It is thus no surprise that when it came to choosing the colors of the Zionist flag in the 19th century, tekhelet was a strong contender. The leaders of the Zionist movement found that tekhelet blue stripes with a Star of David in its center perfectly expressed the identity and national aspirations of the Jewish people, and this is what was used.
Mirroring old practices, "This is how the Jews decided to identify themselves and be identified," said Sterman.
David Wolffsohn, who designed the flag for the First Zionist Congress held in Basel in 1897, wrote: "Indeed we have a flag, white and blue. This tallit in which we wrap ourselves in prayer—this tallit is our emblem."
Then, in 1948, the flag of the Zionist movement became the national flag of the newly established state of Israel.
"Now not only an expression of Jewish personal devotion that survived millennia of historical transformations, but also imprinted as a modern symbol of national pride and determination on a global stage, tekhelet blue lives on," stated Kaplan.
Since its discovery, tekhelet is now seeing a revival.
According to Rabbi Tuly Weisz, Director of Israel365, "Today, for the first time in centuries, people are once again wearing tekhelet on their tzitzit. From even the smallest sea creature, we continue to see the wonders of the Bible come to life in the land of Israel."
Korah (Korach) was the leader of a rebellion against Moses and his brother Aaron, during the journey of the Israelites from Egypt to the Land of Israel. As punishment, he met his end by miraculously being swallowed up by the earth. His story is told in the Book of Numbers, in the portion known as Korach.
Korah, the Man of Stature
Korah 1 was a great-grandson of Levi, the third of Jacob's twelve sons, and a first cousin to Moses and Aaron, the Jewish leader and High Priest, respectively.
Korah was born in Egypt, 2 at the time when the Jews were enslaved to King Pharaoh. He experienced the miraculous Exodus from Egypt and journey through the Red Sea on dry land, and received the Torah at Mount Sinai along with the rest of his brethren.
Korah was extremely wealthy, 3 and was a clever and astute individual. 4 His status as a member of the Levite tribe enabled him to participate in the service in the Mishkan, the portable sanctuary the Jews carried with them throughout their journey to the Promised Land.
Despite—and because of—his many qualities, he felt able to take a stance against Moses and Aaron, which ultimately led to his downfall.
Read More: Who Was Korach?
Korah's Rebellion
Korah was jealous of the fact that Aaron had been chosen as High Priest, to the exclusion of anyone else. Furthermore, his cousin Elitzafan had been chosen as head of the Levite family of Kehot, to which Korah belonged, 5 and Korah felt this position was rightfully his.
These personal grievances led Korah to stage a full-blown rebellion. Accompanied by Dathan and Abiram, troublemakers since their early days in Egypt, he rallied an additional 250 community leaders to his cause. Together, they confronted Moses and Aaron and claimed that he had appointed his brother as High Priest on his own accord, without being instructed to do so by G‑d. They further demanded that they all be allowed to serve as High Priests.
Moses responded that this was impossible, as only one person could assume this sacred post. To demonstrate that Aaron was indeed Heavenly ordained, he instructed them all to take pans the next day and offer ketoret (incense) before G‑d, and G‑d would accept the sacrifice of the one whom He deemed worthy.
Korah's group grew in size, as throughout the night he lured thousands to his side. The next day, the 250 men approached the sanctuary with their incense-filled pans.
Miraculous Demise
Depiction of the mountain opening up, swalling Korah and his cohorts. (Art by Yoram Ranaan)
At this point, Moses warned the Jews to stay clear of the tents of Korah, Dathan and Abiram. Addressing the crowd, he foretold of the punishment that would befall them: the earth would open its mouth and swallow them alive.
As Moses finished speaking, the earth indeed opened up and swallowed Korah and his two cohorts along with their families and possessions, never to be seen again. At the same time, a Heavenly fire went forth and consumed the 250 incense-bearers.
The Aftermath
As a reminder to the nation of the calamitous outcome of the rebellion, Aaron's son Elazar was instructed to melt the pans and craft them as plates to cover the Tabernacle altar.
To further demonstrate that Aaron was Divinely chosen, each tribe was instructed to give a staff to Moses, upon which was inscribed the name of the tribe's leader. On the staff of the tribe of Levi, Aaron's name was inscribed. Moses placed the staffs in the sanctuary before the Ark of the Covenant, and the next morning, Aaron's staff was discovered to have miraculously flowered and produced almonds.
Read More: Fruit on the Staff
Additionally, G‑d solidified Aaron's position by bestowing upon him and his sons twenty-four priestly gifts.
Korah's Descendants
At first, Korah's three sons, Asir, Elkanah and Aviasaf, joined in their father's quarrel. However, soon after, they regretted their actions and repented. As a result, they were spared their father's fate and survived. 6 Indeed, Korah's descendants were among the Levites who sang in Holy Temple, 7 and a number of psalms in the Book of Psalms 8 were either composed or sung 9 by them. Among Korah's descendants was the famed prophet Samuel, anointer of the first kings of Israel, Saul and David. 10
Of Blue Threads and Doorposts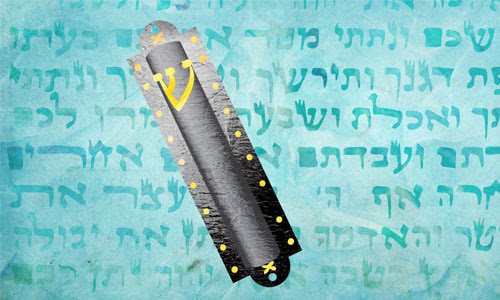 The Midrash fills in some of the drama of Korah's uprising. Korah tried to undermine Moses by pointing to laws he viewed as illogical.
He began by focusing on the mitzvah of tzitzit, the commandment to attach strings to the corners of our garments, one of which should ideally be wool that is dyed blue or purple. 11 Korah prepared 250 cloaks without tzitzit, but which themselves were fashioned from similarly dyed wool, and handed them out to his supporters. "Do these cloaks require tzitzit?" he asked. "Yes, they do," Moses replied. They began to mock: "For a garment of another color one dyed wool string is sufficient, yet when an entire garment is dyed, its very color is not sufficient?!"
Read more: Hanging by a Thread
Korah continued to challenge Moses: "Does a house filled with Torah scrolls require a mezuzah [the parchment affixed to the doorpost, in which the Shema prayer is written]?" "Yes, it does," Moses replied. "If an entire Torah scroll does not suffice," Korah taunted, "how can a single paragraph be enough?! You did not receive these commandments from G‑d; you devised them on your own!" 12
In the Hands of the Woman
Another Midrashic passage contrasts Korah and another former crony named On ben Peleth. Focusing on the verse in Proverbs, 13 "A wise woman builds her home, while a foolish one destroys it," the Talmud states: "A wise woman builds her home—this refers to the wife of On ben Peleth; A foolish one destroys it—this refers to the wife of Korah."
What happened? Korah alone would not have instigated this argument, if not for his wife's insistence and encouragement. On's wife, on the other hand, saved her husband from meeting the same fate as his colleagues.
After convincing him to abandon their ranks, he asked: "What should I do? I joined in the conspiracy, and swore that if they will summon me, I will go!" "Don't worry," she replied. "I'll take care of it."
After giving her husband strong wine to drink and putting him to sleep in their tent, she sat at the entrance and revealed her hair, which she normally covered for reasons of modesty. Whenever someone came to summon him, seeing an immodestly-dressed woman at the entrance to the tent, he would turn back. Thus, his life was saved. 14
Read More: A Tale of Two Wives
Korah's Complaint: A Deeper Look
The connection of a Jew with G‑d consists of two dimensions: the spiritual connection achieved through Torah study and contemplation of the Divine, and the connection accomplished through performing G‑d's mitzvot (commandments), the majority of which involve material activities and objects.
Korah understood that Moses and Aaron's spiritual achievements far surpassed his. But it was with regard to mitzvahs that he disputed their supremacy. He argued that the Torah's main focus is on the practical side of Jewish life and the physical fulfillment of G‑d's commands. In this regard, he claimed, all Jews are equal; the donning of tefillin performed by Moshe was exactly the same as the donning performed by the simplest Jew. Why should they reign supreme here as well?
However, G‑d desires not only the physical performance of mitzvahs, but also the proper spiritual intent. Thus, while Moses and Aaron's actual performance of mitzvahs did not differ from that of anyone else, the intent with which they performed them varied greatly, and G‑d considers the intent as well as the deed. 15
FOOTNOTES
1.
Unless otherwise noted, the information in this article is gleaned from Numbers 16-18 and commentaries.
2.
Exodus

6:21

.
3.
Pesachim 119a.
4.
Bamidbar Rabbah 18:8.
5.
Numbers

3:30

.
6.
Numbers 26:11 and Rashi.
7.
I Chronicles 6:18-22 and 25:4-5.
8.
E.g., Psalms 42-49.
9.
See the introduction of Rabbi Abraham Ibn Ezra to Psalms.
10.
I Chronicles 6:7-13.
11.
The colored string ( techelet in Hebrew) is wool dyed with the blood of the chilazon, a rare marine creature whose identity and present existence has been, and is still, widely disputed. The exact hue of the dye (blue or purple) is a matter of dispute as well. Read: What Is Tekhelet (Techelet)?
12.
Bamidbar Rabbah 18:3. Cf. Rashi to Numbers 16:1.
13.
14a.
14.
Sanhedrin 109b-110a.
15.
Likkutei Sichos vol. 4, pp. 1048-1054 .
By Yehudah Altein
More by this author
Sefira Ross
is a freelance designer and illustrator whose original creations grace many Chabad.org pages. Residing in Seattle, Washington, her days are spent between multitasking illustrations and being a mom.
See you tomorrow
Love Yehuda Lave