As I began to practice self-control in the most minor aspects of my life, I realized that self-discipline is truly the basis of self-respect. And self-respect is what we need to heal from past traumas and face all the difficulties in our lives today.

Love Yehuda Lave

Zvi Herman

Monday, 25 June 11:46 AM
In many Jewish households on Friday nights, parents bless their daughters in the names of our matriarchs: Sarah, Rebecca, Rachel and Leah. We do so to hold our highest role models to our girls. Lately though, I've had the creeping inclination to consider another name to this list of women in whose footsteps I hope my daughter will follow: U.S. Ambassador to the United Nations Nikki Haley.
Haley represents our country with bold, honorable and principled leadership. In no forum are these traits more lacking than the United Nations. In no place are they more sorely required. And on no issue does this present itself more clearly than her proud and consistent stand in defense of Israel.
Just this week, Haley announced that the U.S. delegation would withdraw from the UN Human Right Council – in large part because of its history of unfairly targeting and condemning Israel while turning a blind eye toward human-rights violators like Syria, Iran and North Korea.
U.S. Ambassador to the United Nations Nikki Haley addresses the 10th emergency special session of the General Assembly on: "Illegal Israeli actions in Occupied East Jerusalem and the rest of the Occupied Palestinian Territory." Credit: U.N. Photo/Evan Schneider.
Earlier this year, when mothers and fathers in southern Israel were forced to wake their children and run to bomb shelters as rockets rained down from Gaza, Haley reassured these parents that their fears will be heard. Not only did she condemn these attacks, but she also called for a U.N. Security Council emergency meeting on Gaza-based terror.
This may seem like a logical response to such violence, but it was the first time that the United States had called for such a meeting to address the issue, despite the fact that more than 10,000 rockets have been fired at Israel from Gaza during the last 17 years.
Unsurprisingly, the emergency meeting to examine the true injustice—Palestinian terrorism—hasn't been scheduled. But the move flipped U.N. standard operating procedure to condemn Israel in an emergency meeting for defending itself against terror—be it rockets, riots or stabbings. It's not the first time either that Haley has grabbed headlines for her leadership.
Recently, she vetoed a resolution sponsored by Kuwait that made no mention of Hamas, yet condemned Israel for the "excessive, disproportionate and indiscriminate" use of force "against Palestinian civilians," and then she forced the Security Council to consider a measure condemning Hamas as a terrorist organization. And just this week, she gathered enough votes to pass an amendment to a Palestinian-backed resolution that would have condemned Hamas. When her amendment was sidelined by a procedural maneuver, she called the effort to obstruct the vote "shameful."
She has stopped the United Nations from appointing a Palestinian diplomat to a U.N. mission in Libya.
She has stopped the U.N. High Commissioner for Human Rights Zeid Ra'ad al-Hussein from publishing a blacklist of companies that do business with Israel in the West Bank, Eastern Jerusalem and the Golan Heights.
And she has stopped a U.N. Security Council draft resolution that would have called for the reversal of recognizing Jerusalem as the capital.
These moves have made her the most popular politician in America. A recent Quinnipiac University poll found that 63 percent of American voters approve of Haley's decision-making skills. Her approval spans party lines: 75 percent of Republicans, 63 percent of independents and 55 percent of Democrats say they approve of how she's handling her job.
I've seen the widespread admiration for her leadership play out in public. She has been lauded in the press, feted at pro-Israel conferences and will be the keynote speaker at the annual Christians United for Israel (CUFI) Washington Summit on July 23.
When she speaks, the pro-Israel community listens.
Last month, I was privileged to attend the opening of the U.S. embassy in Jerusalem, where I experienced this "Haley effect" myself. The mere mention of her name elicited spontaneous and prolonged applause from the crowd in attendance. She has the respect of her fellow diplomats, the admiration of Americans of all political stripes and the appreciation of the Israelis.
How could I not consider her to be a role model for my own daughters?
No, Nikki Haley is not a Jewish matriarch, but she is a heroine for Israel nonetheless, who is well on her way to being the world's next great diplomat.
Shari Dollinger is the co-executive director of Christians United for Israel.

Zvi Herman

Monday, 25 June 11:50 AM
Hundreds of yogis practicing their lotus pose, sun salutation, and meditation gathered in Jerusalem's Valley of Ben-Hinnom on Thursday to celebrate International Yoga Day.
Participants engaged in collective yoga, sound healing, and meditation in Hebrew and Arabic, as part of an event organized by the Ministry of Jerusalem Affairs and Heritage, the Jerusalem Municipality, the Jerusalem Development Authority and the Schusterman Foundation.
701 colorful yoga mats were laid out on the grass against the backdrop of the Old City walls, forming one big art piece called "The Big Dream – Jerusalem 2048". The mats were quite literally "dreamed up" by Jerusalem residents who were asked to imagine the view outside their window in 30 years.
Together with local artist Amit Trainin, The Big Dream created yoga mats printed with artwork that envisions Jerusalem in 30 years from now. Photo via Facebook
Sharonna Karni Cohen, founder of Tel Aviv startup Dreame.me, took these "dreams" to local artist Amit Trainin, a professor at Jerusalem's Bezalel Academy of Art and Design, to transform the inspiration from hundreds of individual answers to a united piece of artwork that envisions the future of Jerusalem.
The giant artwork was then graphically sliced into hundreds of pieces, which were numbered and printed on yoga mats.
"The Big Dream is about turning our ideas into a powerful visual reminder of what we want to achieve on a personal and collective level. Through yoga, we find the balance between dreams and reality," said Karni Cohen, who founded Dreame in 2014 to help people commission original artwork from their dreams.
The yoga mats were flown in by Cathay Pacific, a Hong Kong-based airline that opened a direct flight to Israel last year.
"This unique artistic project at Ben-Hinnom Valley in Jerusalem shows, with great talent, our residents' dreams for the future of Jerusalem, the capital of Israel. It is not by accident that it is said of Jerusalem that it is a city that unites – my personal dream for Jerusalem is that we will continue to see connections between people, communities, cultures and dreams," said Ariela Rejwan, Deputy Director General and Director of the Society Culture and Sports Culture at the Jerusalem Municipality.
In an effort to further develop the Valley of Ben-Hinnom Park, the Jerusalem Development Authority said they are advancing cultural and recreational activities. As a result, Friday yoga practice has become a Jerusalem weekend tradition for residents of the city.
Last year, The Big Dream project took over Tel Aviv's Rabin Square, where a giant art installation pieced together from 1,500 yoga mats showcased three artists' visions of Israel's future.
Sponsored by the municipality and the Indian Embassy in Israel, the event included a variety of yoga classes for the public led by renowned teachers from India an

Zvi Herman

Wednesday, 20 June 3:01 PM
by ISRAEL21c
How would you like to be flown by helicopter to Israel's largest natural crater for a gourmet chef-prepared dinner around a bonfire, serenaded by professional musicians, then partake in a little star-gazing before retiring to a luxurious tent with a relaxing desert yoga session and delectable breakfast the next morning?
Or maybe a stay in a boutique Golan vineyard with 30 of your closest family and friends, and learning to cook a foraged meal or riding ATVs is more your speed?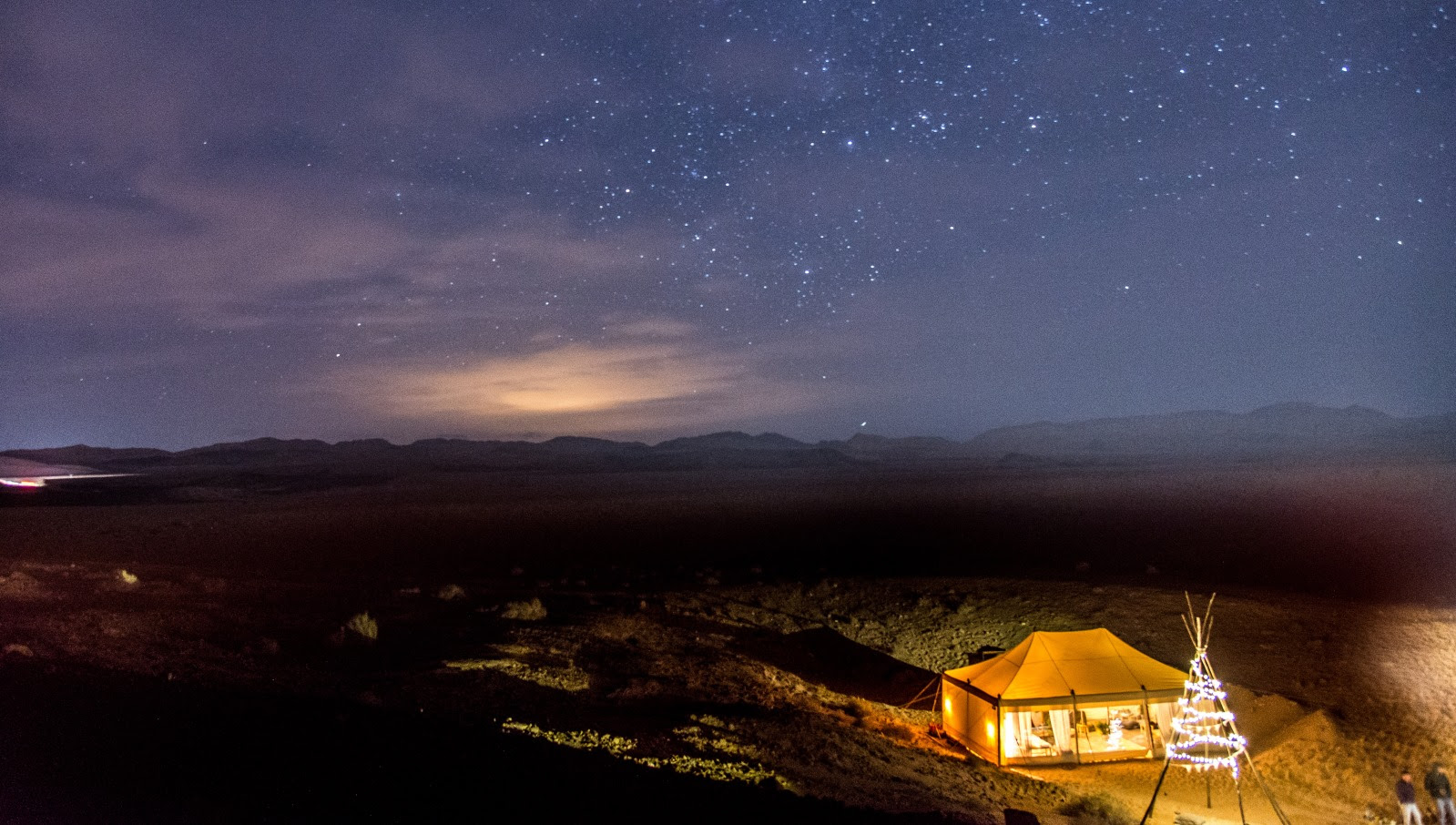 Glamping under the stars in Israel. Photo by Daniel Bear
These are some of the custom experiences offered by Itay Kadish Katz's company Glamping.co.il, a luxury camping company he established in 2012 while staying in an upscale hospitality tent in a picturesque Israeli valley.
"I awoke early in the morning and purchased [the domain name] Glamping .co.il right then and there," says Kadish Katz, who also owns EasyCamp and Happy Glamper, which focus on varying levels of luxury and comfort from simplistic to posh.
"Around the world it is already clear that the next big thing in Airbnb-style tourism is experience-based tourism and this is exactly what glamping is," he explains.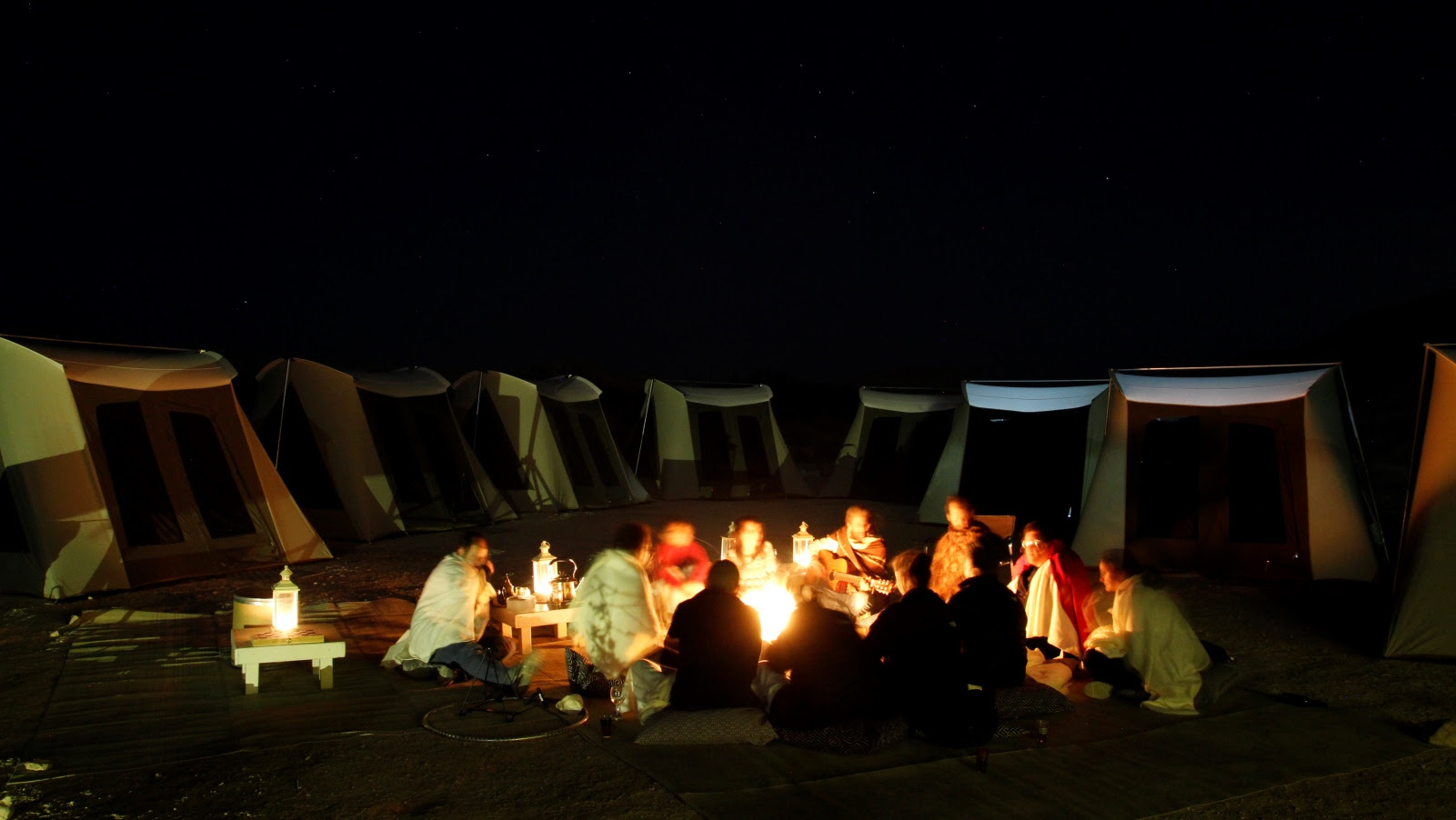 Photo courtesy of Glamping Israel
Aside from putting the idea of experience-based travel into action, glamping allows for the following: connection with the Israeli land on an up-close-and-personal level without having to "rough it," and bringing tourism out of the cities and into the expansive wilderness that makes up a large portion of the Jewish state.
The Israeli Ministry of Tourism, known for its alluring ads featuring attractive Israelis sunbathing on beaches, is now also encouraging tourists to head southward to the desert for vacation time.
"The Pop-Up Oasis project, which we just completed with the cooperation of the Ministry of Tourism in April, generated a definite buzz in the area," Kadish Katz says of the Negev: Pure Desert Magic campaign and social-media contest designed to draw European visitors to the Negev.
Charline Wolff, a 24-year-old biology student from Germany, was one of several winners of the customized five-night glamping experience, which included jeep rides, guided hiking, Segway tours and a star-gazing experience in Timna Park near Eilat, as well as touring in Jerusalem and Tel Aviv.
A personal butler even made Wolff a vegan meal to fit her dietary preferences.
"My mother tagged me on the Facebook competition post because she thought I would like it as I love being in nature so much. Before taking part in the competition, I had only really heard about snorkeling and diving in Eilat and the vegan foods and fun lifestyle in Tel Aviv. I hadn't even realized there was a desert in Israel," said Wolff.
Pop-Up Oasis contest winner-Charline Wolff, right, and friend. Photo by Yonatan Keren
Eco lodges, khan tents, yurts
Eco lodges, khan tents, yurts
Unless you win a contest, a glamping trip in Israel will cost you at least ₪2,000 ($560) per night per couple, says Kadish Katz, "but certainly the sky is the limit."
Upscale is just one facet of the burgeoning field of glamorous camping. The options range from eco lodges, Bedouin-style khan tents and yurts to just about anything else you can dream up that will offer comfortable accommodation close to nature, or more elaborate activity and sensory-based experiences than you'd get from traditional camping. What they all have in common is style, sensible comfort, and amenities.
Inside an eco-lodge at Desert Days in Tzukim. Photo: courtesy
Eco lodges like Desert Days in Tzukim in the western Negev and on Kibbutz Lotan in the Arava Valley of the eastern Negev take the concept beyond comfort and feeling at one with nature. On Lotan, you have the option to learn about eco-sustainability through building, organic gardening and even composting courses.
Each guest house in Lotan's eco-village is built from sustainable eco-materials and has a composting toilet. The area, known for its agriculture and bird-watching, offers serene scenic mountain views just a half hour north of the Red Sea resort city of Eilat.
Other options such as the Yurt in Amirim, outside Safed (Tzfat) in the Galilee, embody a modern inn-like setup, albeit still technically under the stars, and can be booked through online sites such as Airbnb and booking.com.
Traditionalists can choose their level of glampdom at sites like Shayarot, a Bedouin-style campsite with options ranging from traditional tents to air-conditioned cabins equipped with a kitchenette, to a piece of earth between palm trees. Whatever level you choose, you'll have access to a hot shower, flush toilet and cool drinking-water fountains.
"Israelis love the outdoors — camping and hiking — but they also love to feel special. In glamping they can have both," comments Dror Guriyon of Silent Arrow, a luxury campsite in Mitzpeh Ramon that attracts backpackers from around the world. There guests can prearrange tai chi sessions, survival workshops and even a lesson in desert archery.
Glamping accommodations at Silent Arrow, Mitzpeh Ramon. Photo: courtesy
Rinat Bashan from Desert Days adds, "[Glamping] offers the possibility to feel close to nature, close to the earth, in a desert landscape, and on the other hand indulge in a comfortable bed, a hot shower, a fully equipped kitchen, hammock and firewood. We maintain simplicity and work with natural and local materials, thereby enabling nature to be present and penetrate the heart."
Bashan's eco-friendly earth cabins and Bedouin-style accommodations are made of sustainable materials like mud, straw and stone.
As the glamping movement picks up steam in Israel, you really can have your cake and eat it too — in comfort and style.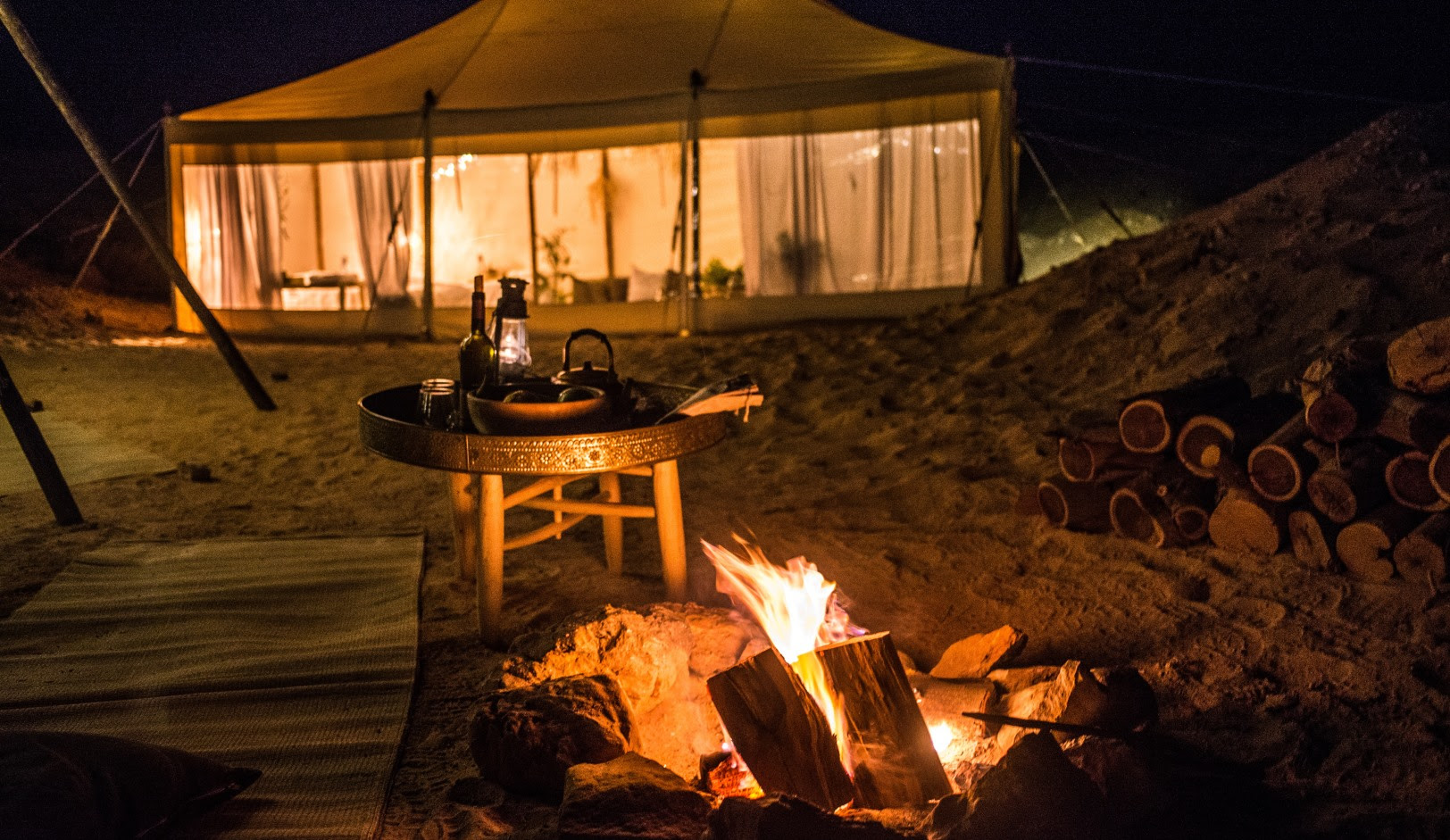 Israel glamping photo
See you tomorrow
Love Yehuda Lave