By understanding how our childhood shaped our personality and behaviors, we are better able to accept ourselves as we are and see ourselves as courageous for having done our best to survive and thrive despite the deficits in our upbringing.
Love Yehuda Lave
Australian finds A$100,000 gold nugget using metal detector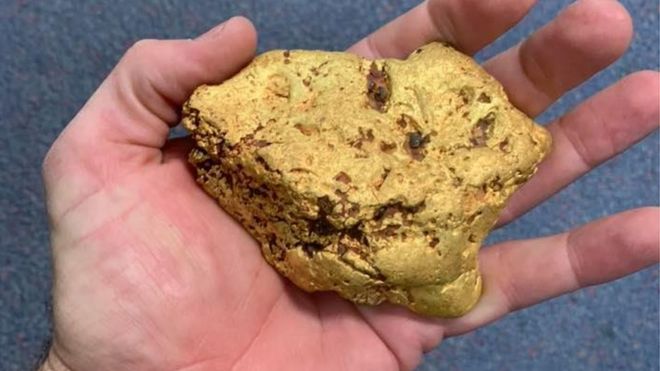 Image copyright
FINDERS KEEPERS GOLD PROSPECTING
Image caption
The 1.4kg nugget is estimated to be worth about A$100,000
An Australian man has unearthed a 1.4kg (49oz) gold nugget with a metal detector while wandering Western Australia's gold fields, say locals.
A shop in Kalgoorlie shared pictures of the rock online, estimated to be worth A$100,000 (£54,000; $69,000).
The unidentified man was an experienced local hobbyist, shop owner Matt Cook, told the BBC.
Finds of this scale by prospectors are known to happen a few times a year, experts say.
About three-quarters of the gold mined in Australia is produced in and around the Kalgoorlie region.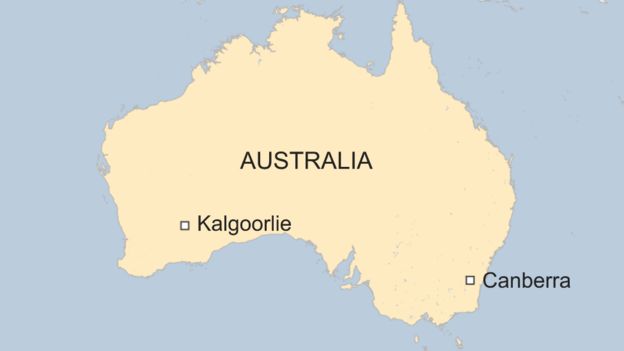 Mr Cook, who owns a shop selling supplies to gold prospectors, said the man detected the piece on some saltbush flats, about 45cm (18 inches) below the surface.
"He walked into my shop and showed me the nugget in his hand with a big smile on my face," Mr Cook told the BBC.
"It just a bit bigger than a packet of smokes, and the density of it was incredible, so heavy."

You may also be interested in:

Smaller traces of gold are more common finds in the region, says Prof Sam Spearing, director of the Western Australia School of Mines at Curtin University.
Meet Saybie, the world's smallest baby
This child, who Sharp HealthCare is calling "Saybie," is believed to be the smallest-ever surviving premature baby. Delivered in December, the infant weighed less than 9 ounces.
Infant girl weighed just 8.6 ounces when she was delivered at Sharp Mary Birch Hospital
Weighing in at just 8.6 ounces, Saybie is believed to be the smallest baby ever to survive a premature birth.
Sharp HealthCare announced Wednesday that the infant girl was delivered by Caesarean section in December at just 23 weeks gestation after her mother suffered from pre-eclampsia, a life-threatening condition that causes very high blood pressure.
Though the infant was not identified by her real name due to her parents' desire for privacy -- Saybie is the name given her by her medical team -- Sharp said that after searching worldwide it could find no lighter baby. The next-lightest recorded birth, according to the "Tiniest Babies Registry" maintained by the University of Iowa, was a minuscule girl born in Germany in 2015. Sharp's recent diminutive diva edged the girl from Deutchland for the ultra featherweight world title by seven grams.
With babies this small, explained Dr. Paul Wozniak, a neonatologist at Sharp Mary Birch Hospital for Women and Children, the first hurdle is simply making sure they get a chance to breathe. Underdeveloped lungs mean they all need help, so placement of an extra-small breathing tube is essential, but such a delicate procedure often fails over and over again before a precise pair of hands is able to coax the device through the airway to the lungs.
Sometimes, intubation on tiny airways simply fails, contributing to a very high mortality rate among those born too early, Wozniak said.
But for Saybie, the tube went in on the first shot.
Given that she was a full 100 grams smaller than the smallest baby he had ever tried to intubate, and it was necessary to cut down the smallest breathing tube that the hospital had in inventory, Wozniak said feeling that instrument slide into place on the first try verged on the religious.
"When it went right in, oh, my God, it was instant relief," Wozniak said.
Having a breathing tube in place so quickly allowed quick delivery of surfactant, a chemical that prevents the tightly-packed air sacs in a premature baby's lungs from sticking together. Use of this chemical is widely credited with significantly reducing the amount of respiratory distress in premature infants, especially in so called "micro-preemies" born before 28 weeks.
As the largest maternity hospital in California, Mary Birch is used to handling plenty of premature babies and many are quite small. But Saybie's size, she was only nine inches long at birth, required adjustments for the hospital's level three neonatal intensive care unit. Special blood pressure cuffs were necessary as were particularly microscopic diapers.
At just 245 grams, the scales built into standard NICU beds were thrown for a loop.
"Our beds can't weigh anything that's less than 300 grams, so we had to take her out and weigh her on the old-fashioned scale," Wozniak said.
Anyone who has had a premature baby in a neonatal intensive care unit knows that every ounce of weight gain is cause for celebration. It took Saybie about a month to hit the one-pound mark and a bit longer before her breathing tube could be removed. At first, she received just a single milliliter of breast milk through her feeding tube at a time.
Premature babies are also more susceptible to infection than full-term babies because they spend less time connected to their mother's blood supply than full-term babies do, providing less chance to receive protective antibodies circulating in mom's blood.
Though staph infections are common in micro-preemies, Wozniak said Saybie managed to avoid infection throughout her stay. She also managed to stop receiving oxygen before going home and was able to feed on her own for a full month before leaving the hospital.
All of these items, Wozniak said, were quite remarkable.
Baby Saybie went home May 28, 2019. She is believed to be the smallest-ever surviving premature baby. Delivered in December, the infant weighed less than 9 ounces.
(Sharp HealthCare)
"Some babies we've had in here nine months to a year before they can go home," he said. "To me, it's remarkable she didn't go home on oxygen, because most babies this small will, or with a feeding tube."
According to a 2015 study, micro-preemies suffer particularly high mortality rates of 30 percent to 50 percent, and severe complications are so common that neonatologists keep a special card on them to refer to when talking about the odds with parents.
"For significant bleeding of the brain, that occurs in 35 percent, and chronic lung disease we see in about 47 percent of these babies," Wozniak said.
Why was this particular child able to defy such difficult odds so consistently? The physician said it's a combination of factors.
"It's good genetics and that's combined with good luck," he said.
Now five months old, Saybie weighed five pounds and six ounces when Mary Birch sent her home earlier this month. She increased her birth weight 10-fold with the help of Sharp's neonatal staff, and nearly doubled her length, reaching 16 inches.
108-year-old Canadian man says the trick to a long life is to pick a good wife
smond Allcock celebrated his 108th birthday on Jan. 26
Alex Johnson
·
CBC News
·
Posted: Jan 28, 2018 4:55 PM CT | Last Updated: February 2, 2018
Esmond Allcock celebrated his 108th birthday on January 26 in his hometown of Kerrobert, Sask.
(Submitted by Jaime Frydenlund)
Esmond Allcock says the secret to living 108 years is to select the proper spouse.


Allcock, from Kerrobert, Sask., celebrated his 108th birthday on Friday. He is one of the oldest men in Canada.
"I didn't behave myself for a few years there, but then I got a really good wife," he said, when asked how he managed to live a long and happy life.
Oh they nearly drove me nuts. They probably took 100 pictures of me.

- Esmond Allcock
His wife Helen passed away seven years ago after 72 years of marriage. He lived alone in the family home for a short time and then decided to move into the Kerrobert Health Centre.
Esmund and Helen Allcock.

(Submitted by Jaime Frydenlund)
On Friday, employees at the centre threw the 108-year-old a birthday party.
"Oh they nearly drove me nuts. They probably took 100 pictures of me," he said laughing.
The town's Mayor Wayne Mock, also attended the party. He honoured the self-proclaimed Blue Jays baseball super-fan by declaring Jan. 26 as Esmond Allcock Day.
Long-distance celebrations
Although his son Dale Allcock, 78, couldn't make it to the party from Port Coquitlam, B.C., the two Facetimed beforehand.
He really is a gift. That's about all we can call that.

- Dale Allcock, son



"We Facetime every day on his iPad and you can really tell how happy he is, and they treat him like gold in there," he said.
The Mayor of Kerrobert stopped by the Kerrobert Health Centre to announce he declared January 26 as Esmond Allcock Day.

(Submitted by Jaime Frydenlund)
Staff wrapped up the party with his favourite meal: steak, carrots and fruit.
Home sweet home
According to his son, Allcock has lived in Kerrobert, which is located about 200 kilometres southwest of Saskatoon, for 100 years and worked as a farmer before retiring in 1975.
He has 67 living relatives which includes 38 great-grandchildren and 11 great-great-grandchildren.
"He really is a gift. That's about all we can call that," said Dale.

Allcock with his wife and children.

(Submitted by Jaime Frydenlund )

Janglo News

Friday, 31 May 10:01 AM
President Reuven Rivlin officially opened a new NIS 80 million ($22 million) visitor's center at the Caesarea National Park on Wednesday night, built in the ruins of four massive reconstructed vaults that once provided the base for a pagan temple built by King Herod in the first century BCE.
Caesarea is the country's most visited national park, with more than 900,000 visitors per year, the majority from outside of Israel. The visitor's center is part of a NIS 150 million grant from the Edmond de Rothschild Foundation in cooperation with the Israel Antiquities Authority, the Caesarea Development Corporation, and the Nature and Parks Authority.
Full Story (The Times of Israel)
WATCH: Kosel Now Has "Watergen" Fountain – Producing Drinking Water Out Of Thin Air!
Share on Facebook
Tweet on Twitter
The Kosel Plaza has a new addition. A "Watergen" machine.
Watergen, produced by an Israeli startup company, manufactures water from thin air using Atmospheric Water Generator technology. The machines use moisture in the air to produce clean, healthy drinking water.
The company's largest machine has the capacity to produce up to 6,000 liters of water a day.
See video below explaining how the technology works.
See you tomorrow
Love Yehuda Lave