Strive for excellence in middos, not perfection. No one is always happy or prudent. Be accepting of your limitations and more tolerant when there are external pressures.
Love Yehuda Lave
The historic square will be renewed as part of the "פינוי בינוי" project.
Last week, the local Planning and Building Committee of the Jerusalem Municipality approved a plan for urban renewal for Davidka Square. This plan includes the demolition of an existing four-story building with 74 housing units (39 of which are used as a hostel) and 18 stores, and the construction of a new 8-story building and a 30-story tower.
The new plan will create a new commercial front for all the surrounding streets, an internal public passageway that will connect 172 residential units of various sizes to the building adjacent to the east, as well as office space and the Abraham Hostel, which is expected to return to the new building.
In addition, the new building will include public toilets on street level, about 450 square meters will be used for municipal needs, as well as three day care centers.
The Mayor of Jerusalem, Moshe Lion commented saying: Davidka is a historical gem in the center of Jerusalem. The promotion of municipal renewal plans in the center of the capital will make it a more attractive city and will place it in the highest standard comparatively to some of the most beautiful cities in the world. "
Information About Davidka:
Davidka Square is a nickname for Freedom Square, a central square in Jerusalem near the Mahane Yehuda market. The square meets Jaffa Street, the main street of the city. On one side of the square there is Binyan Klal, and on the other side of the road is the Davidka hostel, which was converted into a hostel for backpackers which is now called the Abraham Hostel.
Attached: Illustrations/ credit -office of Eli Reches Architects

MyHeritage Completed Digitizing All of Israel's Cemeteries!
By Esther ·
We're very happy to announce that, after five years of dedicated efforts, we've completed our ambitious goal of digitizing every cemetery in Israel. It is now the first country in the world to have almost all of its gravestones preserved and searchable online, with images, locations, and fully transcribed records. We've put up all this content for free, too!
Background
Back in February 2014, we teamed up with BillionGraves to launch a global crowdsourcing initiative to digitally preserve the world's cemeteries. It is essential to digitize cemeteries, by photographing the gravestones and transcribing them, because of the key role that gravestones play in family history. They provide vital information such as a person's name, the names of close relatives and dates of birth and death. Sometimes they even describe the deceased's character and personality. Most of the world's cemeteries have never been systematically documented or made available online; MyHeritage and BillionGraves sought to change this.
Age and exposure to the elements are causing the gravestones to fade, rendering them illegible. It is becoming harder, and sometimes impossible, to read them and know who has been buried there. This adds to the urgency of the project. Even as gravestones continue to wither away, we can ensure that the footprints of our ancestors do not.
Our generation is blessed with the necessary tools available, and so it is up to us to preserve this valuable information. BillionGraves is a unique application, available for both iOS and Android, which allows users to volunteer and photograph gravestones. Photographs are then transcribed by additional volunteers on the BillionGraves website, resulting in searchable digital data. Besides being very easy to use, BillionGraves automatically captures the exact GPS coordinates of every gravestone when photographed. This allows others to locate, visit or re-photograph any gravestone of interest and reduces duplication by allowing volunteers to focus on parts of cemeteries not handled before.
MyHeritage employees kickstarted the effort by first digitizing Segula Cemetery, one of the oldest cemeteries in Israel. In a single day, we took 73,000 photos in order to index them shortly afterwards. A few months later, we brought friends and genealogy organizations along with our employees to digitize Holon cemetery, the largest cemetery in Israel, with over 200,000 graves. It was one of the largest events of its kind ever organized – in the world!
At launch, MyHeritage Founder and CEO, Gilad Japhet, explained the importance of this work:
Project overview
Through our global initiative with BillionGraves, MyHeritage has referred 33,400 new volunteers to BillionGraves. Those users have taken 3.5 million photographs and contributed 3.2 million transcriptions.
In Israel specifically, we found it necessary to recruit full-time employees to complete the work. We hired 5-6 full-time photographers and several dozen transcribers, and have invested more than one million dollars on this important and time-sensitive project. All told, we photographed 638 cemeteries throughout Israel. 2.1 million photos were taken of 1.5 million gravestones, resulting in approximately 1.4 photos taken per grave. This kind of project is never 100% complete because there are constantly new burials, and we'll need to develop a strategy for handling them in the future.
Notable gravestones
During our mission, we were honored to digitize the photographs of many notable individuals who had an enormous impact on historical events. Here are just two examples.
David Ben-Gurion (1886-1973) was one of the primary founders of the State of Israel and its first Prime Minister.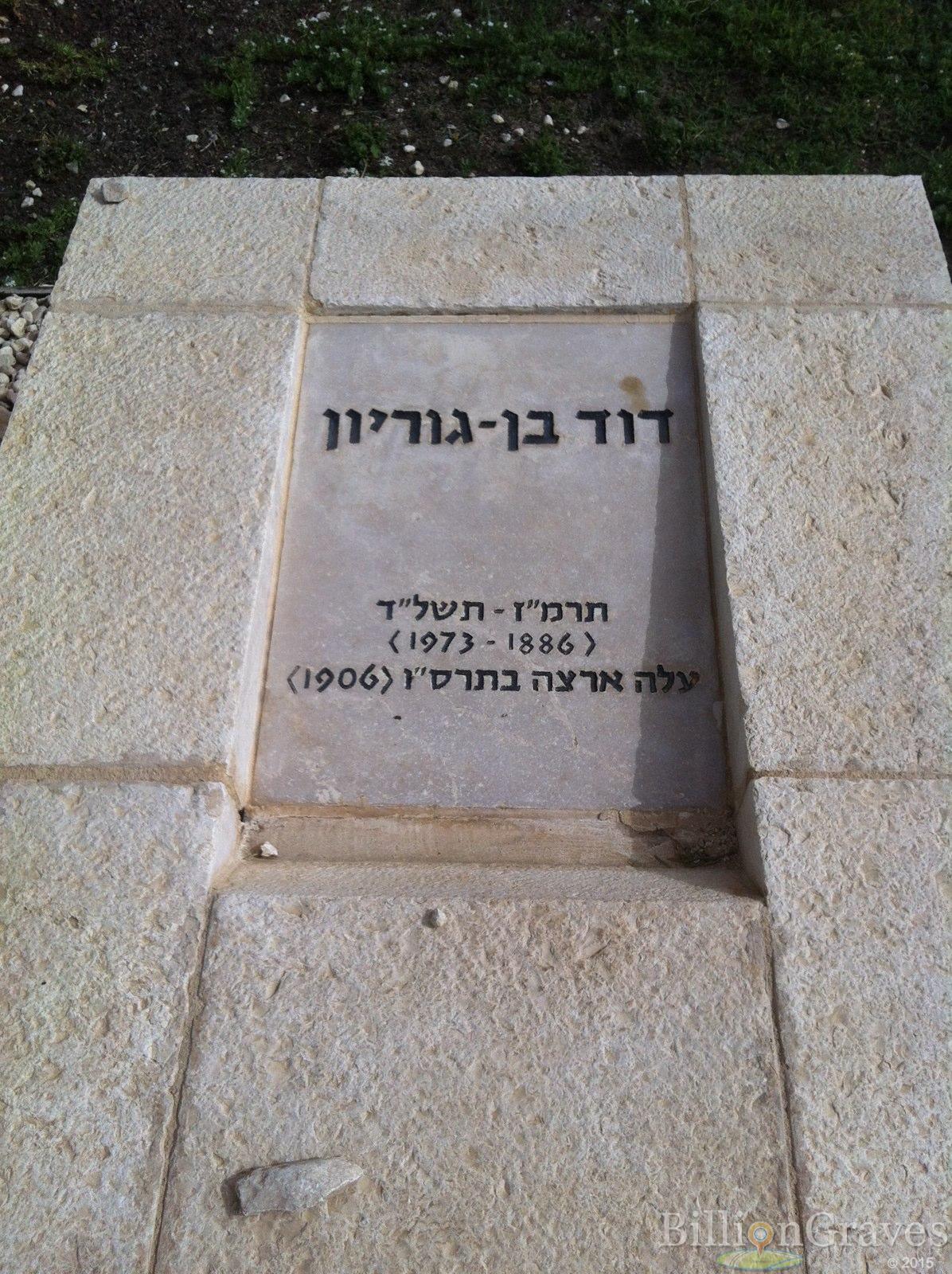 Israeli singer, songwriter and composer Naomi Shemer (1930-2004) was commonly known as the "First Lady of Israeli Song."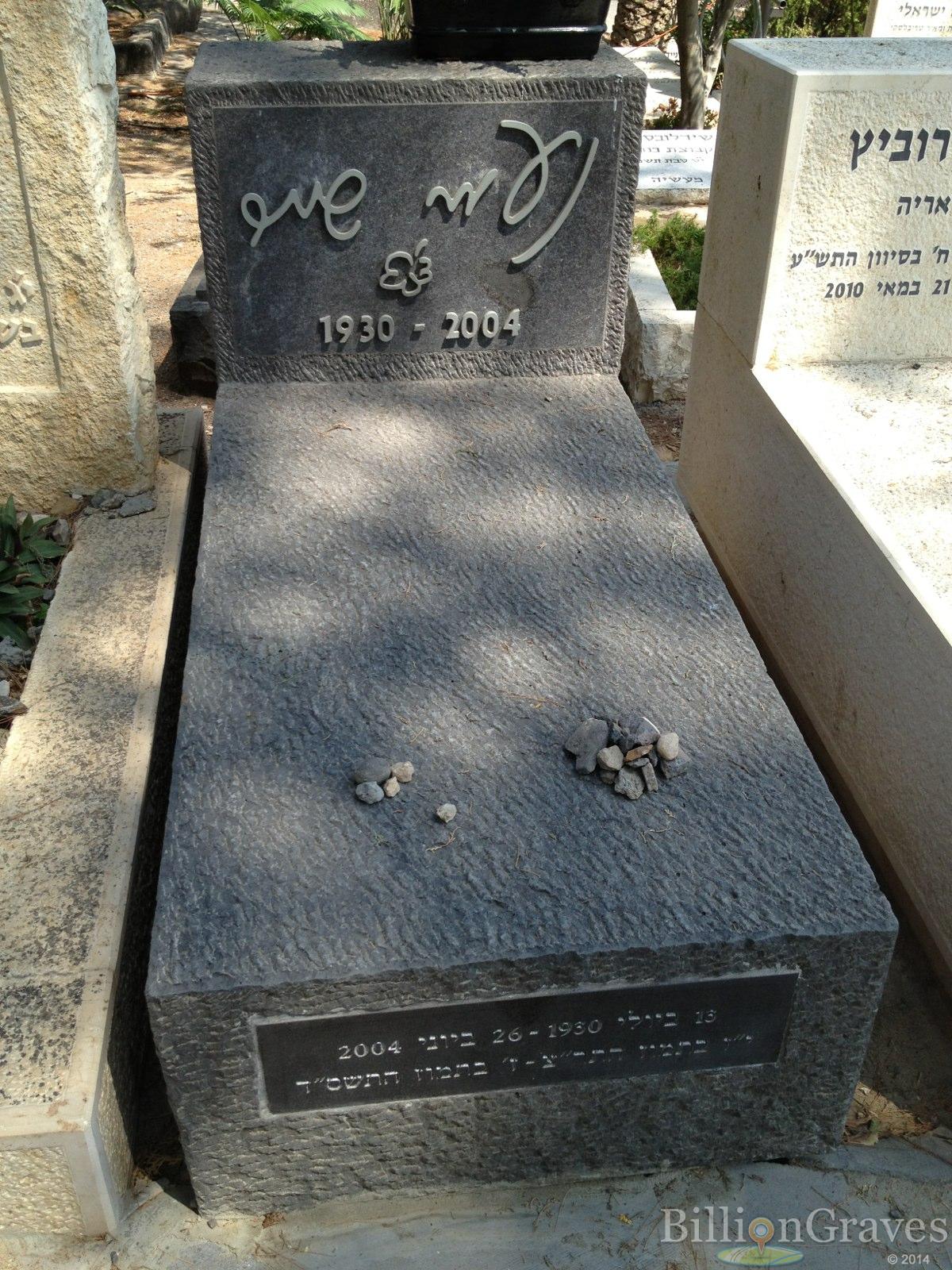 How to access the gravestone records
On SuperSearch, we've created a collection of millions of indexed gravestone records, ensuring the preservation of this vital information. The database is available for family historians and genealogists and searchable online for free. The same data is also available on BillionGraves.com for free.
Join our initiative!
Preserving cemeteries is a significant project, which we're committed to carrying out worldwide. We invite you to join our initiative by helping us digitize the cemeteries of the world. You can help by photographing gravestone in your area and transcribing your photos or those taken by other volunteers. We encourage MyHeritage users to contribute to the future of family history research and to help preserve their own family legacies, as well as the legacies of others.
Using the free BillionGraves mobile application, anyone can take photos and document gravestones. All gravestone photos are transcribed by volunteers using the BillionGraves app or website, and the records are then added to MyHeritage SuperSearch and BillionGraves — where they are made available to users for free. MyHeritage Record Matching technology automatically notifies users on MyHeritage and Geni whenever a gravestone has been added for one of their ancestors.
Conclusion
Completing the project of digitizing all of Israel's cemeteries is a milestone worthy of celebration and a tribute to our commitment to preserving valuable family history information for future generations. We hope that this effort will help members of the global genealogy community discover their family history and the final resting place of their ancestors.
NEW FILM: "Pay to Slay": The UNRWA Connection



NEW FILM PROPOSAL SEEKS SPONSOR.
A POWERFUL MOVIE
May, 2019
NEW FILM: "Pay to Slay": The UNRWA Connection
In most societies, those who commit murder are punished.
However, in the PLO culture, people are given incentives by the Palestinian
Authority to murder a Jew.
Each year, more than $300 million are distributed to the killers and to
their families by the PLO regime, known as the Palestinian Authority.
In the United Nations Relief and Works Agency Palestinian refugee camps, where
the slogan of UNRWA schools is the "right of return by force of
arms", payments act as an incentive for young Palestinians to commit
acts of terror , even if they die as martyrs in the process.

Over the years, more than 40 Palestinians educated in UNRWA-Palestinian schools
– by teachers tied to Arab terror organizations – have become homicide bombers,
killing 83 and wounded nearly 500 people.
Thousands of UNRWA-educated Palestinians have been jailed for attempted
murder.
This film will examine the "Pay to Slay" policy as it impacts upon UNRWA,
where killers become heroes of society.
We will interview Palestinian convicts from UNRWA refugee camps whose
families receive monthly "Pay to Slay" stipends from the Palestinian government
as their reward for conducting acts of murder.
We will then interview Jewish families who cope with the loss of their
murdered relatives, pained by the fact that families of those who killed their
loved ones receive gratuities for their "deed" for the rest of their lives.
This emotional and ethical quandary will be further explored in the film as we
examine the influence that PLO and Hamas leadership bear upon children.
Much of this emanates from brainwashing children in UNRWA
schools - cauldrons of vicious anti-Semitism.
In UNRWA schools, Palestinian children are taught that Jews are subhuman, descendants of pigs and apes. As part of its new curriculum, UNRWA school books do not recognize Israel or any kind co-existence with Israel, which instead call for liberation of the all of "Palestine,"
including Israel's pre-1967 territory. Instead, UNRWA schools host plays about
martyrdom, kidnapping Israelis, and the "Right of Return by force of arms" (which
would envision 5 million people with Palestinian heritage reclaiming Arab villages now part of Israel).
In that context, UNRWA welcomes paramilitary organizations of child soldiers into
their schools. Each year, over 10,000 Palestinian children receive intense weapons training at
Palestinian "War Games" set up in Gaza.
Funds for weapons derives from pilfered humanitarian supplies.
Ultimately, the film will portray the disconnect between two cultures and the
priorities of the two societies: Palestinians, educated by UNRWA and ruled by
strongmen in Gaza and Ramallah, seek Israel's destruction through war,
murder and financial incentives; Israelis, living under a vibrant
democracy, where their schools focus on peace, understanding and
coexistence with their Palestinian neighbors.
This September, UNRWA faces an unprecedented challenge to renew its mandate at the UN.
Our task is to ask donor nations to attach conditions to the UNRWA mandate. in the context of

"UNRWA Reform Initiative"
We seek partners to produce this film, which will be screened for decision-makers worldwide, to brings UNRWA policy briefings to the highest levels of governments and to the UN itself
המרכז לחקר מדיניות המזרח התיכון
ת.ד. 71098 בית אגרון, רח' הלל 37, ירושלים 94581
◼
02-6236368
See you tomorrow

Love Yehuda Lave