Yehuda Lave is an author, journalist, psychologist, rabbi, spiritual teacher, and coach, with degrees in business, psychology and Jewish Law. He works with people from all walks of life and helps them in their search for greater happiness, meaning, business advice on saving money, and spiritual engagement.
Love Yehuda Lave
Join my blog by sending me an email to YehudaLave@gmail.com
Israel offers free no-referral corona tests
1 / 1
By Paul Shindman, World Israel News -
Coronavirus tests centers around Israel began performing free tests Wednesday after the government decided to test as many people as possible to get a better picture of the state of the pandemic.
"Everything will be open and available, and test results will also be available within hours," the national coronavirus task force coordinator Prof. Ronni Gamzu said during a Health Ministry briefing on Tuesday after Israel this week began easing the national lockdown that was imposed last month.
"I want the entire state of Israel to have less than 5% positive test results, therefore we need more testing," said Gamzu, who serves as the nation's "coronavirus czar."
Under the new directive, any Israeli can get tested whether or not they have symptoms and without a referral from a physician, needing only to have their identity card in order to be checked if they are currently carrying the virus.
"I want each person to get tested, especially people who have the slightest suspicion of being asymptomatic patients. In my opinion, as many people as possible should get tested, there are enough test kits. I do not fear labs would collapse under the pressure. The HMOs are working and know the exact workload expected on the laboratories. There may be some hiccups here and there, but it's a price I'm willing to pay," Gamzu said.
Prime Minister Benjamin Netanyahu on Wednesday again called for public support "because together we will succeed" and noted that while Israel's numbers were trending down the cases in Europe were going up.
"Israel was ranked first in morbidity per capita in [comparison with] Europe. We imposed a lockdown and we came down quickly. The other countries of Europe that did not impose lockdowns and did not impose tough restrictions – went up quickly. Belgium, the Czech Republic, the Netherlands – all these countries now have higher morbidity than ours, other than Germany, which is also going up," Netanyahu said before a meeting of the corona cabinet, a group of ministers directly involved in battling the pandemic issues.
However, Netanyahu also continued to show the government flip-flopping on the decision-making process that has frustrated much of the public, saying that easing of restrictions will be done gradually, but not according to the four-month long multi-stage plan that was announced last week.
"There will not be nine stages, there will be fewer, but they will be gradual," Netanyahu said, warning that "if we see that there is an increase again, which is now happening in European countries, we will be compelled to reimpose some of the restrictions."

The Three Musketeers at the Kotel
.
Grace Ethel Cecile Rosalie Allen vaudevillian and comedian who became internationally famous as the zany partner and comic foil of husband George Burns, her straight man appearing with her on radio, television, and film as the duo Burns and Allen.
For her contributions to the television industry, Gracie Allen was honored with a star on the Hollywood Walk of Fame at 6672 Hollywood Boulevard. She and Burns were inducted into the Television Hall of Fame in 1988.
When I was born I was so surprised I didn't talk for a year and a half.
When my mother had to get dinner for 8 she'd just make enough for 16 and only serve half.
This used to be a government of checks and balances. Now it's all checks and no balances.
The President of today is just the postage stamp of tomorrow.
Smartness runs in my family. When I went to school I was so smart my teacher was in my class for five years.
Week in 60 Minutes #6 - with Andrew Neil and WHO Covid-19 envoy David Nabarro | SpectatorTV46,718 views•Oct 8, 20201.4K58ShareSave
The Spectator51.9K subscribersAndrew Neil is joined by David Nabarro, World Health Organization special envoy for Covid-19; Andy Preston, mayor of Middlesbrough; Pat Leahy, political editor of the Irish Times; and a team of Spectator journalists. In partnership with Charles Stanley Wealth Managers. // In this week's episode, we cover: Ireland's decision to ignore the science (01:42) The WHO's response to coronavirus (15:00) Local lockdowns (26:52) The vice presidential debate (44:50) // SUBSCRIBE TO THE SPECTATORere is the link to the full hour interviews:
https://www.youtube.com/watch?v=x8oH7cBxgwE

Director-General's Special Envoys on COVID-19 Preparedness and Response


On the 21stof February 2020, the Director-General appointed six Special Envoys on COVID-19, to provide strategic advice and high-level political advocacy and engagement in different parts of the world. The Special Envoys will work in close collaboration with WHO Regional Directors and country offices to coordinate the global response to COVID-19.
The main functions of the Special Envoys on COVID-19 are to:
Amplify the messages of the Director-General;
Disseminate WHO guidance on COVID-19 readiness and response;
Partake in high-level advocacy and political engagement;
Provide strategic advice on preparedness, readiness and response to COVID-19 outbreaks;
Engage with regional bodies and national governments;
Report regularly to the Director-General on their work and the situation in countries.
The six Special Envoys are:
Professor Dr. Maha El Rabbat, former Minister of Health and Population of Egypt;
Dr. David Nabarro, former Special Adviser to the United Nations Secretary-General on the 2030 Agenda for Sustainable Development and Climate Change;
Dr. John Nkengasong, Director of the African Centres for Disease Control and Prevention;
Dr. Mirta Roses, former Director of the WHO Region of the Americas;
Professor Samba Sow, Director-General of the Center for Vaccine Development in Mali;
Dr. Young-soo Shin, former Regional Director of the WHO Region of the Western Pacific.


Dr David Nabarro, Former Special Adviser to the United Nations Secretary-General on the 2030 Agenda for Sustainable Development and Climate Change
David was a Lecturer in Nutrition and Public Health at the London School of Hygiene and Tropical Medicine (1982-1985) and Senior Lecturer in Health Systems at the Liverpool School of Tropical Medicine (1985-1989). He joined the United Kingdom Government Foreign Office (Overseas Development Administration) as Senior Health Adviser for East Africa (1989–1990) and Chief Health and Population Adviser (1990-1997). He became Director for Human Development in the UK Department for International Development (DFID, 1997–1999). In 1999 David moved into the United Nations system starting as an Executive Director at the World Health Organization responsible for the Roll Back Malaria Project and the Office of the Director-General. He was Special Representative of the WHO Director-General for Health Action in Crises (2002-2005). He was then appointed as UN System Senior Coordinator for Avian and Pandemic Influenza (2005-2014), United Nations Secretary-General's Special Representative for Food Security and Nutrition (2008-2014), Coordinator of the Movement for Scaling Up Nutrition (2011-2014, as Assistant Secretary-General), UN S-G's Special Envoy for the West Africa Ebola Outbreak Response (2014-2015), and UN S-G's Special Adviser for the 2030 Agenda for Sustainable Development and Climate Change (2016 - 2017,as Under-Secretary-General)). He was appointed, by the Director-General of WHO, as chair of the expert group on the reform of WHO's work on outbreaks and emergencies in 2015. In October 2018, David received the World Food Prize together with Lawrence Haddad for leadership on nutrition.
Davidis currently Co-Director (since mid-2019) and Chair of Global Health at the Institute of Global Health Innovation, Imperial College, London. He is Strategic Director of the Swiss-based social enterprise 4SD (Skills Systems and Synergies for Sustainable Development), established in 2017, training and mentoring leaders for sustainable development. Since June 2018 David has curated the Food Systems Dialogues as a contribution to the transformation of food systems: they have involved more than 1700 leaders in 29 locations within the last 18 months. From July 2018 David contributed to preparations for the UN's September 2019 Climate Action Summit. David co-facilitated the coalition that advanced the Nature-Based Solutions (NBS) workstream (co-led by China and New Zealand). David is co-chair of the forum on Climate Change and Health which will complete its work at the World Innovation Summit for Health, November 2020. From March 2020, David is appointed Special Envoy of WHO Director General on COVID-19.


By SIMON KENT, BREITBART Oct 2020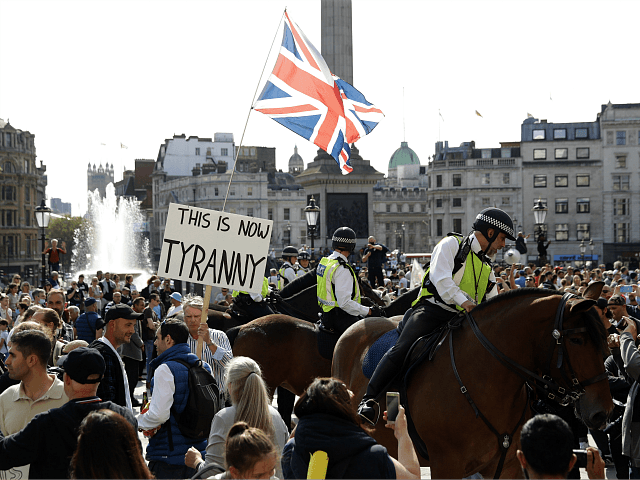 AP Photo/Matt Dunham
The UK's envoy to the World Health Organisation (W.H.O.) has condemned mass coronavirus lockdowns, slamming the "ghastly global catastrophe" caused by crashing the world economy.
Dr. David Nabarro from the W.H.O. appealed to world leaders on Saturday, telling them to stop "using lockdowns as your primary control method" of the coronavirus.
He claimed that the only thing lockdowns achieved was poverty – with no mention of the potential lives saved.

This is in direct contrast to W.H.O. chief Tedros Adhanom Ghebreyesus who as far back as April gave his full support to lockdowns, and even warned against lifting them too soon, as Breitbart News reported.
Then in August, Tedros praised several national governments including the UK, France, South Korea and Germany for "using all the tools at their disposal to tackle any new spikes" which included regional lockdowns.
Speaking to Andrew Neil of the Spectator magazine, Dr. Nabarro bemoaned the collapse of the international tourism industry and claimed there would be a "doubling" in the levels of world poverty and child malnutrition by 2021 as he warned that lockdowns make "poor people an awful lot poorer."
"I want to say it again: We in the World Health Organisation do not advocate lockdowns as a primary means of controlling this virus," Dr. Nabarro said.
Instead, Dr. Nabarro is advocating for a new approach to containing the virus.
"And so, we really do appeal to all world leaders: stop using lockdown as your primary control method. Develop better systems for doing it. Work together and learn from each other."
Dr. Nabarro's interview came within hours of another W.H.O. recommendation for countries to avoid lockdowns because of their inherent damage to a range of national factors.
The W.H.O.'s top emergencies expert said on Friday that authorities should try to avoid "punishing" lockdowns, echoing claims from the Chinese city of Wuhan, where the virus was first identified, that the cure was worse than the malady.
Mike Ryan was speaking at a briefing in Geneva, the day after the W.H.O. reported a record one-day increase in global coronavirus cases, with the total rising by 338,779 in 24 hours led by a surge of infections in Europe, as Reuters reports.
"What we want to try to avoid – and sometimes it's unavoidable and we accept that – but what we want to try and avoid is these massive lockdowns that are so punishing to communities, to society and to everything else," he said.
The alternative is for everyone to get on with their lives while taking due personal precautions as those at much greater risk from coronavirus, such as the elderly and the long-term sick, are shielded.
10/08/2020William L. Anderson
In the first presidential "debate" (I use that word creatively), Joe Biden hinted that he would order a national lockdown in order to "defeat" the covid-19 virus, and there certainly seems to be a consensus in the media and among political elites that if there is another "outbreak" of covid, then the "shelter in place" order will be the law of the land.
Many businesses certainly are making plans for such an order, this time not wanting to be caught unprepared as they were last March:
Grocery stores and food companies are preparing for a possible surge in sales amid a new rise in Covid-19 cases and the impending holiday rush.

Supermarkets are stockpiling groceries and storing them early to prepare for the fall and winter months, when some health experts warn the country could see another widespread outbreak of virus cases and new restrictions. Food companies are accelerating production of their most popular items, and leaders across the industry are saying they won't be caught unprepared in the face of another pandemic surge.
One hardly can blame business owners and managers for wanting to be ahead of the curve, as progressive governments at all levels have been merciless to businesses and employees, driving thousands of firms into bankruptcy and leaving millions of people unemployed. Furthermore, given the overt hostility that progressives have toward private enterprise in the first place, politicians will take shortages and empty shelves as "proof" that private enterprise is in league with the devil to subvert the social order and act accordingly to punish these miscreants.
With Biden well ahead in the presidential polls and with it becoming increasingly likely that he will win the election next month, people should take seriously his calls for another series of lockdowns next winter should the coronavirus spread (in his words). There obviously is much to dissect in those few words, but the simple approach should be as follows: there is no evidence that would necessitate such a drastic move and another lockdown would create even more devastation than has done the first round.
Biden told ABC News, "I would shut it down; I would listen to the scientists," a statement that invites a number of questions. The first one is: Which scientists? Some are in favor of lockdowns (and Google will make sure you find them) and others are strongly opposed.1 (Don't expect Google to help you with that search. I found them on another search engine.)
What Works and What Doesn't Work
First, and most important, locking down most of the population is at best a very temporary strategy at best. Even setting aside the economic consequences of quarantining a majority of Americans and shutting down their workplaces, the lockdown strategy does little to combat the spreading of the virus, since it gives people no chance to build up immunities, which are key to stopping it. Writes Jeff Deist:
From day one the focus should have been on boosting immunity through exercise, fresh air, sunlight, proper dietary supplementation, and the promotion of general well-being. Instead our politicians, bureaucrats, and media insisted on business lockdowns, school closures, distancing, isolation, masks, and the mirage of a fast, effective vaccine.
The problem is that the virus is not going to disappear, so even if one temporarily prevents its spread by shuttering people in their homes, sooner or later people will have to mingle, and when they do, their bodies will not be conditioned to fight it, so the infection rate certainly will increase. In fact, that is what we have seen so far, as we have lockdowns followed by relaxation of the rules, followed by a surge of new infections. That surge then leads to panic in the media and among the political classes, with the new "solution" being even more lockdowns.
One would think that this seemingly endless cycle of lockdown-relaxation-lockdown would lead the authorities to rethink their strategies, but that is not the case, and this willful blindness is not limited to American politicians. We see governments in Denmark, Belgium, New Zealand, and elsewhere reverting to lockdowns after an increase in new infections.
Meanwhile, the Swedish infection rate clearly is falling, and falling relative to the infection rates of countries that have followed strict lockdown procedures, even if mainstream journalists do not wish to make the comparisons. To a casual observer, it made sense to think that over the past eight months, if the mainstream "experts" were correct, Sweden would be a basket case, as Swedes have carried on with their lives—usually not wearing face coverings—in a way that would seem to be an open invitation to mass spreading of covid-19. Moreover, if the media is to be believed, Swedes should be dying in record numbers. We see none of that happening, yet the Sweden-must-lock-down-or-else narrative continues to dominate the news (and certainly Google's search engine).
No one should be surprised that last spring Sweden had a higher infection rate than European countries that practiced strict lockdowns, nor should anyone be surprised that Sweden's current infection and death rates are lower than those of countries that have reopened—and now are facing the so-called second wave of infections. Despite predictions to the contrary, and despite the fact that Swedes pretty much are "maskless" in public, Sweden defies the "common wisdom" courtesy of progressive politicians and their amen-corner media.
The Economic Disaster
Then there is the economic side. For the most part progressives have framed the economic damage as a necessary "sacrifice" in order to bring the covid-19 pandemic under control. Last May, Paul Krugman wrote that unless the government were to aggressively enforce social distancing policies (read that, massive lockdowns), then there would be even more massive unemployment, his thinking being that unless the authorities kept people at home and prevented interactions, people would get sick and miss work, throwing the economy into a depression. So, putting Krugman logic to the test, we must have massive unemployment and business bankruptcies in order to avoid massive unemployment and business bankruptcies.
Anything less than total lockdowns, he argued, would lead to disaster:
retreat from responsibility won't just kill thousands. It might also turn the Covid slump into a depression.

Here's how it would work: Over the next few weeks, many red states abandon social-distancing policies, while many individuals, taking their cues from Trump and Fox News, begin behaving irresponsibly. This leads, briefly, to some rise in employment.

But fairly soon it becomes clear that Covid-19 is spiraling out of control. People retreat back into their homes, whatever Trump and Republican governors may say.

So we're back where we started in economic terms, and in worse shape than ever in epidemiological terms. As a result, the period of double-digit unemployment, which might have lasted only a few months, goes on and on.
Krugman's scenario, however, never came about. As the diagram in this linked page shows, even when Krugman wrote his column US recovery rates from covid-19 were soaring while death rates were plummeting, and they have continued to fall even as many states and municipalities have relaxed earlier restrictions, the counterfactual of Krugman's doomsday prediction.
If we should have learned anything in the past eight months, it should be that that massive lockdowns impose huge costs and dubious benefits. The progressive notion that we can just close businesses, churches, sports venues, and other offices—the unemployed being compensated with printed money—until someone develops the magic vaccination and not suffer huge consequences is as fanciful as the belief that if California bans gasoline and diesel-fueled vehicles, its wildfires will disappear. The financial and emotional stresses that come from lockdowns are harmful to both physical and mental health and the evidence is all around us.
Lockdowns Serve the Progressive Political Class
We have to understand that the political classes and their media have a vested interest in the lockdown status quo, and that includes regular provision of what only can be called disinformation. The mainstream media this past summer dutifully reported a highly questionable (I use that term charitably) report that the Sturgis Bike Rally in South Dakota led to more than a quarter million covid infections and more than $12 billion of medical costs. It should have been obvious on its face that the report was deeply flawed, yet in their desire to fuel the covid-is-killing-us narrative, journalists took this too-good-to-be-true story and ran with it.
As for politicians, the covid crisis has been a godsend for those governmental executives and bureaucrats who see constitutional restrictions that limit their authority as mere obstacles to be easily swept away. Governors such as Gretchen Whitmer of Michigan, Andrew Cuomo of New York, Gavin Newsom of California, and Tom Wolfe of Pennsylvania have received adoring coverage in the media for seizing and employing dictatorial powers, Whitmer even unilaterally deciding that the sale of garden seeds in stores was illegal. Cuomo's decision to force the housing of covid-19 patients in nursing homes led to the deaths of thousands of people, yet his national media coverage is uniformly positive.
Contrast the affirmative news coverage of Cuomo with the barrage of media attacks on Governor Kristi Noem of South Dakota. Noem has emphasized personal responsibility and did not attempt mass closures of schools and businesses in the state, and the mainstream media erupted with fury. That South Dakota has come through this pandemic relatively well does not matter with the media, as the only acceptable action (to mainstream and elite journalists) in response to covid is for governors to single-handedly seize power and lock down their citizens.
Keep in mind that the real losses that Americans suffered because of the heavy-handed governmental response to the covid outbreak are permanent. As Robert Higgs so eloquently pointed out in Crisis and Leviathan, governments often create crises or, at the very least, they manipulate events such as natural disasters and use them as opportunities to expand governmental powers. Even after the crises end, governments keep some of their newly self-granted powers—and most people raise little or no concern even when government has curtailed more of their freedoms.
Second-Wave Lockdowns Also Will Fail
We know how the "second wave" lockdowns will end. At some point, with the economies of those countries in shambles, the authorities will gradually lift some (but not all) of the restrictions while demanding that people "voluntarily" engage in mask wearing and social distancing. Not long after the rules are relaxed, there inevitably will be a new surge of infections, as people who have been long separated come together without having built up their immune systems. (The lack of sunshine and outdoor exercise will contribute to the problem.)
With no other options and because the governing classes have declared lockdowns to be the only way to defeat the virus, there almost surely will be Lockdown III in countries where the regime can get away with it. Whether the political classes here follow the same plan is very much an open question. We know beforehand that quarantining healthy people actually makes the long-term infection picture worse and that the starting and stopping of the economy wreaks havoc on its own.
In the end, we only can conclude that shutting down much of social and business interaction, restricting worship services, and closing schools is ineffective in stopping viral infections, be they from the covid-19 virus or some other pathogen. However, we also must conclude that ordering massive restrictions has become a winning political strategy in progressive America. We also should understand that covid-19 is not the last pandemic that will hit the USA, and when a new pandemic—or even a hint of one—arises, the political classes will reach into that well time and again, even when it is dry.
Despite the persistent myth that governance is about "solving problems" and "serving the people," it is the rare person in governmental power these days who does not seek power for the sake of power itself. Those who use power to push progressive policies can be expected to receive positive media coverage, even if their policies are disastrous, as we have seen time after time in California and New York City; those who still hold to the belief that there should be limits on their power can expect the Kristi Noem treatment.
We have seen this play out in the lockdowns as the Higgs thesis continues to play out. The lockdowns have done nothing to suppress the long-term covid infections, but the political and media classes continually hold out the next lockdown as the "magic bullet" or at least an effective strategy to follow until someone develops a vaccine. (Whether a vaccine developed quickly actually would work is another subject, for another discussion.)
Thus, lockdowns not only create horrendous damage in the present, but they also empower the very people who are responsible for many of the crises we currently face, thereby ensuring that the only change in strategy when lockdowns fail will be the implementation of even stricter policies in the future. The "they're keeping us safe" mantra has worked thus far, even when the lockdowns have made us even more vulnerable to both the virus and the economic disasters spawned by government plans.
In the end, the only way that the political classes can "make us safe" is for us to do what is necessary to make ourselves safe, or as relatively safe as possible. When a virus is afoot—as is the case most of the time—we do what we can to avoid it and do what we can to treat it. In other words, we appeal to real medical science, not what the political and media classes have cooked up for us.
1.While I make no claims to expertise epidemiology, I am married to a public health nurse who does have expertise in this field, and who has been involved in dealing with epidemics in the past. That my wife is critical of the "lockdown strategy" would be an understatement. (I also add that her approach to medical care is pretty much the standard industry approach.) Furthermore, if common sense means anything in medical care—and especially in dealing with a virus that becomes airborne—the "lockdown as a first choice" strategy should raise a number of critical questions.
Author:
William L. Anderson is a professor of economics at Frostburg State University in Frostburg, Maryland.
Moms' COVID-19 Anxiety, Insomnia Soars Israel Study Finds
By Hana Levi Julian - 24 Tishri 5781 – October 11, 2020
Many mothers are experiencing an increase in insomnia severity and mild-to-high levels of acute COVID‐19 anxiety, according to a new study by researchers at the Ben-Gurion University of the Negev and The Max Stern Yezreel Valley College in Israel.
"In the study, we addressed, for the first time, consequences of the COVID‐19 pandemic and home confinement on maternal anxiety, insomnia, as well as reports of sleep problems among children between six and 72 months-old," says Prof. Liat Tikotzky, head of the BGU Parenting, Child Development and Sleep Lab and a member of the BGU Department of Psychology. The study was published by the Journal of Sleep Research.
The results indicated that maternal clinical insomnia (Insomnia Severity Score > 15) during the COVID‐19 pandemic more than doubled to 23% during the pandemic, compared with only 11% before the pandemic. Approximately 80% of mothers also reported mild‐to‐high levels of current COVID‐19 anxiety.
In the study, mothers were asked to complete a self-reporting questionnaire with reference to two-time points: (a) retrospectively one to two months before the COVID‐19 outbreak in Israel, and (b) during home confinement. The researchers then computed a score representing the mother's perception of change in her sleep quality.
"We further observed that mothers who reported an increase in insomnia symptoms had significantly higher levels of acute COVID‐19 anxiety than mothers who reported no change in insomnia symptoms, while no group differences were detected in their typical (trait) anxiety levels, suggesting that current anxiety may contribute to the increase in severity of insomnia symptoms," Prof. Tikotzky says.
Moreover, the researchers found that about 30% of mothers reported a negative change in their child's sleep quality and a decrease in sleep duration. However, it is important to note that the majority of mothers reported no change in their child's sleep quality, duration, arrangement, and their perception of a child's sleep as problematic. Moreover, 12% of mothers even reported a positive change in their child's sleep quality, and 25% reported an increase in sleep duration.
Finally, the researchers observed that mothers who reported higher scores of insomnia were also more likely to report that their children had poorer sleep quality and shorter sleep duration. This is consistent with previous studies demonstrating significant links between maternal and child sleep quality during normal times.
The findings emphasize the importance of further exploring familial resiliency factors that may explain the different patterns of responses in children's and mothers' sleep during times of crises. This is particularly important given the role of sleep in child development and parental functioning.
See you tomorrow bli neder
We need Mosiach now
Love Yehuda Lave
Yehuda Lave, Spirtiual Advisor and Counselor
Jerusalem, Jerusalem
Israel
You received this email because you signed up on our website or made a purchase from us.
Unsubscribe