Left to its own devices, the lower brain will always pull us down into dissatisfaction and frustration. This is why we must actively pull ourselves upward and focus our energies on giving to others and helping the world in some way. It's the only way out of the chaos which results from being in a taking mode.

Love Yehuda Lave
---
Is There An Overlooked Jewish Farrakhan/Mallory Scandal?
Posted: 08 Mar 2018 12:02 AM PST
A number of media outlets have given voice to outrage at Women's March leader Tamika Mallory's complicity with Louis Farrakhan's antisemitism. Yesterday
I added a criticism
of Rabbi Sharon Brous both for her statement defending Mallory and for her saying that while Farrakhan is repugnant, similarly flawed leaders exist in the Jewish community.
Several people responded to the latter point by arguing that Brous is correct and that there are indeed such leaders in the Jewish community. Some of the names put forward were Rabbi Meir Kahane, Rabbi Ovadiah Yosef, Rabbi Dov Lior, and Ayelet Shaked. Others compared Mallory's complicity to how various people in the Jewish community associate with, praise, and do not criticize such leaders, and argued that there is a double standard going on here.
To a certain extent this rejoinder is justified, but only in a relatively minor way. There are certain points of similarity that I will address, but there are fundamental differences. While the various Jewish leaders mentioned have expressed some deeply despicable statements and positions, they are still worlds apart from Farrakhan.
Allow me to explain. The anti-Palestinian statements expressed by these people have to be understood as reflecting two ways in which these people differ in their worldview from others. The first is that they see the Israel-Palestinian conflict as being one of all-out war, like Britain vs. Germany and America vs. Japan in World War II. Now, this is wrong; notwithstanding Abbas' incitement and the various acts of terror, it is absolutely not all-out war. The PA prevents and foils numerous acts of terrorism, and there are many Palestinians who work with and for Israelis and who have no hostile intentions. Still, it is mistaken to see it as all-out war, it's understandable that some people nevertheless view it that way.
But when there is an all-out war for survival, what is the appropriate strategy? To what extent does one aim for clear victory, even when it results in massive losses for the other side, not all of whom may be complicit? Again, this is something in which people will reasonably differ. Some people believe that Hiroshima and Dresden were justified, otherwise believe that they were morally abhorrent. You might think that someone has the wrong perspective, but you can't totally invalidate their opinion.
This is why it is wrong to claim that the Jewish community has its own Farrakhans. There is simply no comparison between someone who (wrongly but understandably) believes that we are in an all-out war for survival against the Arabs, demanding harsh tactics, and Farrakhan's
lifelong obsession
with demonizing Jews, claiming them to be the source of much of the world's ills, and spreading slander such that the Jews are responsible for 9/11.
Now, having said all that, there remains a valid point that when Jewish religious leaders
do
say things that are unacceptable by any measure - such as Rav Ovadia Yosef's
comments
about the victims of Hurricane Katrina and others - they should be called out on it. Some argue that Rav Ovadia had a style of speaking in wild hyperbolic drama, and nobody was expected to take it too seriously. Perhaps, but this is not clear; furthermore, as I have
written in the past
, I still think that people did and do have a responsibility to condemn such statements. The Sages state that "In a place where there is no man, strive to be a man," and "In a situation of desecration of God's Name, one does not apportion respect to a rabbi," but the general Orthodox community seems paralyzed with cowardice when it comes to criticizing the sins of those revered as Gedolim. This is a problem. Nevertheless, as discussed, there is still a world of difference between such people and Farrakhan.
But, for argument's sake, let us say that there is no significant difference between these people and Farrakhan. Would that mean that there is a double standard in our criticism of Mallory (and, by extension, Brous)? Not at all.
The crucial difference is with regard to the nature of the circumstances and of the complicitee (that's a word that I just made up to describe the person accused of being complicit). No rabbi promoting a platform of love and tolerance would have happily and unapologetically attended and praised an anti-Arab speech by Rav Ovadiah. And if a different type of public figure such as an actress or newscaster had attended Farrakhan's rally, there would not have been the same degree of protest. The outrage here was because Mallory (and Brous) have specifically set themselves up as prominent leaders of intersectional movements that protest various forms of hatred and intolerance. It's not just a matter of the glaring hypocrisy, but also the fundamental betrayal of the very values that they are professing to lead.
And it still might have died down quickly, were it not for the fact that Mallory and her partners and supporters just keep digging themselves deeper and deeper in the hole. Sarsour failed to criticize Farrakhan and instead supported a minister who tried to deflect the criticism by talking about Netanyahu. The Women's March released a
statement
in which they failed to present any strong condemnation of Farrakhan, saying instead that his statements are "not aligned with the Women's March Unity Principles," and did not criticize Mallory's complicity, saying instead that they are presenting "external silence" while working this out privately. Mallory herself just released a long, meandering
public statement
in which, incredibly, she continued to refuse to apologize or condemn Farrakhan's statements. Brous's statement defended rather than criticized Mallory.
In a subsequent
interview
with the JTA, Brous did criticize Mallory, and acknowledged that the Left has a problem with antisemitism. Yet she insisted (against the available evidence) that the Women's March leadership is trying to improve and that she will not step away from her relationship with Linda Sarsour and the other Women's March leaders. Good grief, Rabbi Brous, what will it take for you to acknowledge that it's ridiculous to purport to be fighting moral injustice when you are aligning yourself with antisemites?
A nice story for a change
It's the story of a S American Magellanic penguin who swims

5

,000 miles each year to be reunited with the man who saved his life.
Retired bricklayer & part time fisherman Joao Pereira de Souza, 71, who lives in an island village just outside Rio de Janeiro, Brazil, found the tiny penguin, covered in oil & close to death, lying on rocks on his local beach in 2011. Joao cleaned the oil off the penguin's feathers and fed him a daily diet of fish to build his strength. He named him Dindim.
The prodigal penguin returns (Picture: TV Globo)
After a week, he tried to release the penguin back into the sea.
But, the bird wouldn't leave.
'He stayed w/me for 11 months & then, just after he changed his coat w/new feathers, he disappeared,' Joao recalls.
And, just a few months later, Dindim was back. He spotted the fisherman on the beach 1 day & followed him home.
Look who's back (Picture: TV Globo)
For the past 5 years, Dindim has spent 8 months of the year w/Joao & is believed to spend the rest of the time breeding off the coast of Argentina & Chile. It's thought he swims up to 5,000 miles each year to be reunited w/ the man who saved his life.
(Picture: Rio de Janeiro Federal University)
'I love the penguin like it's my own child & I believe the penguin loves me,' Joao told Globo TV. 'No one else is allowed to touch him. He pecks them if they do. He lays [sic] on my lap, lets me give him showers, allows me to feed him sardines & to pick him up.'
It's thought Dindim believes the fisherman is also a penguin (Picture: TV Globo)
'Everyone said he wouldn't return but he has been coming back to visit me for the past 4 years. He arrives in June & leaves to go home in February & every year he becomes more affectionate as he appears even happier to see me.'
(Picture: Rio de Janeiro Federal University)
Biologist Professor Krajewski, who interviewed the fisherman for Globo TV, told The Independent: 'I have never seen anything like this before. I think the penguin believes Joao is part of his family & probably a penguin as well.
'When he sees him he wags his tail like a dog & honks with delight. And, just like that, the world seems a kinder place again.
15 Israel Inventions making life better for billions


by Israel21c

In the beginning, there was Start-Up Nation: The Story of Israel's Economic Miracle. Eight and a half years after Dan Senor and Saul Singer's bestseller shed light on Israel's implausibly successful startup ecosystem, Avi Jorisch created Thou Shalt Innovate: How Israeli Ingenuity Repairs the World to highlight Israeli inventions fulfilling the Jewish passion for tikkun olam, repairing the world.

Released by Gefen Publishing House on March 1, 2018, Thou Shalt Innovate provides 15 case studies of how Israelis of all faiths are "making life better for billions of people around the world and how Israeli ingenuity is helping to feed the hungry, cure the sick, and provide shelter for the homeless," Jorisch writes.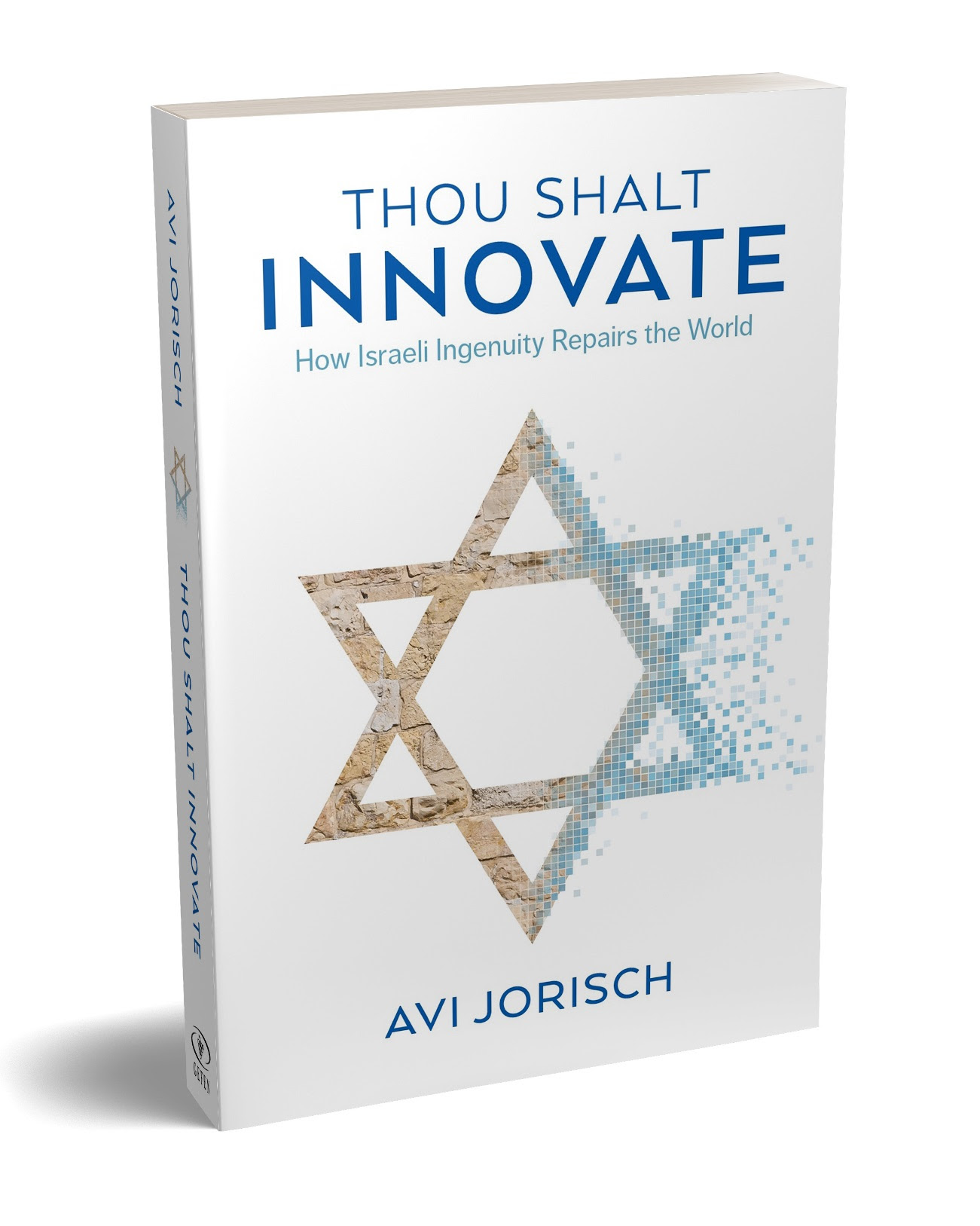 Avi Jorisch's book, "Thou Shalt Innovate," examines 15 ways Israeli inventions are making the world a better place. Photo: courtesy
Speaking to ISRAEL21c from his home in Washington, DC, Jorisch discussed what led to choosing those 15 examples: drip irrigation, United Hatzalah, Iron Dome, the Grain Cocoon, the Tabor rooftop solar water collector, ReWalk, Alpha Omega's GPS for deep brain stimulation, Check Point's Firewall-1, PillCam, SpineAssist, the Emergency Bandage, Rebif, cannabis research, reducing plane-bird collisions, and reviving an ancient date palm.
The concept came to him in the wee hours just after returning from Israel with his family in the summer of 2014. Israel's war with Hamas in Gaza that summer left him depressed over the diminishing prospects for peace in his lifetime.
"I suddenly realized there is an amazing story to be told not only about the Israeli technology that Saul Singer and Dan Senor described, but about what Israel does with this technology to improve lives around the globe," he tells ISRAEL21c.
On that sleepless night, Jorisch googled terms like "Israeli innovation," "tikkun olam" and "improving the world" and quickly compiled a list of about 100 impactful Israeli innovations.
The essence of modern Israel
The next stage involved two years of research and interviews with 126 people in Israel and other countries, many of them multiple times, in person or via phone or Skype.
Narrowing his list at first to 50 innovations (listed in the back of the book), he then zeroed in on 15 that showed Israeli ingenuity in science, water, medicine, defense and agriculture.
"Thou Shalt Innovate" author Avi Jorisch. Photo: courtesy
And he discovered stories about each of them on ISRAEL21c.
"That made my research much easier. The ISRAEL21c articles gave me another line of questions to ask and opened the aperture, providing another line of thinking to go down," says Jorisch, an entrepreneur who writes widely on business, political and cultural issues.
People who saw early versions of the manuscript told him they felt inspired, regardless of their political leanings.
"Israel is not a nation of saints but it has been seeking a higher meaning for 3,000 years," says Jorisch. "We are fulfilling, in a very powerful way, the call of our prophets to feed the hungry and help the needy. Israel's founding fathers were inspired by these teachings and baked it into the fabric of the society they were building. That is the essence of modern Israel."
At the same time, he adds, improving the world is not an exclusively Jewish compulsion. He also included Israeli Christians and Muslims who similarly "believe we're partners with God in social justice to make the world a better place."
Jorisch began a circuit of author talks with several appearances at the AIPAC Policy Conference, March 4-6 in Washington.
He envisions that the Israeli Foreign Ministry will play a role in publicizing the book, which he hopes will interest not only American Jews but also Christian evangelicals as well as the business world. In his talks he will likely mention many other Israeli innovations.
"Any of the top 50 I list in the back of the book would have merited an amazing story. There is no lack of material on Israeli innovations that have improved the lives of billions," says the author.
Jorisch's previous four books are Beacon of Hatred: Inside Hizballah's Al-Manar Television (2004), Tainted Money: Are We Losing the War on Money Laundering and Terrorism Finance? (2009), On the Trail of Terror Finance: What Law Enforcement and Intelligence Officials Need to Know and Iran's Dirty Banking: How the Islamic Republic Skirts International Financial Sanctions (both published in 2010).
Writing Thou Shalt Innovate made Jorisch feel extraordinary hopeful about Israel's future, he says.
"This book and the ideas expressed in it have opened my mind to the awe-inspiring place Israel is at its heart and soul," he says. "Israel has many extraordinary innovators who are bound together not by religion, money or stature, but rather by their desire to save lives and make the world a better place."
Large-Scale David Goldblatt Photographs Retrospective at Centre Pompidou
15 Adar 5778 – March 2, 2018
Photo Credit: Screenshot
David Goldblatt retrospective poster
For the very first time, the Centre Pompidou in Paris is devoting a retrospective to the work of David Goldblatt, a key figure in the South African photography scene and a major artist in the politically committed documentary.
South African writer, political activist and recipient of the 1991 Nobel Prize in Literature Nadine Gordimer said that "David Goldblatt doesn't snatch at the world with a camera. He seeks to rid himself of preconceptions about what he sees before he explores it further with his favoured instrument, the photographic image."
Through his photos, Goldblatt tells the story of his native country, its geography and its inhabitants, maintaining a singular tension between subject, territory, politics and representation. The exhibition looks back over his career through a selection of major series, and reveals lesser-known groups of pictures, like his first photos taken in the townships of Johannesburg.
The series On the Mines, now considered an iconic work in the history of documentary photography, is presented with working prints. The exhibition also includes part of the Particulars series from the Centre Pompidou collection and the artist's most recent work, through the Intersections series. All these series cast a sharp eye on the complexity of social relations under apartheid.
---
From his youthful efforts to his most recent pictures, the Centre Pompidou's Goldblatt retrospective offers, for the first time in France, an unprecedented survey of more than 50 years of photography. Bringing together two hundred photographs, a hundred hitherto unpublished documents and a series of films in which Goldblatt discusses his own work, it enables visitors to immerse themselves in a fascinating body of work that teaches one to look with a socially aware and analytical eye.
Born in 1930, the youngest of the three sons of Lithuanian Jewish immigrants Eli and Olga Goldblatt in Randfontein, Gauteng Province, South Africa, David Goldblatt graduated from the University of the Witwatersrand with a degree in commerce. He began photographing in 1948 and has documented developments in South Africa through the period of apartheid to the present.
In Goldblatt's view, color photography seemed too sweet a medium in the Apartheid years to express the loathing that it inspired in him. He documented the dreadfully extensive and uncomfortable twice-daily bus trips of black workers who lived in the segregated "homelands" north-east of Pretoria in his work The Transported of KwaNdebele.
David Goldblatt often says that photography is not a weapon, and that it should have nothing to do with propaganda, even in a good cause. In this spirit, the photographic language that he deploys is simple yet powerful. In taking his time, using a tripod-mounted medium format camera and setting his own opinions to one side, Goldblatt offers space to the person or place he photographs, and thus succeeds in communicating the ideas and values they express.
According to Goldblatt, the conditions of South Africa have not changed that much for poor people since apartheid. He also states, "It will take generations to undo the consequences of Apartheid."
Newly discovered 8,000-year-old wine breaks archaeological record
The oldest wine ever found was buried in a Neolithic village in Georgia.


Dr. Patrick McGovern searched for years for the perfect glass of wine. No cheap red wine would do; even 200-year-old Cabernets and 100-year-old sherries weren't good enough. No, McGovern wouldn't settle for any bottle that had aged less than a few thousand years.
McGovern is a University of Pennsylvania anthropologist studying the origins of wine, and he recently found what he was looking for: an 8,000-year-old jar in the country of Georgia containing traces of the world's oldest wine ever discovered. So much for that 1727 German vintage you were showing off.
The anthropologist and his colleagues from the U.S., Israel, Canada, Denmark, France, Georgia and Italy excavated a Neolithic village in Georgia. There, they uncovered clay jars. One had an image on it of people dancing under grapevine tresses, a pretty decent hint that the jar was used for wine. Molecular analysis was an even better hint: the scientists found citric, malic, succinic and tartaric acids on the jars, a combination that McGovern said only comes from grape beverages. The wine was made from the same grapes we use to make wine today.
Pieces of jars containing traces of the oldest wine ever discovered. They have a nice homemade look but could do with a coat of paint. (Photo: Mindia Jalabadze / Courtesy of the National Museum of Georgia)
The discovery was a long time coming. McGovern traveled around the world for years looking for the origins of fun drinks. "In the popular imagination, he is known as the 'Indiana Jones of Ancient Ales, Wines, and Extreme Beverages'," reads his website.
Georgians, incidentally, are particularly excited by this finding. They have a long winemaking history ( as do many countries in the region), and now they can safely brag that theirs is the longest. David Lordkipanidze, the director of the Georgian National Museum, explained that this discovery is an opportunity to show that Georgian wine "is not only old, but is also good." We're not really sure what he meant by that, but if you see a Georgian museum director show up at an international winemaking competition with some flakes of expired, chalky-tasting wine, you'll know why.
After McGovern found the jar, he sat in his hotel room in Tbilisi, Georgia's capital. He sipped a glass of considerably newer wine and looked out the window. To his surprise, he found himself looking at the same image he saw on the jar earlier: the public building across the street from his was decorated with a motif of people dancing under grapevines. Eight thousand years have passed, empires have risen and fallen, but our relationship with wine remains the same.
Love Yehuda Lave
see you tomorrow