Yehuda Lave is an author, journalist, psychologist, rabbi, spiritual teacher, and coach, with degrees in business, psychology and Jewish Law. He works with people from all walks of life and helps them in their search for greater happiness, meaning, business advice on saving money, and spiritual engagement.
Love Yehuda Lave
Join my blog by sending me an email to YehudaLave@gmail.com
COVID-19 vaccine's fourth dose gives three times the protection - Health Ministry
The fourth dose of the vaccine provided three times the protection against serious illness compared to three doses.
By TZVI JOFFRE, JERUSALEM POST STAFF
Published:
JANUARY 23, 2022 07:53

Updated:
JANUARY 23, 2022 23:13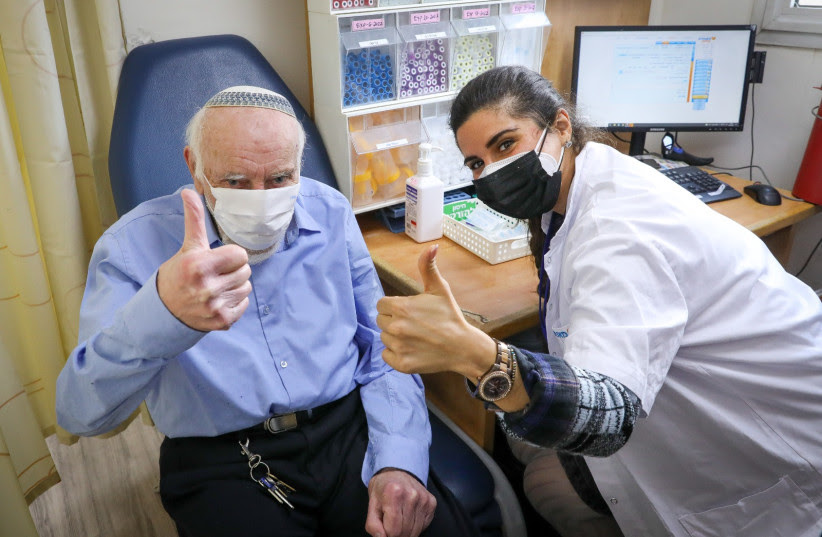 Israelis receiving their fourth coronavirus vaccine, January 3, 2022.
(photo credit: MARC ISRAEL SELLEM/THE JERUSALEM POST

The fourth dose of the coronavirus vaccine protects those aged 60 and over more than three times as much against severe illness and twice as much against infection compared to those who received only three doses, according to initial findings released by the Health Ministry on Sunday.
The comparison was done between about 400,000 people who received the fourth dose and about 600,000 people who received the third dose at least four months ago.
Last week, preliminary results of a study conducted by the Sheba Medical Center revealed that although the fourth dose of the vaccine increased the level of antibodies in the blood, it did not seem to offer protection against infection by the Omicron variant.
In an interview with KAN Reshet Bet radio, Prof. Ran Balicer, who heads the committee of experts advising the Health Ministry on COVID, stressed that the Green Pass is not effective when it comes to Omicron as it is meant to create spaces safe from infection and it is unable to do so with the latest variant. The Green Pass regulations are set to expire at the end of this month and the government is reportedly planning not to renew them.
Balicer recommended that public places be allowed to implement a new sort of Green Pass requiring both vaccination and antigen tests, especially places where high-risk people are located such as old-age homes and hospitals.
The Three Musketeers at the Kotel
Did vaccines prevent 20,000 COVID deaths in Israel?
January 23, 2022
A Pfizer vaccine is prepared at a COVID-19 vaccination clinic in Bellingham, Wash on June 3, 2021. (AP/Elaine Thompson)
After 8,300 deaths, Professor Itamar Grotto says death toll would have been three times greater without vaccines.
By Lauren Marcus, World Israel News
Former Health Ministry deputy director Professor Itamar Grotto announced on Sunday that Pfizer's coronavirus vaccine has saved some 20,000 Israeli lives and that the death toll in the Jewish state would have reached 30,000 (rather than the some 8,300 where it currently stands) had it not been for the jabs.
After three lockdowns, a blanket ban on foreign tourists lasting nearly 18 months, and widespread vaccine mandates alongside a digital COVID passport system restricting entry for unvaccinated people to leisure venues, Israel is leading the world in the number of per capita daily infections.Israel has signaled that it appears ready to abandon some of these hardline policies,. Their epidemiological necessity has come into question, as the vaccine seems to be ineffective at stopping new infections and spread of the Omicron strain.
But according to Grotto, the reason Omicron is not devastating Israel's population has nothing to do with the variant causing milder illness; rather, it's because so many Israelis are vaccinated.
"Certain sections of the public and even among the experts now watching the Omicron wave claim that this is proof that it is a mild disease 'like the flu', but this is a false claim, because it does not take into account the important effect of the vaccine, which prevents serious illness and large-scale mortality even now in the face of the Omicron wave," he wrote in his report.
According to European Center for Disease Control (ECDC) data, which includes data from Israel, 90 percent of the deaths of unvaccinated people attributed to COVID occurred in people over the age of 60.The ECDC "found that the mortality prevention rates [in the over-60 age group] from the vaccines are 60 percent after one dose and 95 percent after two doses," Grotto wrote.
Between December 2020 — the beginning of vaccinations in Israel and abroad — and November 2021, Israel ranked third in the number of deaths avoided as a result of vaccinations, and 15,662 deaths were prevented during this period in Israel, he added.
"During this period, 3,972 people over the age of 60 died in Israel, and without the vaccines, 19,634 people would have died in Israel."
The findings come as a widely hailed fourth coronavirus jab roll-out has been disappointing, with researchers from Sheba Medical Center finding that the second booster shot does not create a significant amount of antibodies effective against the Omicron strain.
What those who accept the 'stolen land' myth don't understand by JONATHAN S. TOBIN

Woke culture demands ritual acknowledgements about Native Americans. Those, however, who think this should also apply to Palestinians don't understand that Jews are indigenous in Israel.

January 21, 2022 / JNS) One of the tragicomic if all too prevalent customs of contemporary woke corporate culture is the way many groups and corporations now open meetings with ritual acknowledgments that they are on "stolen land." It involves the convener of the gathering to begin any proceedings by first stating that those speaking are "on the lands" of whatever Native American tribe once lived there as the indigenous inhabitants of the North American continent.

That is part of the context of the claim that the State of Israel was built on "stolen land," a phrase that was used by Hussain Altamimi, one of New York Rep. Alexandria Ocasio-Cortez's staffers when he smeared it as a "racist-European ethno-state." Unsurprisingly, Altamimi didn't lose his job when this came out. Why would AOC fire someone who reflects the same hatred of the Jewish state that she and other "Squad" colleagues have often expressed?

This is a commonplace myth spread by those who believe in intersectional ideology, which deems the efforts of all oppressed "people of color" to resist the racist oppression of those possessing "white privilege" to be part of one great righteous struggle.

Part of the problem with this facile and toxic idea is that whatever you think the answer to the question about the identity of the rightful owners of the North American continent might be, the notion that Jews are merely "European" or non-indigenous to the Middle East or the land of Israel is a lie.

Unfortunately, individuals who accept and spread that lie are not confined to those who work in the offices of radical members of Congress, even if their bosses are one of the young rock stars of the Democratic Party who are planning on taking it over once the current octogenarian leadership departs. These myths are widely accepted throughout academia and the mainstream media. They are reflected in the coverage of Israel in which, as one recent article in The New York Times about a Jerusalem property dispute put it, the Jews were accused of trying to "Judaize" their own ancient capital.

Subscribe to The JNS Daily Syndicate by email and never miss our top stories

That specific controversy involves a Palestinian family that was living on land they didn't own in a Jerusalem neighborhood Jews lived in before they were thrown out in 1948 by Jordanian invaders. Other properties in the area are claimed by those who represent the original Jewish owners, but this one involves state land that will now be used to build a school for Arab children with special needs. Indeed, some Palestinians believe that the family evicted by Israel stole it from them.

Yet that didn't prevent the Biden administration from condemning Israel in this instance. Nor did the facts stop officials from trying to exert pressure on Israel to allow Palestinian squatters to remain on land owned by Jews. The notion that Jewish rights in Jerusalem can be negated by the intransigence of Arabs who don't accept the legitimacy of the Jewish presence anywhere in the country is something even those liberals who claim to support Israel are ready to accept.

Regardless of the theoretical benefits of a two-state solution that Palestinians have repeatedly rejected or about the wisdom of enforcing Jewish property rights in areas of Jerusalem, the Jews aren't "stealing" land in Jerusalem. Nor are they invaders in a country in which they have lived for three millennia and from which they will never again allow themselves to be expelled.

With respect to North America, it's true that the Native American tribes that lived on the continent were dispossessed by the Europeans who began arriving there 500 years ago. This process involved larcenous sales of land in which tribe members often had no idea what this meant, in addition to treaty infringements and outright theft, generally accompanied by military aggression and slaughter. What traditional American histories called the "winning" of the continent involved tragedy for the Native American losers.

But few of those now signaling their virtue by paying homage to indigenous tribes who once lived on such "stolen land" are planning on giving their property and homes to their descendants, if any can be found. Indeed, even recognized Native American tribes, some of which are actually interested in getting back some of the places where their ancestors once lived or roamed, have noted the emptiness of these woke pronouncements.

Cynics with perhaps a better understanding of the history of these tribes than those who proclaim their devotion to their memory might also point out that those "indigenous peoples" themselves waged war continuously on each other. Many of the "sacred lands" that some tribes now claim were once sacred to other tribes who were defeated, dispossessed and slaughtered, much in the same manner that white Europeans would ultimately do to them.

The notion that this process of dispossession was immoral rather than merely the way groups of human beings had always interacted with each other since time immemorial—with the strong subjugating the weak—was a modern invention that didn't become widely accepted until the late 20th century. That change in thinking, of course, is a good thing, even if the retrospective pronouncements that some who did it were evil while others were not is both anachronistic and lacking in both context and historical background.

After all, the idea that the world would have been a better place had Europeans never arrived in America—and that the republic that would help rid the world of Nazism and defeat Soviet Communism should not have been created—is absurd as well as ahistorical.

It is ironic that a lot of the same people who believe in open borders for the United States and that all illegal immigrants should be granted amnesty somehow also believe that the Native Americans had a right to exclude white Europeans from immigrating to a mostly empty continent in the past.

Yet even those who are willing to support the proposition that all descendants of immigrants from Europe or elsewhere should divest themselves of stolen Native American property need to realize a key fact about the Middle East: Jews—whether their families came from Europe or are part of the majority of Jewish Israelis who trace their roots to the Middle East or North Africa—are indigenous to the land of Israel. Contrary to intersectional myths, Zionism is not an expression of colonialism or imperialism. It is the national liberation movement of the Jewish people. Far from being the "apartheid state" that leftists claim, it remains the sole democracy in the region.

Absorbing these concepts is difficult for those who have been indoctrinated in woke doctrines that define Jews as both white and privileged, and therefore, to be disparaged and fought. Just as important, they must also understand that their acceptance of these lies enables anti-Semitism and rationalizes violence—whether from Palestinian terrorists like Hamas and Hezbollah, or those who attack American synagogues. Far from being a harmless woke myth, the fallacy about Jews stealing land doesn't merely enable slander; it is the foundation on which most forms of anti-Semitic hate, delegitimization and terrorism rest.

Jonathan S. Tobin is editor in chief of JNS (Jewish News Syndicate). Follow him on Twitter at: @jonathans_tobin.
Israeli Scientists Invent New Diagnostic Test for Inflammatory Bowel Disease
Scientists at the Weizmann Institute of Science together with the Sheba Medical Center at Tel Hashomer have developed a noninvasive alternative to the current testing procedure used to diagnose inflammatory bowel disease.
At present, people suspected of having inflammatory bowel disease are often required to undergo a colonoscopy, an invasive procedure performed under anesthesia.
The new noninvasive alternative currently in development, however, detects inflammation in the intestines by analyzing a fecal sample.
In the future, stool testing might facilitate the diagnosis of disorders such as Crohn's disease and ulcerative colitis and help monitor their course, as well as enable physicians to select the most appropriate therapy for each patient, according to Weizmann Institute of Science.
The study's findings are to be published this week in the journal Gut.
The idea for this study was born when researchers in the lab of Prof. Shalev Itzkovitz of Weizmann's Molecular Cell Biology Department saw that cells shed from the gut lining of mice and expelled in the feces stay alive for several hours.
"We realized that we could analyze gene expression in cells shed daily from the lining of the human gut, using this expression to learn about potential disease processes in the intestines," said Itzkovitz, who headed the research team.
Dr. Bella Ungar, a gastroenterologist at Sheba Medical Center, led the study in which she and other researchers from Sheba and Weizmann analyzed cells collected from the gut lining of 30 patients with inflammatory bowel disease during the course of colonoscopy.
Some of the cells came from fecal samples taken from the lower intestinal tract, others from biopsies of the gut lining in the same area. The researchers compared the cells collected from the patients with those taken from fecal samples or biopsies of some 30 healthy people who had undergone colonoscopies as part of routine cancer screening.
Using specially adapted RNA sequencing and other advanced methods, the scientists determined which cell types were present in each of the samples. They found that apart from the regular cells making up the gut lining, the fecal samples contained four immune-related cell types associated with inflammation, among them inflammatory monocytes and regulatory T cells.
By means of algorithms developed in Itzkovitz's lab, they then identified distinct expression patterns, or RNA signatures, of the cells in each sample. These signatures helped reveal the exact proportion of each immune-related cell type in the gut lining; no less important, they enabled the scientists to determine whether or not a person had an active case of intestinal inflammation.
The fecal samples proved to be more reliable in this respect than the biopsies.
"A biopsy can miss inflammation because it provides a snapshot of the narrow spot from which it was removed, whereas a fecal sample contains cells shed from the entire lining of the gut," Itzkovitz explains. "Moreover, a fecal sample can sometimes be more revealing than the examination of the lining during colonoscopy, which is done by eye, because certain forms of inflammation produce no visible signs."
Reading out the RNA signatures of cells from fecal samples can be crucial for selecting a personalized therapy – for example, administering drugs designed to block only the types of substances triggering inflammation in a particular patient, rather than suppressing that person's entire immune system.
Such therapies already exist – new biological drugs that bring dramatic relief to some patients with inflammatory bowel disease – but it's currently impossible to know in advance which drug will help which patient.
Overall, these drugs still work in only about half of those who receive them. Knowing which subsets of inflammatory cells are responsible for the disease process and which genes they express could improve the effectiveness of therapies, giving physicians crucial information before they prescribe the drugs.
In addition, having a quick and simple way of assessing intestinal inflammation may help determine when the therapy is needed and when it can be stopped.
Ungar points out that the fecal RNA signature method is different from medical tests developed in the past to check the stool for signs of intestinal inflammation; one of them, for example, measured the levels of a protein called calprotectin.
Those tests were not highly reliable, and thus colonoscopy has remained the gold standard for evaluating inflammation in the intestines, even though it's invasive and requires cumbersome preparation. The new Weizmann-Sheba method could provide testing for inflammation that is less invasive, much cheaper than colonoscopy and at least as reliable.
Also participating in the study were Miri Yavzori, Dr. Ella Fudim, Dr. Orit Picard, Prof. Uri Kopylov, Prof. Rami Eliakim, Dr. Chen Mayer, Prof. Iris Barshak and Prof. Shomron Ben-Horin of the Sheba Medical Center; Dr. Dror S. Shouval of Schneider Children's Medical Center of Israel; Dr. Yishai Levin and Dr. Alon Savidor of the Nancy and Stephen Grand Israel National Center for Personalized Medicine; and Dr. Shani Ben-Moshe, Dr. Rita Manco, Stav Dan, Adi Egozi and Dr. Keren Bahar Halpern of Weizmann's Molecular Cell Biology Department.
Prof. Shalev Itzkovitz's research is supported by the Helen and Martin Kimmel Institute for Stem Cell Research; the Wolfson Family Charitable Trust & Wolfson Foundation; and the Edmond de Rothschild Foundations.

500-Year-Old Letter Offers Rare Look into the Life of Legendary Kabbalist
By Hanan Greenwood / Israel Hayom
Photo Credit: David Cohen/Flash90
(JNS) The National Library of Israel is making available to the public for the first time a 500-year-old letter shedding light on the life of one of the most influential kabbalists in Jewish history.
The letter, which is being made public in honor of the late Jerusalem collector Ezra Gorodesky, is "worth its weight in gold," said Yoel Finkelman, curator of the library's Judaica collection.
The writer of the missive, named David, wrote to Rabbi Isaac ben Solomon Luria Ashkenazi, known as "Ha'ARI hakadosh" in Jewish religious circles, during the rabbi's sojourn in Egypt in the sixteenth century.
The letter's purpose was to enlist the rabbi's support for an emissary who had been dispatched from Tzfat to raise money among Diaspora Jews for Jews living in the Holy Land. Although the kabbalist was known for his simple, even ascetic, lifestyle, he was an important figure whom Jews asked for advice, even on financial and national matters.
The letter was preserved because it had been used to bind another book, a common practice before the invention of cardboard. Bookbinders would take paper or vellum pages from worn-out volumes and stick them together into dense stacks that would serve as stiff enough material for book covers.
Gorodesky, who devoted his career to the painstaking work of picking apart the old bindings and revealing the treasures within, died of COVID-19 in 2021. While he donated many pages from his collection to the National Library, the letter to Rabbi Ashkenazi is among his most significant finds.
"This letter, which is worth its weight in gold, is part of the precious collections in the National Library, which comprises a national source of information about the Jewish history of Israel," said curator Finkelman.
"The letter, which was preserved in an unusual manner in the binding of old books, is a major discovery about the influence Ha'ari had, not only in the field of Kabbalah but also worldly matters," he added.
This is an edited version of an article that first appeared in Israel Hayom.

See you tomorrow bli neder
We need Moshiach now!
Love Yehuda Lave
Yehuda Lave, Spirtual Advisor and Counselor
Jerusalem, Jerusalem
Israel