Yehuda Lave is an author, journalist, psychologist, rabbi, spiritual teacher, and coach, with degrees in business, psychology and Jewish Law. He works with people from all walks of life and helps them in their search for greater happiness, meaning, business advice on saving money, and spiritual engagement.
Love Yehuda Lave
Join my blog by sending me an email to YehudaLave@gmail.com
International Holocaust Remembrance Day
International Holocaust Remembrance Day is an international memorial day on 27 January that commemorates the victims of the Holocaust, the genocide of European Jews by Nazi Germany between 1941 and 1945. 27 January was chosen to commemorate the date that Auschwitz concentration camp was liberated by the Red Army in 1945.
The day remembers the killing of 6 million Jews and 11 million others by the Nazi regime and its collaborators.[1][2] It was designated by United Nations General Assembly resolution 60/7 on 1 November 2005.[3] The resolution came after a special session was held earlier that year on 24 January to mark the 60th anniversary of the liberation of the Nazi concentration camps and the end of the Holocaust.[4][5][6]
Many countries have instituted their own Holocaust Memorial Days. Many, such as the UK's Holocaust Memorial Day, also fall on 27 January, while others, such as Israel's Yom HaShoah, are observed at other times of the year.
Contents
The General Assembly Resolution 60/7[
Resolution 60/7 establishing 27 January as International Holocaust Remembrance Day urges every member nation of the U.N. to honor the memory of Holocaust victims and encourages the development of educational programs about Holocaust history to help prevent future acts of genocide. It rejects any denial of the Holocaust as an event and condemns all manifestations of religious intolerance, incitement, harassment or violence against persons or communities based on ethnic origin or religious belief. It also calls for actively preserving the Holocaust sites that served as Nazi death camps, concentration camps, forced labor camps and prisons, as well as for establishing a U.N. programme of outreach and mobilization of society for Holocaust remembrance and education.
Resolution 60/7 and the International Holocaust Day was an initiative of the State of Israel. Minister of Foreign Affairs of the State of Israel, Silvan Shalom, was the head of the delegation of Israel to the United Nations.
The essence of the text lies in its twofold approach: one that deals with the memory and remembrance of those who were massacred during the Holocaust and the other with educating future generations of its horrors.
The International Day in memory of the victims of the Holocaust is thus a day on which we must reassert our commitment to human rights. [...]

We must also go beyond remembrance, and make sure that new generations know this history. We must apply the lessons of the Holocaust to today's world. And we must do our utmost so that all peoples may enjoy the protection and rights for which the United Nations stands.
— Message by Secretary-General Ban Ki-Moon for the second observance of the Holocaust Victims Memorial Day on 19 January 2008[7]
Commemorations at the United Nations[edit]
In 2006, 2007 and 2008, Holocaust Remembrance Weeks were organized by The Holocaust and the United Nations Outreach Programme. This programme is part of the Outreach Division of the United Nations Department of Public Information and was established under General Assembly resolution 60/7.
27JANUARY
Every year around 27 January, UNESCO pays tribute to the memory of the victims of the Holocaust and reaffirms its unwavering commitment to counter antisemitism, racism, and other forms of intolerance that may lead to group-targeted violence. The date marks the anniversary of the liberation of the Nazi Concentration and Extermination Camp of Auschwitz-Birkenau by Soviet troops on 27 January 1945. It was officially proclaimed, in November 2005(link is external), International Day of Commemoration in Memory of the Victims of the Holocaust by the United Nations General Assembly.
The Holocaust profoundly affected countries in which Nazi crimes were perpetrated, with universal implications and consequences in many other parts of the world. Member States share a collective responsibility for addressing the residual trauma, maintaining effective remembrance policies, caring for historic sites, and promoting education, documentation and research, more than seven decades after the genocide. This responsibility entails educating about the causes, consequences and dynamics of such crimes so as to strengthen the resilience of young people against ideologies of hatred. As genocide and atrocity crimes keep occurring across several regions, and as we are witnessing a global rise of antisemitism and hate speech, this has never been so relevant.
2022 COMMEMORATIONS
To mark the 77th anniversary of the liberation of the Nazi German concentration and extermination camp Auschwitz-Birkenau, UNESCO will organize a series of events. Due to restrictions put in place because of COVID-19, and to reach global audiences, the majority of events will be held online. Events will include a commemoration ceremony and a panel discussion on the legacy of Jewish artists who died during the Holocaust on 27 January 2022, in addition to an exhibition at UNESCO Headquarters in Paris. UNESCO Field Offices and Regional Bureaus will also join the global commemoration of the International Day by organizing local events.
The 2022 commemorations are organized thanks to the generous support of the Permanent Delegation of Germany to UNESCO.

Exhibition - Generations: Portraits of Holocaust Survivors
The Royal Photographic Society of Great Britain exhibition "Generations: Portraits of Holocaust Survivors" showcases over 50 contemporary photos of Holocaust survivors and their families, shining a light on the full lives they have lived and the collective responsibility to cherish their stories. It features new works from 12 contemporary photographers, including Her Royal Highness The Duchess of Cambridge. Through a series of individual and family portraits, the moving photographs in this exhibition present survivors who made the United Kingdom their home and the special legacy which their children and grandchildren will carry into the future.
The exhibition will be on display on the fences of UNESCO Headquarters from 20 January to 4 February 2022. It will be formally launched with a virtual event on 25 January 2022 at 5 p.m. (Paris time).
The exhibition is organized by UNESCO and the Royal Photographic Society of Great Britain in partnership with the Holocaust Memorial Day Trust, the Jewish News, the Imperial War Museum, and the Association for Jewish Refugees, with support from the World Jewish Congress, the Permanent Delegation of the United Kingdom and the Permanent Delegation of Monaco to UNESCO.
Round table
Highlighting the work and legacy of Jewish artists before and during the Second World War, UNESCO and the Musée d'art et d'histoire de Judaïsme (MAHJ) are organizing an online round table on 27 January 2022 from 3 p.m. to 4 p.m. (Paris time). A group of international experts will discuss the life and legacy of the journalist and writer Hersh Fenster and that of the 84 Jewish artists he has portrayed in his book "Our martyr artists", published in Yiddish in 1951. The round table discussion is based on the MAHJ exhibition : « Hersh Fenster et le shtetl perdu de Montparnasse ».
CAMPAIGNS
Protect the Facts
The #ProtectTheFacts campaign(link is external) seeks to increase awareness of Holocaust distortion. It empowers individuals to identify and counter Holocaust distortion in society and on social media. The campaign aims to protect the historical record of the Holocaust by promoting historical literacy and Holocaust education, contributing to a culture of genocide prevention. The campaign is jointly implemented with the United Nations, the European Commission and the International Holocaust Remembrance Alliance.
We Remember
#WeRemember(link is external) is a global commemoration campaign of the World Jewish Congress (WJC) and UNESCO to raise awareness about the importance of remembrance culture for the present. Since 2017, the WJC and UNESCO invite audiences globally to participate in the campaign and to post a photo with the hashtag #WeRemember to express their commitment to Holocaust remembrance.
WHAT UNESCO DOES FOR HOLOCAUST REMEMBRANCE
KKL-JNF Opens Its Archive to Honor the Lives of Holocaust Victims
By Jewish Press News Desk - 23 Shevat 5782 – January 25, 2022 photo Credit: Zoltan Kluger
On the occasion of International Holocaust Remembrance Day, KKL-JNF selected some special visual moments from its archives to share with the public. The chosen photos show the continuity of Holocaust memorials in Israel, presenting how people honored the victims since the country's establishment.
The photos include scenes of memorial services, work projects, families, artifacts, and more from the early years of the State of Israel. One unique photo even shows the burial ceremony held in Jerusalem in 1949 for the ashes of about 200,000 Holocaust victims from Austria.
Advertisement

Other pictures illustrate ceremonies that have taken place since 1951 in the national commemoration site – the Forest of the Martyrs. Six million trees were planted in this special forest in the Jerusalem mountains, in memory of the Jews who perished. Throughout the site, monuments and plots memorialize the communities and individuals that have been lost forever.
An annual ceremony is held in the forest on International Holocaust Remembrance Day, commemorating Jews who helped fellow Jews during the Holocaust.
On Thursday, KKL-JNF and Israel's foreign ministry will conduct a meorial holocaust ceremony in the Israeli pavilion at Expo Dubai 2020.
The Three Musketeers at the Kotel
Archaeologists stunned by ancient Myanmar monument that 'defies gravity'
ARCHAEOLOGISTS have been stunned by the gravity-defying Kyaiktiyo Pagoda and the ancient legend behind its construction.
By Joel Day
The Kyaiktiyo Pagoda, also known as the Golden Rock, is a well-known Buddhist pilgrimage site in Mon State, Myanmar. It sits on top of the Kyaiktiyo hill (also known as Kelasa hills or Eastern Yoma mountains), and is on the Paung-laung ridge of the Eastern Yoma mountains. Shrouded in clouds, its origins and story offer visitors and pilgrims a tantalising taste of mystery and mythology.
The rock itself is 25 feet, balancing precariously on the edge of an abyss.
To the human eye, it appears baffling, almost impossible, but to the devoted it is proof of the divine.
Its worshippers believe that the rock stays in balance because of Buddha's miraculous powers.
Between the rock and the hill it sits on top of, a strand of the Buddha's hair is, in fact, believed to be placed, helping it keep its balance.
Archaeology: Researchers have been stunned by the precariously balance rock for years (Image: GETTY/Youtube/Smithsonian Channel)
Ancient history: An artist's impression of the rock in 1920 (Image: GETTY)

Few Burmese question the engineering behind the construction, and are instead devoted to the mythology of it.

The more that a site is shrouded in myth and miracles, the more important it is to pray there.

Its story and history was explored during the Smithsonian Channel's documentary, 'Wonders of Burma: Shrines of Gold', in which the narrator noted its "gravity defying" nature.

They said: "It's a natural wonder made sacred by stories."
Buddhists: The pilgrims revere the rock as a holy site (Image: GETTY)
The legend begins with a kingdom a thousand years ago deep in a region called 'Upper Mon'.
One day, the king encountered a buddhist hermit who held a strand of hair inside his hat said to be the Buddha's, and offered it to the king.
In return, the hermit insisted the hair should be enshrined in a pagoda built on a rock the shape of his head.
The king had inherited supernatural powers from his father Zawgyi, a proficient alchemist, and his mother, a naga serpent dragon princess.


Journey: A pilgrim on his way to the pagoda (Image: GETTY)

Golden Rock: It sits apparently unaware of its precarious position (Image: GETTY)

He enlisted the help of Sakra, the Thagyamin, who found the perfect rock at the bottom of the ocean.

Pulling it from the seafloor, he used a boat to transport the rock and eventually lifted it to the top of the mountain.

After balancing the rock on the mountain, the king built a pagoda on top and enshrined the buddhist's hair inside.

The boat that was used to transport the rock has also been turned into a stone, also worshipped by pilgrims at a location about 300 metres from the Golden Rock.

Mythology: The rock is shrouded in mystery and mythology (Image: GETTY)

It is known as the Kyaukthanban Pagoda or stupa — it's literal meaning translates to "the stone boat".

Another version of the story states that the rock was placed on top of the hair, and that the hair helps prevent the rock from sliding down the mountain.

And, another states that the Buddhist prides impressed the king with his asceticism and so used his own powers to carry the rock to its current place himself.

On the brink: Many legends claim to give the reason as to why the rock has not yet fallen (Image: Youtube/Smithsonian Channel)

Related articles



The Israel Film Archive collects more than a century of Israeli historical footage online. Here are the highlights.
TEL AVIV (JTA) – For years, only those with special permission could visit the climate-controlled repositories of the Jerusalem Cinematheque to see the moving pictures held in the Israel Film Archive. But following a massive digitization effort, anyone with an internet connection can now watch the footage.

"We're at the fun part where we can share this treasure with the public," says Noa Regev, director of the Jerusalem Cinematheque. Following a $10 million project that began in 2015 to preserve, restore and digitize its audiovisual collection, the archive can now be streamed via a website that launched in Hebrew in late 2020 and added English-language subtitles in October.

Divided into two sections, the website includes a paid on-demand category, "The Artistic View," containing 300 Israeli feature films, and a free "Historical View" area with digitized versions of rare films; every newsreel created in Israel from 1927 through 1972; home movies; and family collections.

Don't miss Jewish stories from around the world. Subscribe to JTA's newsletter.

SIGN UP

"The Historical View" exposes, in mostly black-and-white film with scratchy patina, the life of the region across elections and wars, tree plantings and commercials for 1920s beauty salons. There are also full versions of historic footage you may have seen as blips in documentaries, like the Declaration of the State of Israel.

There's much to see on the platform, which is searchable by decade, keyword and location, with more selections on the way. Only around 30% of the archive's celluloid and video materials have been digitized so far; Regev estimates that within five years the full archive will be available. "People keep discovering more materials," she adds, hedging that as the archive constantly grows it may never be fully available online. "The most fascinating materials are the ones brought down from someone's boydem [Yiddish for 'attic'], both in Israel and abroad."

Below is a shortlist of some of the materials you can see now, spanning the late 19th century to the 20th.

Lumière Brothers film of Jaffa, Bethlehem and Jerusalem, 1896

Filmed by a representative of the French filmmaking pioneers the Lumière brothers just a year after they invented their groundbreaking Cinématographe device, this nine-minute clip – the earliest video footage of the region – opens with a train pulling into the Jaffa station in 1896. The fez-donning crowd can't decide where to look: the locomotive they have been expecting from Jerusalem (which only comes once daily), or the strange contraption being operated by a foreigner. As this reel pans across Jaffa, Bethlehem and Jerusalem, it shows the bygone vendors, mustaches and camels of 130 years ago.

Thomas Edison's cameraman in the Holy Land, 1903

Not to be outdone by his French colleagues, American inventor Thomas Edison dispatched cameraman Alfred C. Abadie to the region a few years later, in 1903, with a Kinetograph. Abadie captures a main drag in Jaffa and Jerusalem's unnamed "busiest street." Five men with interlocked arms are at the center of Abadie's lens during a section introduced by an intertitle card that reads "Jewish Dance at Jerusalem," hopping to music we can't hear in the mute clip.

Two Israeli children celebrate Purim at the Tel Aviv Zoo in 1959, in documentary footage available at the Israel Film Archive. (Screenshot via Herzliya Studios Archive)

Purim at the Tel Aviv Zoo, 1959

The archive holds charming footage of both Purim and the storied Tel Aviv Zoo (which used to be in the center of the city near present-day Rabin Square), and they coincide in this 1959 short of costumed celebrations among leopard cages. This was back when Purim costumes were handmade originals, and here we see a child wearing a feathery chicken get-up standing comically close to pelicans of roughly the same height, while brothers dressed like explorers drag around a faux hot air balloon. This iteration of the zoo looks leagues ahead of its grassroots 1930s version, located in Rabbi Mordechai Shorenstein's backyard (as immortalized in this 1935 clip).

Josephine Baker visits Israel in 1954 in footage available in the Israel Film Archive. (Screenshot via the Israeli Film Archive and the Jerusalem Cinematheque, Israel state archives)

Josephine Baker and other celebrities visit Israel

American stars of stage and screen visited Israel throughout the 1950s and 60s, with their ceremonial landings at Lod airport recorded in newsreels. Josephine Baker, the US-born cabaret singer and activist who made her home in France, flew El Al in 1954 to perform several shows (and tried, unsuccessfully, to adopt an Israeli child). When "White Christmas" actor Danny Kaye made a surprise visit a few years later, in 1961, he spent most of his time on the Caesarea golf course. The following year Frank Sinatra arrived by private jet to give seven performances whose proceeds benefited a Jewish-Arab youth center in Nazareth. And when Kirk Douglas visited in 1964, he met with Israel's third Prime Minister, Levi Eshkol.

The most moving of these paparazzi clips is the one of Sammy Davis Jr., who came for a one-day visit in 1969 and asked to be driven straight from the airport to the Western Wall, where he wedged a handwritten wish between ancient stones.

Ancient stones are a recurring theme in the archive, including a Hasmonean Period burial cave found accidentally in 1956 when foundations were being prepared for an apartment building on Jerusalem's Alfasi Street. In another clip, aerial footage records the excavations atop Masada, led in 1963 by archaeologist and politician Yigael Yadin. The rededication of the ancient Roman amphitheater in Caesarea in 1961 — after a 1,700-year hiatus — was filmed to record the host of international musicians brought to re-inaugurate the space, including cellist Pablo Casals, who played on a humble stage amid ruins.

On the other hand, some clips aren't weighted with the gravitas of ancient history, Biblical empires or storied battles — they're just funny. This reel showing shoppers shamelessly poking pickled fish and splaying the limbs of butchered chickens in Tel Aviv's open-air Carmel Market is one of them. Only women are shopping in the clip, and they want to make sure they are selecting the absolute best fill-in-the-blank. So what if their hands and noses touch half a dozen cream-filled pastries they didn't end up buying?

Advertisement for Instant Soup produced by Osem, 1960

When not prodding things in person at the market, Israeli shoppers trusted television ads to tell them what was good. Regev says the archive's vintage commercials are an underexplored gem, such as this one by Israeli manufacturer Osem encouraging mothers to feed their toddlers a broth of bouillon cubes and boiling water. (It must have made an impression — the soup powder is a staple of Israeli households to this day.) The Israeli landscape features in other ads, like the Caesarea beach in a 1964 Gottex swimwear commercial, and a road trip to Rosh Hanikra as the premise for an ad for fuel-efficient Heinkel scooters.

To see the videos and pictures described in this story go to

The Israel Film Archive collects more than a century of Israeli historical footage online. Here are the highlights. - Jewish Telegraphic Agency (jta.org)
15 overlooked Jewish stories of 2021 — and 1 you'll want to read again
BY JACOB GURVIS
In 2021, the Jewish Telegraphic Agency published nearly 3,000 stories — news, analysis and commentary about our complex and dynamic shared community.
We recently shared the stories that you, our readers, read most this year. But the thousands of other articles we reported also deserve a second look.
We asked each of our writers and editors to choose one of their own stories to highlight. Read on for our team's picks.
The months-long imprisonment of Jewish-American journalist Danny Fenster in Myanmar this year was a story that shocked and disturbed people worldwide — particularly in my hometown of Huntington Woods, Michigan, where Fenster grew up. But it was also one of the few 2021 stories with a happy ending, as Fenster's family and friends continued advocating for him until he finally saw freedom just before Thanksgiving. It was a privilege for me to spotlight how the Jewish community of suburban Detroit and beyond banded together to keep Fenster's name in the public eye. — Andrew Lapin, managing editor for local news, JTA. Follow Andrew on Twitter.
I was shocked when I reached out to the creator of the "This Used to Be a Synagogue" Twitter feed and she turned out to be a non-Jewish, 20-something undergrad at the University of Texas. Amy Shreeve's Twitter account plugs the addresses of now-defunct Manhattan synagogues into Google Maps and displays the apartment buildings, gas stations and pharmacies that have taken their place. Her project is a haunting look at the way New York and its Jewish community constantly reinvent themselves, and her interest is a reminder that New York's Jewish history is a fundamentally American story. — Andrew Silow-Carroll, editor-in-chief, The New York Jewish Week and senior editor, JTA. Follow Andrew on Twitter.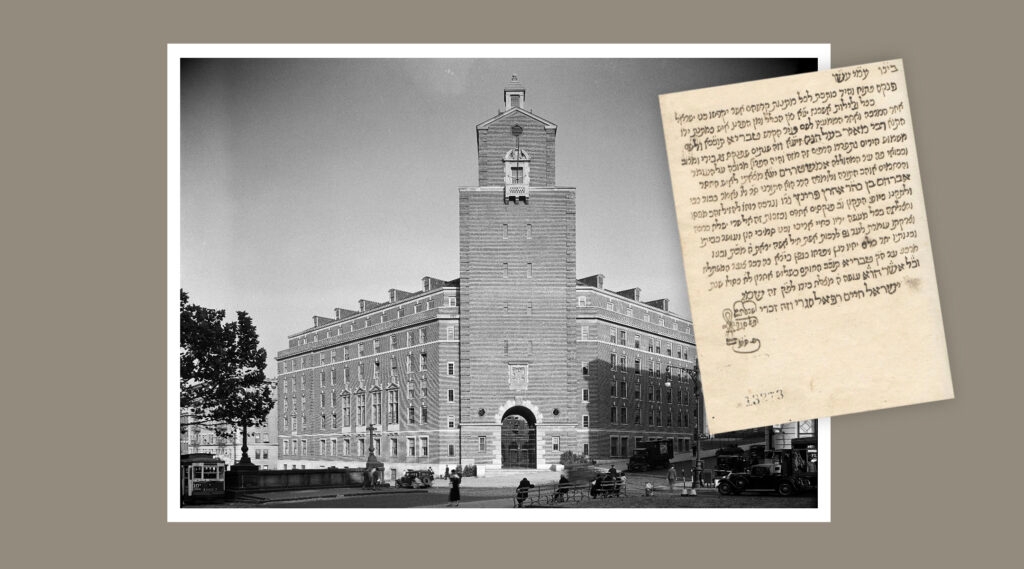 The Jewish Theological Seminary in New York City, photographed on Oct. 17, 1934, is superimposed with an image of a page from a manuscript of a Tiberias rabbi who traveled to Europe on a fundraising mission in 1807. (MCNY/Gottscho-Schleisner/Getty Images)
What I love about this story is that it combines suspense and drama with a revelation of public importance. How did an antique book that belonged to a Jewish library end up on auction, being sold to a private buyer for more than $100,000? I managed to discover the answer and it has far-reaching implications for the preservation of Jewish cultural heritage in our era. — Asaf Shalev, reporter, JTA. Follow Asaf on Twitter.
I'm proud of this article, which tells the story of a student government debate at the University of Iowa that addressed some of the most contentious issues surrounding Judaism, Zionism and antisemitism without devolving into vitriol. Antagonistic campus debates over Israel attract tons of attention, and this story provides a counterexample — in which students worked out thorny problems on their own. — Ben Sales, reporter, JTA and New York Jewish Week. Follow Ben on Twitter.
Covering the protest against the perceived failure to try the killer of Sara Halimi, a Jewish woman who was killed by her Muslim neighbor, began as routine assignment for me. But gradually it became apparent to me that I was witnessing a watershed moment. — Cnaan Liphshiz, Europe correspondent, JTA. Follow Cnaan on Twitter.
Jews aren't the only people who have begun to find watching football problematic. But as I learned through writing this article ahead of the Super Bowl in February, we do look at the sport's troubling baggage through a variety of unique and not-so-unique angles. I was enlightened by the range of opinions, from the idea that the sport is incredibly beautiful, to the argument that Judaism essentially forbids it. This debate will stay relevant for a long time. — Gabe Friedman, news director, JTA. Follow Gabe on Twitter.
From the first time I saw "Come From Away" in London in 2019, its inherent Jewishness was abundantly clear. The show is ultimately about welcoming the stranger — those who "come from away." In anticipation of the filmed version's streaming release, timed to the 20th anniversary of 9/11, I spoke with the show's Jewish creators about its message and its Jewish influences. The story is about human kindness and pulling together in the face of tragedy, a perfect message during this uniquely challenging time. — Jacob Gurvis, audience engagement editor, JTA. Follow Jacob on Twitter.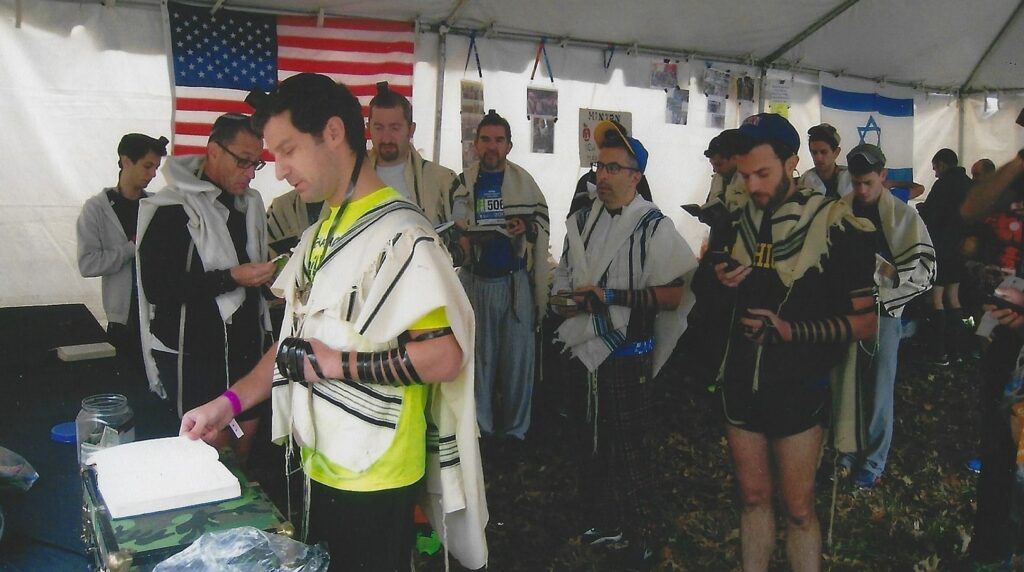 The NYC Marathon minyan, run by a group of 10 volunteer staff, attracted hundreds of participants in 2019. (Peter Berkowsky)
I love any story that has one or more of the following: a tradition unique to New York City, a secret Jewish history, a captivating character, or a feel-good moment. My profile of Peter Berkowsky, the man who founded and continues to run a prayer minyan at the starting grounds of the New York City Marathon, has them all, which is why it's one of my favorite stories I've written so far in my time at the New York Jewish Week. — Julia Gergely, reporter, New York Jewish Week. Follow Julia on Twitter.
I've only been the managing editor of the New York Jewish Week for a few weeks now, so imagine my surprise and delight when a very short and sweet piece I wrote in November became one of JTA's most-read articles of the year. I wish I could credit my journalistic chops for this — but, really, this article about a new "West Side Story" Hanukkah parody by Jewish a cappella group Six13 really speaks for itself: The music is catchy, of course, and the Festival of Lights-themed lyrics, riffing off Steven Sondheim's original words, are clever. But best of all is the song's delightful video, which was filmed, like the new "West Side Story" movie, on location in New York. — Lisa Keys, managing editor, New York Jewish Week. Follow Lisa on Twitter.
I spend almost all of my time working with our amazing reporters and editors to bring their stories into the world. But every once in a while, I get so interested in a topic that I just can't help but report it out and share the results of my research with our readers. The story that has stuck with me is the one I wrote about the Jewish history of pop-its. I had no idea that the ubiquitous fidget toy had anything to do with Anne Frank, or kibbutzim, or game board-shaped headstones in a Jewish cemetery, or a monkey in North Carolina (not Jewish) — but it does, and the resulting story is a wild ride even on rereading. — Philissa Cramer, editor-in-chief, JTA. Follow Philissa on Twitter.
I love finding Jewish American stories in unlikely places — in this case, a parking lot in suburban Maryland in 1986. It's harder than writing about organization conferences and other carefully curated spaces for Jewish identification, but it's much more rewarding. Three young guys at a Judas Priest concert, each unknown to the other at the time, launched unique Jewish journeys after appearing in a cult classic documentary. — Ron Kampeas, Washington bureau chief, JTA. Follow Ron on Twitter.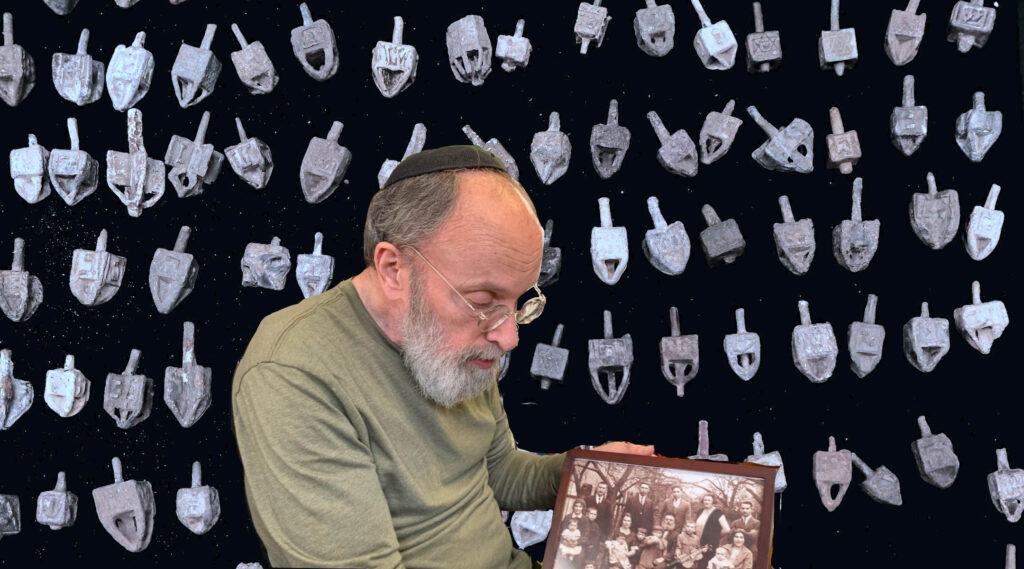 Arthur Kurzweil first encountered amulets and dreidels excavated by treasure hunters during a trip to his father's hometown in Poland. Now he has collected thousands of them. (Photo by Shira Hanau; background courtesy Kurzweil)
Unlike most Judaica collections, Arthur Kurzweil's isn't made up of fancy gold and silver items. It's composed of cheap materials and trinkets that were essentially thrown away. But because he kept them together, he significantly increased their value. I was really proud to spotlight his effort and allow other people to see his collection of dreidels that their own great-great grandparents might have once played with. — Shira Hanau, reporter, JTA. Follow Shira on Twitter.
Freelancers across the country and the globe also play a key role in JTA's coverage — here are a few highlights from their body of work this year that merit revisiting.
See you tomorrow bli neder
We need Moshiach now!
Love Yehuda Lave
Yehuda Lave, Spirtual Advisor and Counselor
Jerusalem, Jerusalem
Israel