Yehuda Lave is an author, journalist, psychologist, rabbi, spiritual teacher, and coach, with degrees in business, psychology and Jewish Law. He works with people from all walks of life and helps them in their search for greater happiness, meaning, business advice on saving money, and spiritual engagement.
Love Yehuda Lave
Join my blog by sending me an email to YehudaLave@gmail.com
Can weed stop COVID-19? Two help compounds might - study
Compounds found in cannabis sativa seem to target the coronavirus spike protein, its main method of infection.
CANTEK-brand medical cannabis in at their indoor growing facility in Mavki'im, in southern Israel.(photo credit: RAPHAEL KADISHZON)

Can marijuana help prevent COVID-19? According to a new study, that seems to be the case. The study, published in the peer-reviewed academic periodical Journal of Natural Productsby researchers from Oregon State University, focuses specifically on hemp compounds, known specifically as cannabis Sativa. This type of marijuanais used in many different products such as cosmetics, food, lotions and dietary supplements.

But a pair of cannabinoid acids found in hemp may be able to help prevent COVID-19 infections. These compounds, cannabigerol acid, or CBGA, and cannabidiolic acid, CBDA, work by binding to coronavirus spike proteins. This is important, as it means they have the same drug target (a molecule critical to the disease's process) as COVID-19 vaccines and antibody treatments do. In other words, this blocks the virus's main way of infecting people. Compounds blocking the infection process means has been shown to work in other diseases, too, such as HIV and hepatitis.
A man prepares a cigarette mixed with marijuana during Cannatech 2017, an annual global cannabis industry event, in Tel Aviv, Israel March 20, 2017. (credit: REUTERS/AMIR COHEN)"These cannabinoid acids are abundant in hemp and in many hemp extracts," lead author Richard van Breemen said in a statement. "They are not controlled substances like THC, the psychoactive ingredient in marijuana, and have a good safety profile in humans. And our research showed the hemp compounds were equally effective against variants of SARS-CoV-2, including variant B.1.1.7 [Alpha variant], which was first detected in the United Kingdom, and variant B.1.351 [Beta variant], first detected in South Africa."These compounds were identified by using a mass spectrometry-based technique to screen for compounds to make drugs that could target the coronavirus's spike protein.

"These compounds can be taken orally and have a long history of safe use in humans," van Breemen said. "They have the potential to prevent as well as treat infection by SARS-CoV-2. CBDA and CBGA are produced by the hemp plant as precursors to CBD and CBG, which are familiar to many consumers. However, they are different from the acids and are not contained in hemp products."But while the compounds seem effective against Alpha and Beta variants, it is unclear if they are effective against the others like Delta and Omicron. More research is needed to test this, as well as testing other compounds, specifically a compound derived from licorice that also binds to the spike protein. But as of now, the best means of preventing COVID-19 infection remains getting vaccinated. (sorry for the bad news)



The Three Musketeers at the Kotel
Israel's controversial new 'electricity law' sparks concern over illegal Arab building
The bill potentially allows more than 130,000 Arab Israelis living on land defined as "agricultural" rather than "residential" to receive electricity, water and phone lines.BY ISRAEL KASNETT
Israel's Knesset on Wednesday passed the controversial "electricity bill," which now enables the state to connect tens of thousands of illegally built Arab homes to the national grid.
The bill, first proposed by the coalition's Islamist Ra'am Party, has been a source of friction between Prime Minister Naftali Bennett's governing coalition and the opposition—led by former Prime Minister Benjamin Netanyahu of the Likud Party—potentially allows more than 130,000 Arab Israelis living on land defined as "agricultural" rather than "residential" to receive electricity, water and phone lines, passed by a single-vote majority (61-0) in the 120-seat parliament after the opposition boycotted the vote.
Detractors fear that the law with further enable illegal Arab building on vast swaths of land and contributes to the culture of lawlessness that has become so widespread, especially in Bedouin communities in Israel's south. However, supporters contend that the legislation will address outdated zoning laws in Arab communities that had been neglected for decades, which led to buildings being constructed without proper permits and improvised electrical hookups that posed a serious safety hazard.
Additional problems arose when the Knesset allowed the government to bypass a lengthy debate on the subject and moved the bill up for a quick vote. Critics decried it as undemocratic.
Subscribe to The JNS Daily Syndicate by email and never miss our top stories
At the same time, ahead of the pre-vote debate, an amendment was introduced that would have enabled outposts in Judea and Samaria—more commonly known as the West Bank—to be connected to the national grid as well, but Bennett rejected it. Netanyahu and right-wing members of the opposition, who had decided to boycott the vote, then heckled Bennett over his decision.
Hillel Frisch, a professor of political studies and Middle East studies at Bar-Ilan University and an expert on the Arab world at the Jerusalem Institute for Strategy and Security, told JNS "what probably incenses the Israeli right the most is the use of law to dismantle tiny settlements on isolated hilltops in the name of preserving state law and now through the electricity law, to accept with equanimity, the illegal land grabs of tens of thousands of Arab citizens by providing these illegal villages (many the size of towns) with electricity."
Further infuriating many people is the government's current efforts to destroy the Jewish community of Homesh in northern Samaria, claiming that it is built illegally. At the same time, Khan al-Ahmar, an illegal Bedouin outpost situated near Jerusalem and funded by foreign governments, has yet to be demolished.
This double standard is just one example of many that infuriates Israel's right-wing, as well as many Jews in the Diaspora.
'An upside world where lawbreakers are given rights'
Naomi Kahn, director of Regavim's international division, slammed the law for essentially approving illegal construction and for being "discriminatory," as it is intended specifically for Arabs.
She explained to JNS, "Up until now, the only tool which the State of Israel had to encourage people not to build illegally and to get permits for their structures was to say that any structure that doesn't have a building permit can't be hooked up to electricity."
The new law allows for anyone to build illegally and expect to receive a permit regardless of the fact that they broke the law.
Khan added that Regavim had several provisions put into the law to limit its damage, including a provision not allowing electricity for structures that have a demolition order against them.
Gush Etzion Regional Council Head Shlomo Ne'eman also reacted to the bill's passing, saying "this is a terrible day in which a horrible anti-Zionist law was passed, giving preference to Bedouin law-breakers who try to undermine the Jewish state at the expense of young Jewish pioneers who are heroically fighting the state's battle over the protection of its lands."
"It's an upside world where lawbreakers are given rights; an upside world where people do what they want where they want, and Bedouin are given preference over residents of Judea and Samaria; an upside world where those who plunder our national lands are given recognition," he lamented.
Ne'eman added: "I call upon our Zionist friends in the Knesset to come to their senses and correct this injustice by instead supporting the true pioneers who are working on behalf and for the benefit of the state."
According to Frisch, Israel has offered most of the owners of the illegal structures in question "plots free of charge in organized towns in their immediate area and subsidizing in full the basic infrastructure, including electricity, modern sewage, paved roads and generous grants to the municipalities to service them; in short, all the amenities they claim the state denies them."
He explained that because of the prohibitive costs of public services to citizens in sprawled-out areas, "the social, educational and economic gaps between the families of these land-grabbers and the majority of Israel's citizenry will remain as long as these citizens do not make the move to the planned towns."
"The electricity law might solve the electricity problem," said Frisch, "but its long-term pernicious effects on the welfare of these citizens in delaying this necessary move far outweigh the short-term benefit."
Israel launches site to keep tourists updated on COVID-19 restrictions
Following the reopening of Israel's skies, the Tourism Ministry took the initiative to launch a COVID-19 information center for incoming tourists.
The Tourism Ministry's new landing page for news on tourism in Israel amid COVID-19(photo credit: screenshot)AdvertisementIsrael's Tourism Ministry launched a new website on Sunday dedicated to keeping tourists updated with the latest COVID-19 guidelines and restrictions set by the Israeli government. On Friday, Israel removed every country from its 'red' list, reopening the skies and allowing Israelis to travel anywhere in the world. Two days later, restrictions on foreign nationals from non-red countries were also removed, meaning tourists are now able to enter Israel without the need for special permission, provided that they are fully vaccinated. Following the reopening of Israel's skies, the Tourism Ministry took the initiative to launch a regularly-updated landing page, incorporating all necessary and useful information for tourists visiting Israel as the Omicron wave sweeps through the country.

The guide is divided into three sections with the aim of making navigation through all the different restrictions and requirements simple and providing ease of access to all relevant information. The first section, titled "Planning Your Trip," shows information on the Health Ministry's up-to-date definition of vaccinated and recovered from COVID-19, along with a list of approved Coronavirus vaccines and required documentation for entry into Israel. The second, "During Your Stay," highlights the location of COVID-19 testing centers across Israel and what tourists should do if they need to get tested during a visit to Israel.The third and final section, "Before You Leave Us," displays information about coronavirus testing and documentation required to board a return flight at Ben-Gurion Airport.
Travellers seen at the Ben Gurion International Airport, on December 22, 2021. (credit: FLASH90)The new COVID-19 in Israel guide, currently only available in English, will soon be translated and available in other languages, the ministry said.Israel's tourism industry has suffered throughout the COVID-19 pandemic.
After a record year for incoming tourism to Israel in 2019, the abrupt closure of all incoming tourism after the outbreak of the pandemic in early 2020 caused the number of incoming tourists to plunge to 832,500, compared to four and a half million in 2019.In 2021, the number of incoming tourists was even lower than the previous year at 401,500, with overall revenue amounting to some NIS two billion.

You can visit the website by clicking this link: https://safe.israel.travel/
15 Shabbat Candle Facts Every Jewish Woman (and Man) Should Know
Shabbat candles are lit by Jewish women and girls (or men when there are no women present) 18 minutes before sunset every Friday afternoon and on the eve of Jewish holidays, ideally in the dining room, where the festive meal will soon take place.
1. You (Generally) Need to Light Them 18 Minutes Before Sunset
The earliest one may light the Shabbat candles is plag haminchah—one and a quarter halachic hours before the end of the day—on Friday afternoon. See our Zmanim page for when that is in your location.
In order to be sure that we do not kindle fire on Shabbat (and so that we bring in Shabbat at least a bit early), the standard practice is to light the candles at least 18 minutes before the sun sets and the holy day begins (some communities do so even earlier). On holidays, when it is permitted to light a new flame from one that was already lit, the candles can be lit even after sunset provided that we do not strike a match. When a holiday follows Shabbat or another holiday, the candles must be lit after nightfall.
Read: Why Are Shabbat Candles Lit 18 Minutes Before Sunset?
2. Most Women Light Two, but Not Everyone
The basic custom is that the woman of the house lights two candles. Many women have the custom to add an additional candle with the birth of each child or for other reasons.
Read: Why Light Two (Or More) Shabbat Candles?
Shabbat and holidays are ushered in with candle lighting (Photo: Mushka Lightstone).
3. The Rebbe Encouraged Girls to Light as Well
The age-old custom was that young girls also lit candles. This custom was virtually lost in the poverty and displacement that followed World War I. In 1974, the Rebbe, Rabbi Menachem Mendel Schneerson, of righteous memory, encouraged all Jewish girls (from approximately three years of age) to light their own Shabbat and holiday candles with the consent of their parents.
Until marriage, girls light one candle, and the Rebbe encouraged parents to purchase a special candlestick just for them.
Read: Do Young Girls Light Shabbat Candles?
4. Shabbat Candles Are Part of the Seven Rabbinic Mitzvahs
The Torah enjoins us to "honor the Shabbat and call it a delight." One element of this "delight" is to have candles lit. In addition to preventing stumbling around in the dark, the added light increases peacefulness and joy in honor of Shabbat. The Torah clearly tells us that we may not kindle fire on Shabbat, so the key is to light the delight-giving candles before the onset of the day. Not clearly mandated in Torah, lighting Shabbat candles is considered one of the seven rabbinic commandments.
Read: What Are the Seven Rabbinic Mitzvahs?
5. The Candles Take Precedence Over Other Mitzvahs
The Talmud considers it axiomatic that if one only has enough money for either Shabbat candles or Kiddush wine, the Shabbat candles take precedence. The same applies to one who has to choose between Shabbat candles or Chanukah candles: the Shabbat candles take priority. Why? Because they bring peace to the home.
Read: How Do Shabbat Candles Bring Peace?
6. It's Ideal to Give Tzedakah Before Lighting
Since no charity can be given on Shabbat day (when money may not be handled), an extra sum is given beforehand. Also, before we pray to G‑d and ask Him kindly to grant our deepest wishes (more on that later), it is appropriate to display kindness to others.
Read the Deeper Reason for Charity Before Candle-Lighting
7. It's Best to Light Where You'll Eat
The Shabbat candles must be enjoyed, bringing additional light and joy to your Shabbat experience. That's why the ideal place to set them up is in the dining room, in view of your Shabbat dinner table.
Read: What to Expect at a Shabbat Dinner?
Chaya Simons lighting candles.
8. It's a Woman's Mitzvah, but Men Do It, Too
While the mitzvah of lighting candles is generally performed by the woman—the mainstay of the Jewish home—it is an obligation for every Jew. If no woman over the age of bat mitzvah is present to light for the members of the household, the man of the house lights the candles instead.
Read: Who Lights?
9. Once a Woman Lights, She Has Accepted Shabbat
The accepted practice is that (unless she specifies otherwise) once a woman finishes lighting her last candle (sometime between plag haminchah and just before sunset), she automatically accepts Shabbat upon herself and may not even extinguish the match (instead she should put it down safely to burn out on its own). Conversely, men (who generally do not light) are not presumed to accept Shabbat in the event that they light. Nonetheless, if a man wishes to light but not accept Shabbat until right before sundown, he should consciously stipulate so beforehand.1
10. There's a Special Blessing to Say
After lighting candles, women cover their eyes and say:
בָּרוּךְ אַתָּה אַדֹנָ-י אֱ-לֹהֵינוּ מֶלֶךְ הָעוֹלָם אֲשֶׁר קִדְּשָׁנוּ בְּמִצְוֹתָיו וְצִוָּנוּ לְהַדְלִיק נֵר שֶׁל שַׁבָּת קֹדֶשׁ
Transliteration: Bah-rookh ah-tah ah-doh-noi eh-loh-hay-noo meh-lekh hah-oh-lahm ah-sher ki-deh-shah-noo beh-mitz-voh-tahv veh-tzee-vah-noo leh-hahd-lik nehr shehl shah-baht koh-dehsh.
Translation: Blessed are You, L-rd our G‑d, King of the universe, who has sanctified us with His commandments, and commanded us to kindle the light of the holy Shabbat.
Read: The Shabbat Candle Blessings
11. On Most Holidays, We Say Two Blessings
The blessing for lighting holiday candles varies slightly. The words Shabbat kodesh are replaced with Yom Hazikaron ("Day of Remembrance") on Rosh Hashanah, Yom Hadin ("Day of Judgement") on Yom Kippur, and Yom Tov ("holiday") on Passover, Shavuot, and Sukkot. In addition, on all holiday (Yom Tov) nights aside from the second part of Passover, an additional blessing, Shehecheyanu, is said, to thank G‑d for enabling us to reach the milestone.
Read: Holiday Candle Lighting Procedure
12. It's an Auspicious Time to Pray
The moments after lighting candles, saying the blessing, and uncovering the eyes to enjoy the lights are considered an auspicious time for a woman to pray—for herself, her family, friends, and everyone else. Some women say specific techinot (or techinos), informal prayers composed for this occasion, but many pray on their own, allowing their whispered words (and tears) to flow directly from the heart.
Read: Jewish Prayers
13. We Have Been Lighting for a Very Long Time
The first woman to light Shabbat candles was our matriarch Sarah. According to Jewish tradition, Sarah lit the Shabbat candles in the tent she shared with Abraham, and each week the candles miraculously stayed alight from one Friday to the next. When this miracle replicated itself for her daughter-in-law, Rebecca, Isaac knew that she was fitting to be the next link in the golden chain.
Read: Where Does the Torah to Say to Light Shabbat Candles?
The Talmud is a collection of writings that covers the full gamut of Jewish law and tradition. Jewish people devote much time to studying the Talmud. Seen here is an open volume of the Talmud.
14. There Is a Chapter of Talmud Devoted to Shabbat Candles
The second chapter of Tractate Shabbat is devoted primarily to the Shabbat candles. It specifies which kinds of fuel and wicks may be used, and then discusses some other laws of preparing for Shabbat. On the subject of candles, this chapter is also where the Talmud discusses the history and laws of Chanukah.
Read: What Happened to Tractate Chanukah?
15. G‑d Will Reward Us With the Lights of Zion
"If you keep the lights of Shabbat," the Midrash tells us, "I [G‑d] will show you the lights of Zion."2 Every Shabbat candle lit, every Jewish home bathed in the tranquility and sanctity of Shabbat, is one step closer to the ultimate redemption, the era that will be "entirely Shabbat and rest."3
Read: Moshiach: An Introduction
Sunrise in Jerusalem (© Alex Levin)
Do you light Shabbat candles every week? Try it out this week. If you already light, why not encourage a friend to do the same? Together, we can brighten up the world! See our Shabbat Candles page
FOOTNOTES
1.
Shulchan Aruch HaRav 263:7.
2.
Yalkut Shimoni, Behaalotecha 719.
3.
Text of Shabbat insertion to Grace After Meals.
By Menachem Posner More by this author
Rabbi Menachem Posner serves as staff editor at Chabad.org, the world's largest Jewish informational website. He has been writing, researching, and editing for Chabad.org since 2006, when he received his rabbinic degree from Central Yeshiva Tomchei Temimim Lubavitch. He resides in Chicago, Ill., with his family. Art by Rivka Korf Studio, a Miami-based art design studio run by Rivka Korf, a coffee lover and mother. Rivka uses her expertise and creativity to run a team that creates masterful compositions and illustrations for corporate and large nonprofit organizations.



The missing continent it took 375 years to find
It took scientists 375 years to discover the eighth continent of the
world, which has been hiding in plain sight all along. But mysteries
still remain.
As we head towards the end of another extraordinary year, BBC Future is taking a look back at some of our favourite stories for our "Best of 2021" collection. Discover more of our picks here.
It was 1642 and Abel Tasman was on a mission. The experienced Dutch sailor, who sported a flamboyant moustache, bushy goatee and penchant for rough justice – he later tried to hang some of his crew on a drunken whim – was confident of the existence of a vast continent in the southern hemisphere, and determined to find it.
At the time, this portion of the globe was still largely mysterious to Europeans, but they had an unshakeable belief that there must be a large land mass there – pre-emptively named Terra Australis – to balance out their own continent in the North. The fixation dated back to Ancient Roman times, but only now was it going to be tested.
And so, on 14 August, Tasman set sail from his company's base in Jakarta, Indonesia, with two small ships and headed west, then south, then east, eventually ending up at the South Island of New Zealand. His first encounter with the local Māori people (who are thought to have settled there several centuries earlier) did not go well: on day two, several paddled out on a canoe, and rammed a small boat that was passing messages between the Dutch ships. Four Europeans died. Later, the Europeans fired a cannon at 11 more canoes – it's not known what happened to their targets.
And that was the end of his mission – Tasman named the fateful location Moordenaers (Murderers) Bay, with little sense of irony, and sailed home several weeks later without even having set foot on this new land. While he believed that he had indeed discovered the great southern continent, evidently, it was hardly the commercial utopia he had envisaged. He did not return.
(By this time, Australia was already known about, but the Europeans thought it was not the legendary continent they were looking for. Later, it was named after Terra Australis when they changed their minds).
Little did Tasman know, he was right all along. There was a missing continent.
Story continues below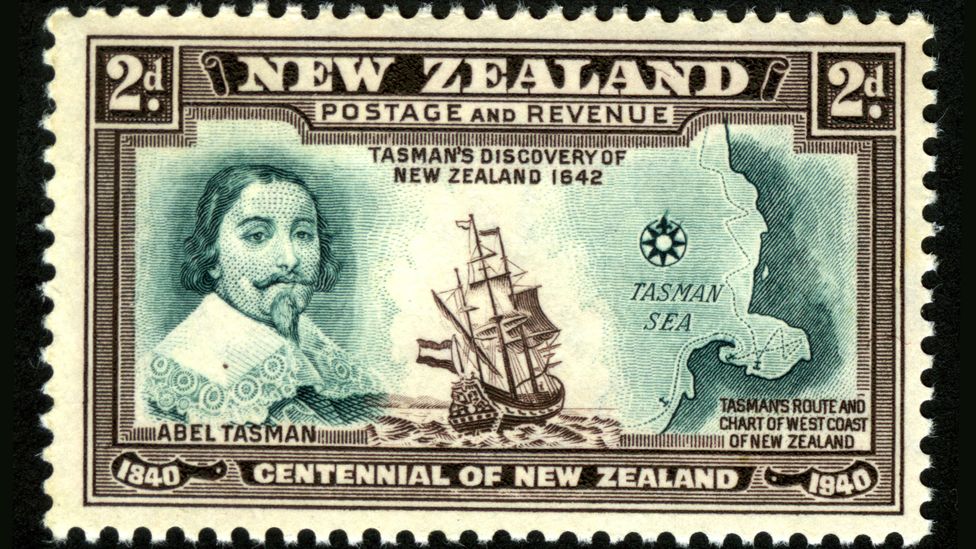 Abel Tasman arguably did find the great southern continent, though he didn't realise 94% of it is underwater (Credit: Alamy)
In 2017, a group of geologists hit the headlines when they announced their discovery of Zealandia –Te Riu-a-Māui in the Māori language. A vast continent of 1.89 million sq miles (4.9 million sq km) it is around six times the size of Madagascar.
Though the world's encyclopaedias, maps and search engines had been adamant that there are just seven continents for some time, the team confidently informed the world that this was wrong. There are eight after all – and the latest addition breaks all the records, as the smallest, thinnest, and youngest in the world. The catch is that 94% of it is underwater, with just a handful of islands, such as New Zealand, thrusting out from its oceanic depths. It had been hiding in plain sight all along.
"This is an example of how something very obvious can take a while to uncover," says Andy Tulloch, a geologist at the New Zealand Crown Research Institute GNS Science, who was part of the team that discovered Zealandia.
But this is just the beginning. Four years on and the continent is as enigmatic as ever, its secrets jealously guarded beneath 6,560 ft (2km) of water. How was it formed? What used to live there? And how long has it been underwater?
A laborious discovery
In fact, Zealandia has always been difficult to study.
More than a century after Tasman discovered New Zealand in 1642, the British map-maker James Cook was sent on a scientific voyage to the southern hemisphere. His official instructions were to observe the passing of Venus between the Earth and the Sun, in order to calculate how far away the Sun is.
Possibly due to a quirk of geology, the enigmatic kiwi bird's closest relative hails from Madagascar (Credit: Alamy)
But he also carried with him a sealed envelope, which he was instructed to open when he had completed the first task. This contained a top-secret mission to discover the southern continent – which he arguably sailed straight over, before reaching New Zealand.
The first real clues of Zealandia's existence were gathered by the Scottish naturalist Sir James Hector, who attended a voyage to survey a series of islands off the southern coast of New Zealand in 1895. After studying their geology, he concluded that New Zealand is "the remnant of a mountain-chain that formed the crest of a great continental area that stretched far to the south and east, and which is now submerged…".
Despite this early breakthrough, the knowledge of a possible Zealandia remained obscure, and very little happened until the 1960s. "Things happen pretty slowly in this field," says Nick Mortimer, a geologist at GNS Science who led the 2017 study.
Then in the 1960s, geologists finally agreed on a definition of what a continent is – broadly, a geological area with a high elevation, wide variety of rocks, and a thick crust. It also has to be big. "You just can't be a tiny piece," says Mortimer. This gave geologists something to work with – if they could collect the evidence, they could prove that the eighth continent was real.
You might also like:
Still, the mission stalled – discovering a continent is tricky and expensive, and Mortimer points out that there was no urgency. Then in 1995, the American geophysicist Bruce Luyendyk again described the region as a continent and suggested calling it Zealandia. From there, Tulloch describes its discovery as an exponential curve.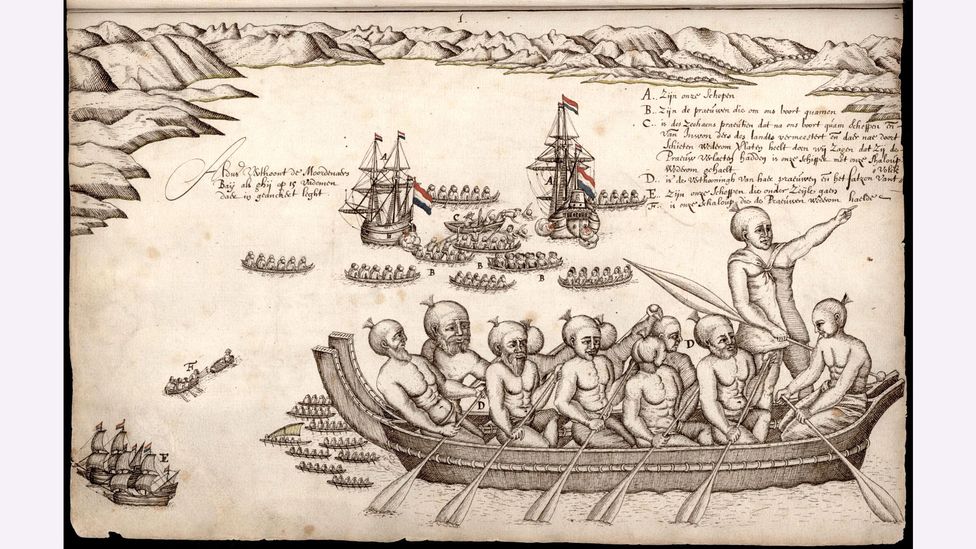 Tasman's ships left New Zealand after a bloody encounter with the Māori people – but he believed that he had found the legendary southern continent (Credit: Alamy)
Around the same time, the "United Nations Convention on the Law of the Sea" came into force, and finally provided some serious motivation. It states that countries can extend their legal territories beyond their Exclusive Economic Zone, which reaches 200 nautical miles (370km) out from their coastlines, to claim their "extended continental shelf" – with all the mineral riches and oil this encompasses.
If New Zealand could prove that it was part of a larger continent, it could increase its territory by six times. Suddenly there was an abundance of funding for trips to survey the area, and the evidence gradually built up. With every rock sample that was collected, the case for Zealandia improved.
The final flourish came from satellite data, which can be used to track tiny variations in the Earth's gravity across different parts of the crust to map the seafloor. With this technology, Zealandia is clearly visible as a misshapen mass almost as large as Australia.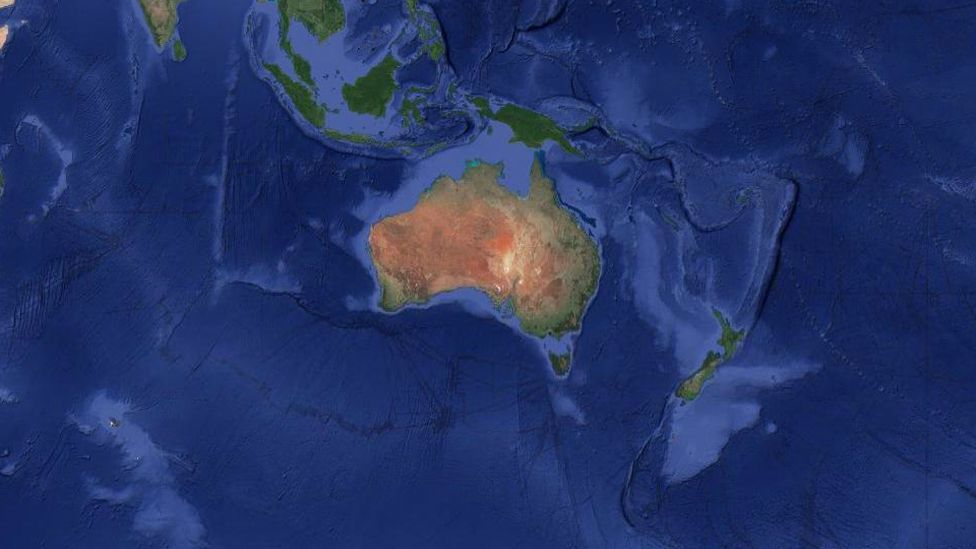 Satellite data can be used to visualise the continent of Zealandia, which appears as a pale blue upside-down triangle to the east of Australia (Credit: GNS Science)
When the continent was finally unveiled to the world, it unlocked one of the most sizeable maritime territories in the world. "It is kind of cool," says Mortimer, "If you think about it, every continent on the planet has different countries on it, [but] there are only three territories on Zealandia."
In addition to New Zealand, the continent encompasses the island of New Caledonia – a French colony famous for its dazzling lagoons – and the tiny Australian territories of Lord Howe Island and Ball's Pyramid. The latter was described by one 18th-Century explorer as appearing "not to be larger than a boat."
A mysterious stretching
Zealandia was originally part of the ancient supercontinent of Gondwana, which was formed about 550 million years ago and essentially lumped together all the land in the southern hemisphere. It occupied a corner on the eastern side, where it bordered several others, including half of West Antarctica and all of eastern Australia.
Then around 105 million years ago, "due to a process which we don't completely understand yet, Zealandia started to be pulled away", says Tulloch.
Continental crust is usually around 40km deep – significantly thicker than oceanic crust, which tends to be around 10km. As it was strained, Zealandia ended up being stretched so much that its crust now only extends 20km (12.4 miles) down. Eventually, the wafter-thin continent sank – though not quite to the level of normal oceanic crust – and disappeared under the sea.
Despite being thin and submerged, geologists know that Zealandia is a continent because of the kinds of rocks found there. Continental crust tends to be made up of igneous, metamorphic and sedimentary rocks – like granite, schist and limestone, while the ocean floor is usually just made of igneous ones such as basalt.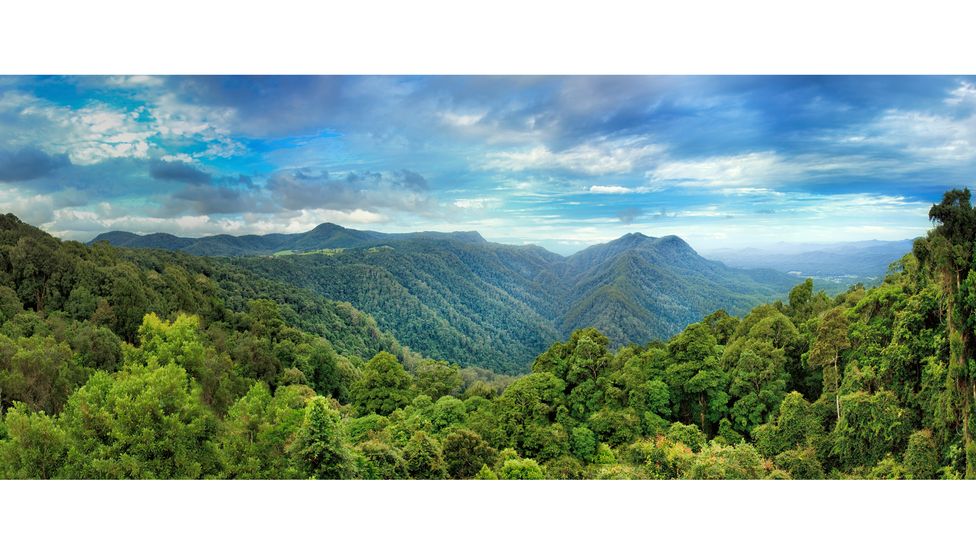 When the supercontinent of Gondwana broke up, fragments drifted all across the globe. Many of its ancient plants still live in the Australian Dorrigo forest (Credit: Getty Images)
But there are still many unknowns. The unusual origins of the eighth continent make it particularly intriguing to geologists, and more than a little baffling. For example, it's still not clear how Zealandia managed to stay together when it's so thin and not disintegrate into tiny micro-continents.
Another mystery is exactly when Zealandia ended up underwater – and whether it has ever, in fact, consisted of dry land. The parts that are currently above sea level are ridges that formed as the Pacific and Australian tectonic plates crumpled together. Tulloch says opinion is split as to whether it was always submerged apart from a few small islands, or once entirely dry land.
This also raises the question of what lived there.
With its mild climate and 39 million-sq-mile (101 million-sq-km) range, Gondwana itself was home to a vast array of flora and fauna, including the first four-limbed land animals and later, an abundance of the largest to ever live – the titanosaurs. So, could the rocks of Zealandia be studded with their preserved remains?
A debate about dinosaurs
Fossilised land animals are rare in the southern hemisphere, but the remains of several were found in New Zealand in the 1990s, including the rib bone of a giant, long-tailed, long-necked dinosaur (a sauropod), a beaky herbivorous dinosaur (a hypsilophodont) and an armoured dinosaur (an ankylosaur). Then in 2006, the foot bone of a large carnivore, possibly a kind of allosaur, was discovered in the Chatham Islands, about 500 miles (800km) east of the South Island. Crucially, the fossils all date to after the continent of Zealandia split from Gondwana.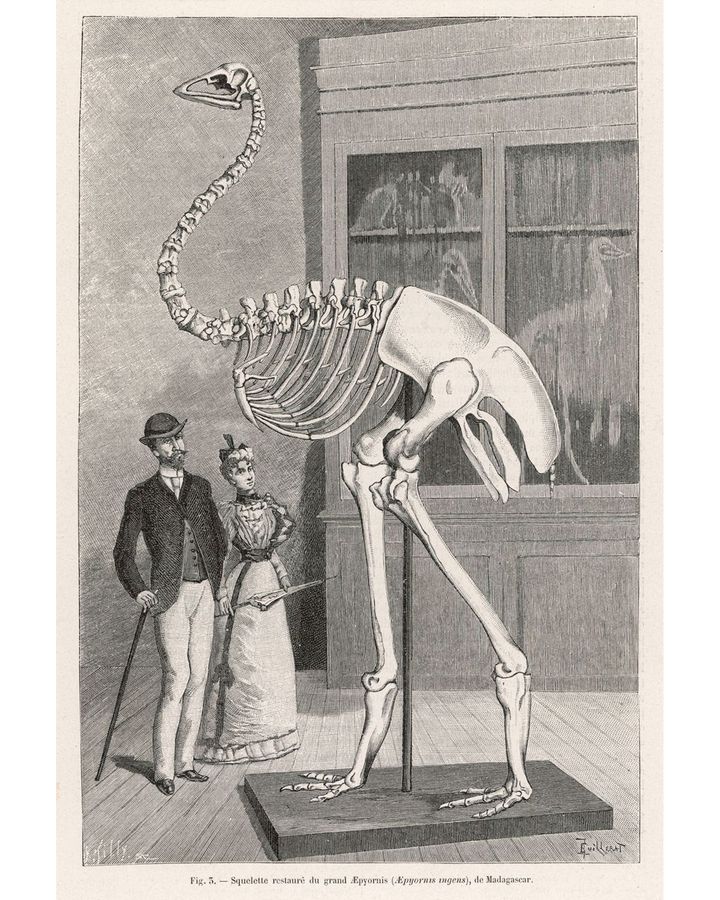 The elephant bird stood 3 m (9.8 ft) tall and fragments of its eggshells still litter beaches to this day (Credit: Alamy)
However, this doesn't necessarily mean there were dinosaurs roaming over the majority of Zealandia – these islands may have been sanctuaries while the rest was drowned, as it is now. "There's a long debate about this, about whether it's possible to have land animals without continuous land – and whether without it, they would have been snuffed out," says Rupert Sutherland, a Professor of Geophysics and Tectonics at the Victoria University of Wellington.
The plot thickens with one of New Zealand's weirdest and most beloved inhabitants, the kiwi – a dumpy, flightless bird with whiskers and hair-like feathers. Oddly, its closest relative is not thought to be the Moa, which is part of the same group – the ratites – and lived on the same island until its extinction 500 years ago, but the even-more giant elephant bird, which stalked the forests of Madagascar until as recently as 800 years ago.
The finding has led scientists to believe that both birds evolved from a common ancestor that lived on Gondwana. It took 130 million years to fully break up, but when it did, it left behind fragments which have since been scattered all across the globe, forming South America, Africa, Madagascar, Antarctica, Australia, the Arabian Peninsula, the Indian Subcontinent, and Zealandia.
This, in turn, suggests that at least part of now-submerged Zealandia has remained above sea level the whole time. Except around 25 million years ago the entire continent – even possibly the entirety of New Zealand – is thought to have been plunged underwater. "It was thought that all the plants and animals must have colonised afterwards," says Sutherland. So what happened?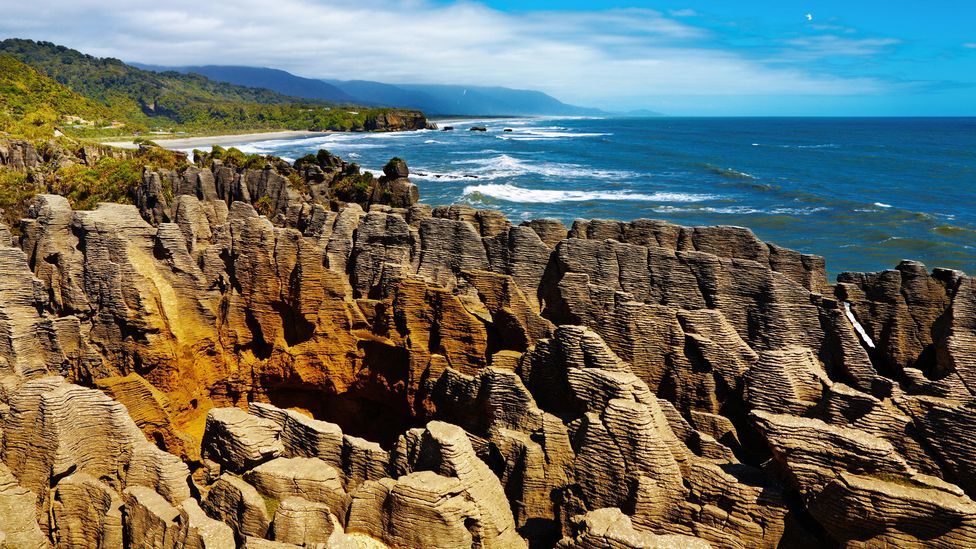 New Zealand is one of the highest points of Zealandia, after being pushed up by the movement of tectonic plates (Credit: Alamy)
Though it's not possible to collect fossils from the seafloor of Zealandia directly, scientists have been plumbing its depths by drilling. "Actually the most helpful and distinctive fossils are the ones which form in the very shallow seas," says Sutherland. "Because they leave a record – there are zillions and zillions of tiny, tiny little fossils that are very distinctive."
In 2017, a team undertook the most extensive surveys of the region so far, and drilled more than 4,101ft (1,250m) into the seabed at six different sites. The cores that they collected contained pollen from land plants, as well as spores and the shells of organisms that lived in warm, shallow seas.
"If you have water, which is only you know, 10m (33ft) deep or something like this, then there's a good chance that there was land around as well," says Sutherland, who explains that the pollen and spores also hint at the possibility that Zealandia was not quite as submerged as was thought.
A (literal) twist
Another lingering mystery can be found in Zealandia's shape.
"If you look at a geological map of New Zealand, there are two things that really stand out," says Sutherland. One of these is Alpine Fault, a plate boundary that runs along the South Island and is so significant, it can be seen from space.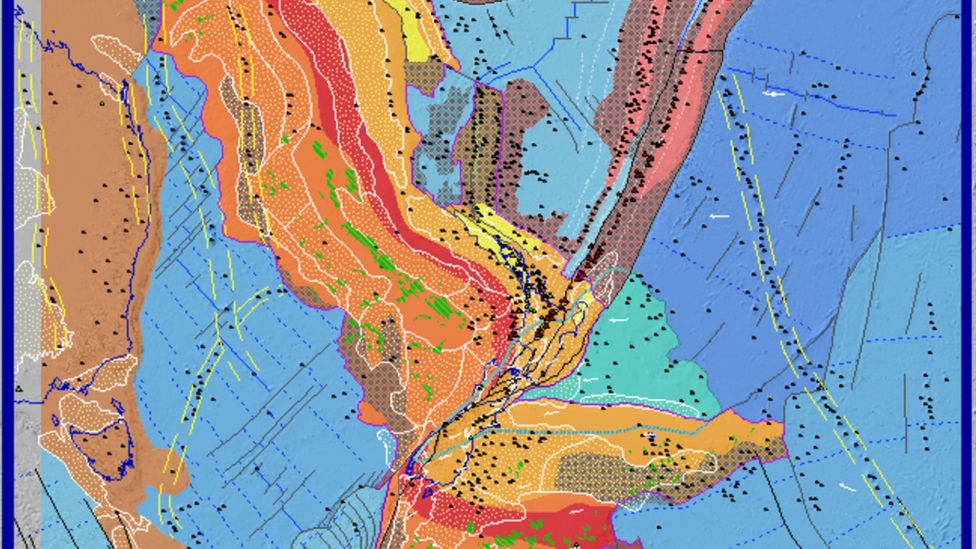 The red band of rock – the Median Batholith – should travel all the way down Zealandia in a diagonal line, but instead it has been twisted out of shape (Credit: GNS Science)
The second is that the geology of New Zealand – as well as that of the wider continent – is oddly bent. Both are split in two by a horizontal line, which is where the Pacific and Australian tectonic plates meet. At this exact point, it looks like someone has taken the lower half and twisted it away, so that not only do the previously-continuous ribbons of rock no longer line up, but they are almost at right angles.
An easy explanation for this is that the tectonic plates moved, and somehow deformed them out of shape. But exactly how or when this happened is still totally unresolved.
"There are various interpretations, but this is quite a large unknown thing," says Tulloch.
Sutherland explains that the continent is unlikely to give up all its secrets anytime soon. "It's quite hard to make discoveries, when everything is 2km (1.2 miles) underwater, and the layers that you need to sample are 500m (1,640ft) beneath the seabed as well," he says. "It's really challenging to go out and explore a continent like that. So, it just takes a lot of time, money and effort to go out and ships and survey regions."
If nothing else, the world's eighth continent surely shows that – nearly 400 years after Tasman's quest – there is still plenty to be discovered.
Zaria Gorvett is a senior journalist for BBC Future. Twitter: @ZariaGorvett
--
Join one million Future fans by liking us on Facebook, or follow us on Twitter or Instagram.
If you liked this story, sign up for the weekly bbc.com features newsletter, called "The Essential List". A handpicked selection of stories from BBC Future, Culture, Worklife, and Travel, delivered to your inbox every Friday.
Share using EmailShare on TwitterShare on FacebookShare on LinkedinAdvertisement
Recommended Articles
Israeli Scientists Discover Link Between Electrical Voltage & Brain Flexibility
Israeli scientists have found for the first time a direct and significant link between changes in G-protein-coupled receptors and the brain's ability to adapt to external changes.
The study, published recently in the prestigious journal Nature Communications, was conducted by Dr. Moshe Parnas and his team from the Sackler Faculty of Medicine and the Sagol School of Neuroscience at Tel Aviv University.
Advertisement

Our brain has a large amount of G protein-coupled receptors (GPCR). Activation of these proteins causes a chain of chemical reactions within the cell. These proteins are very common in the brain and are involved in almost every brain activity, such as learning and memory.
The nerve cells in which GPCRs are common, experience changes in their electrical voltage. 20 years ago, it was unexpectedly discovered that GPCRs are voltage-dependent, meaning that they sense the changes in the electrical voltage of nerve cells and change their function, which is voltage-dependent. However, to date, it has not been clarified whether the voltage dependence of GPCR proteins has a physiological significance that affects brain activity, our perception, and behavior. In fact, the scientific mindset was that this voltage dependence has no physiological significance.
Dr. Parnas and his team investigated, by means of the olfactory system of the fruit fly, whether the voltage dependence of GPCRs is important for brain function. To this end, the researchers decided to focus on one receptor from the G protein-coupled receptor family (called "Muscarinic Type A "). This protein is involved, inter alia, in habituation to an odor, a process in which the intensity of the reaction to the odor decreases as a result of continuous exposure to it. Thanks to this mechanism, a few minutes after entering a room containing a distinct odor – we stop smelling it.
"Nerve cells are able to communicate with each other and brain flexibility is expressed in the ability of nerve cells to set up new connections with each other and change existing connections – and thus influence behavior," Dr. Parnas explains. "Muscarinic Type A protein is involved in strengthening the bond between nerve cells and strengthening of this bond causes fruit flies to get used to the odor and indicates normal brain flexibility."
The researchers were able to neutralize the voltage sensor of the "Type A" Muscarinic protein by means of genetic editing, and thus eliminate its dependence on the electrical voltage of the nerve cell.
The researchers found by applying molecular, genetic and physiological methods that disabling the voltage sensor actually causes uncontrolled brain flexibility and consequently the process of excessive and uncontrolled habituating to an odor.
"We found that the receptor in question is very much involved in strengthening the intercellular bond in the brain, much more than what we thought. When we turned off its voltage sensor, the connection between the nerve cells became too strong," Dr. Parnas says.
"These findings change our perception of G-protein-coupled receptors. To date no reference has been made to the effect of electrical voltage on their function and its implications on brain flexibility and conduct.
"These receptors are involved in many systems and brain diseases, and we have now discovered a control mechanism upon which an attempt at drug treatment can be based.
"Following this, we are continuing to investigate additional receptors. It is reasonable to assume that their dependence on the electrical voltage is important in other systems and not only in the olfactory system," he adds.
Interestingly, the study by Dr. Parnas is a follow-up to a study conducted by his parents, Prof. Hanna Parnas and the late Prof. Itzchak Parnas, about two decades ago. They were the first to find that GPCR receptors can sense electrical voltage in cells, but their research remained solely at the protein level.
The current study by Dr. Parnas and his team advances to the next stage, connecting molecules, brain and conduct and indicating, for the first time, that eliminating their ability to sense electrical voltage affects brain activity and our ability to optimally adapt to the environment.
See you tomorrow bli neder
We need Moshiach now!
Love Yehuda Lave
Yehuda Lave, Spirtual Advisor and Counselor
Jerusalem, Jerusalem
Israel